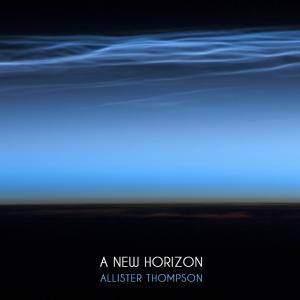 As proprietor of this blog, it is my prerogative to advertise and talk about my own wares. After all, chances are pretty good no one else will. Nonetheless, being very, very pleased with this recording, I shamelessly wish to tell you:
A New Horizon is a mixture of songs and folk/ambient/post-rock music instrumentals on the theme of death and mourning.
The inspiration for A New Horizon came to me when I realized that many of the songs I had found most moving throughout my life were on the subject of death. However, the songs that really touched me were not actually about death itself: they were in fact about true, unconditional love expressed through mourning and loss but also through a celebration of the life of a lost loved one.
I compiled a list of such songs and narrowed it down to the three here: "New Horizons" by progressive rock band The Moody Blues, "Summer of My Life" by Australian singer-songwriter Archie Roach, and "Internal Landscapes" by atmospheric rock band Anathema (readers here will be aware of my fondness for that band's music).
I really enjoyed interpreting these songs, I have to say.
I then created instrumentals to link the songs, based on the particular emotions each song inspired. And finally, I composed an original song, "All Is One", to tie together the spiritual themes of the recording. Nature field recordings emphasize our ties to the earth, in life and death.
This recording is intended to take the listener on an emotional journey from grief, to reflection on a life well lived and loved, to an appreciation of the unity of all life.
Check it out, and if you are moved in any way, tell yer friends.
TRACKLIST (click for sample of cover versions and full stream of originals)

1. Out of mind, far from view
2. New Horizons (Justin Hayward) (originally recorded by The Moody Blues on the album Seventh Sojourn)
3. You and I have been as one
4. Summer of My Life (Archie Roach) (originally recorded by originally recorded byArchie Roach on the album Charcoal Lane)
5. I will always be there
6. Internal Landscapes (Vincent Cavanagh, Daniel Cavanagh, John Douglas) (originally recorded by Anathema on the album Weather Systems)
7. All Is One
8. Returning Home
TO PURCHASE, VISIT:
iTunes, Amazon, other download retailers, or loudr.fm.
Played, engineered, mixed and mastered by AT
Cover photo: NASA
My previous progressive folk/rock album, Shadowlands, is still available.