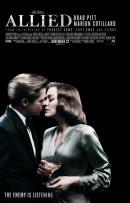 Max Vatan is about to experience World War II in many different ways after he falls in love with the woman that is his fake wife during the resistance whilst in Casablanca. Will it be happily ever after when they are reunited in London?
I really have been looking forward to seeing this film, something has always fascinated me about World War II. Since being at school I loved learning about it and understanding how my Grandparents were evacuated, even meeting the woman who one of my Nanna's stayed with. This has since continued with watching films, so I certainly had high expectations after seeing the trailer for this one so much!
I would therefore like to start my saying I was not disappointed, I really did enjoy this film from start to finish. The story is build up at a good pace and certainly takes a lot of twists and turns throughout. Really pushing the viewer from one side to the other. It is made very clear by the trailer that Marianne is accused of being a German spy. This changes everything for Max even the way he looks at her and kisses her. They have a child Anna together, it really does mess with your head in the same way it does for Max.
What I wasn't expecting with the film was that we were going to get quite a big backstory on how they ended up together. It wasn't a great romance or love story, it was more that what they were pretending became a reality. This was actually quite interesting and a different approach to take in the story.
Brad Pitt is still an incredible leading man and this is the best performance we have seen from him in the past few years, really at the top of his game. Marion Cotillard is one of those actresses who I personally don't understand the hype around, always appearing wooden and that was no different in this film but it seemed to work very well for the character. Great to see Jared Harris with a supporting role, even though more of him would have made it even better!
It delves into many different aspects of WWII starting with Casablanca and the many people who ended up stuck between places. Then when arriving in London and the Blitz those scenes were particularly impressive as the volume really did seem to explode at that point. The risks everyone had to take in an attempt to win the war, the men flying in the planes and those who were actually spies. Getting deep into the enemies territory and risking their life with every second. It did seem to play a huge part in this war and was certainly something that was used a lot. Not something that would work now with all of the cameras and easily being able to take photographs of people.
The film certainly is powerful and really does tug at your heartstrings at times. You cannot help but wonder what decisions you would make in the difficult situations the characters are put in from start to finish. Try and work out which parts are real and which are for show, that is easier said than done. So I certainly would recommend that you watch this one for the powerful performances and story.