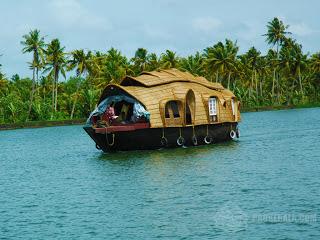 Alleppey also known as Alappuzha is one of the top backwater destination of Kerala. It is the oldest planned town in the region and a great place of tourist interest. The place covers an area about 1,414 sq. km and it is also called as the "Venice of the east". Alappuzha is beautifully located in the India state of Kerala situated between 9.50 degree north latitude and 76.33 degree east longitude. The place is also known to be the sixth largest city in an urban population and the languages spoken around are Hindi, English and Tamil among which Malayalam remains to be the major one. It is an important tourist destination in India tourism.
Main attraction in 
Alleppey
It is highly known for its backwater cruise and it is a fact that the place is heartily appreciated by the tourists. Alleppey is a true destination to go for especially for the romance makers. The main attraction of the place is its backwater tour. The place offers a luxurious houseboat which is called "Kettuvallams' in their languages. The boat provides a high class accommodation and the safety and privacy provided in the boat are heart winning as we all known its importance during your honeymoon. There are also other attractions where a visit is must during your Alleppey tours are like Albalappuzha, Sree Krishna Temple, Chettikulangara bhagavathy temple, Kuttanad, Krishnapuram palace, Alappuzha beach, Mannarasala Sree Nagaraja temple, Aranmula, Parthasarathy temple and Mavelikkara. In recent years it has been mostly visited by the honeymooners and it is my pleasure to recommend such an enchanting place as your honeymoon destination. In fact, it is a dream destination for newly married brides.
Weather and best time to visit 
in 
Alleppey
Alappuzha is a coastal area in the state Kerala (the god's own country), India. The place faces humid weather throughout the year and the seasons are winters, monsoon and summers. The winter season starts from the month of November to February which is also an ideal time to make your visit. The temperature remains between 17 degree Celsius to 32 degree Celsius and is stated as the best time for the honeymooners. You can also explore white sandy beaches; Kettuvallams cruise and explore backwaters on your own. We all know that the days around summer season remains to be hot and the temperature of the place reaches up to 37 degree Celsius. It is an ideal season for roaming around with your loved ones. The summer season is from the month of March to May. Monsoon starts from June and ends in September. The season receives heavy rainfall which is not good for your tour. This season is highly avoided by the tourists. Overall, the best time to visit Alleppey is between the months of September to March.
How to reach and where to stay 
in 
Alleppey
It is a great place of tourist interest and it is well connected with other major cities of India. The place is easily accessible by road ways, by air ways and by rail ways. The nearest airport to Alleppey is Cochin International Airport which is about 90 km away from Alleppey. There are numbers of taxis available nearby the airport which you can take it on hire. Alleppey is well connected by roadways. It is on the National highway NH47 which is easily accessible by buses and by taxis. You can get numerous buses heading towards Alleppey from Bengaluru, Chennai, Mysore, Kozhikode, Kochi and many more. The nearest railway station is Kottayam Railway station which is only about 46 km away from Alleppey. The place offers large variety of hotels and resorts. All these hotels are available according to your budget. You have the choice in booking the hotels as they are of various categories like luxury, standard, superior, deluxe and also in affordable costs. So hurry and be the first to experience such a wonderful destination with your naked eyes.  For More 
Alleppey Tour Packages Visit www.
globalvisiontours.com