About Didriksons
In 1913, Julius and Hanna Didrikson started up the manufacturing of oil garments in Grundsund, Sweden. Here, on the rim of the western coastline where Sweden meets the ocean, there was a constant need from the local fishing industry. To continuously improve the product, it was important to be close to the users. Today Didriksons is still the market leader of functional clothing. Customers include hunters, golfers, active people and fishermen, but more of the leisure fishing kind with need for modern functional clothing.
Clothes that grow with the child
As a parent of 3 I know how difficult it can be to purchase good quality outdoor wear that will keep them both dry and warm outside, whatever the Great British weather decides to hurl down at us. I am always worried about spending too much on a coat or outfit that may fit them at the moment but may be outgrown within a few months.
"Didriksons, Sweden's outdoor performance clothing specialists, has its own exclusive design feature "Extend Size" which is the perfect option for growing kids whose arms and legs grow at a faster rate than their parent's bank balance does.
Through the use of a discrete hidden stitched seam on the inside of the cuffs and trouser hem, parents can simply open up these seams to conveniently extend the length of the sleeves and legs on garments without any unsightly marks or the need for any risky cutting or sewing."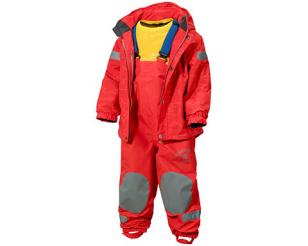 The Nera Kids set is available in 4 different colours. Banana Waves, Pistachio Waves, Pool Waves and Poppy Waves.
Izebella has been sent her outfit in Poppy Waves which is a gorgeous funky red color. The jap Her outfit comprises of a jacket and matching trousers.
When I first opened the package and saw the outfit, My first thoughts were that it looked way too big for little Izebella. I actually thought I had been sent the wrong size. However it was me that was wrong as it fits perfectly. The jacket features swirly wavy patterns with cute images of whales and crabs to represent the sea. The matching trousers, which silly old me thought would never fit, are in fact dungaree style with adjustable straps which easily clip to fasten.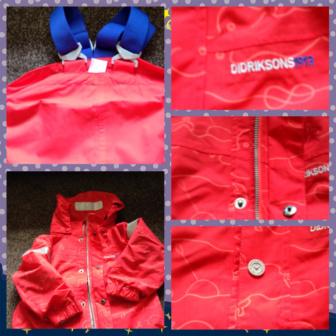 The jacket fastens with both a zip and press stud buttons. The hood is detachable and also adjustable. There is a chin guard to prevent possible skin irritation from the zipper. A pocket can be found inside the jacket as well as reflective tabs and a glove security loop allowing for gloves to be secured to the jacket.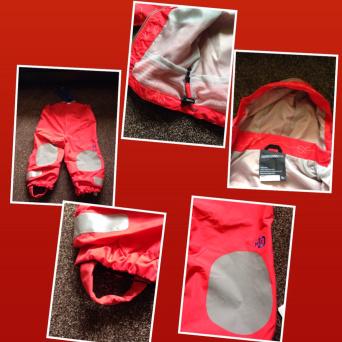 The co-ordinations trousers come with the adjustable straps which are worn over the shoulders like dungarees. The straps allow for a perfect fit and are adjusted as the child grows. They also have reflective patches and also adjustable under foot straps for securing to boots.
This outfit comes marked with Didriksons Storm system. This means that it is specially designed to cope with all sorts of harsh weather. The Storm system products are all about protection and designed to keep the wearer warm and dry during all weather conditions. Izebella's outfit is therefore fully waterproof with sealed seams. Something I am glad of as I find it difficult trying to keep her rain cover over her now she is a little older.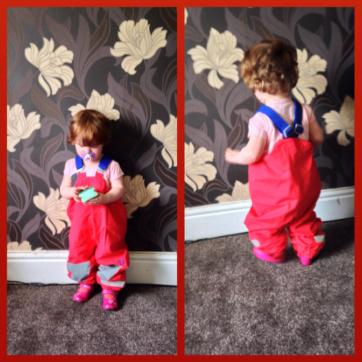 Well here are the first few pictures of Izebella modelling her new outfit. This is her in just the trousers.
You can clearly see the adjustable straps and how they will adjust with her growth. They have lots of room and on this picture, probably look a little baggy but once we readjusted the straps, they fit her quite well. She is able to walk, run around comfortably.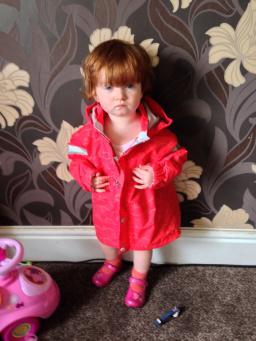 This photograph shows her with just the jacket on. As you can see it fits her. The sleeves are not too big and she has lots of room to grow.
The hood is big and will certainly stop her hair from getting wet.
I think she looks so cute and comfortable in this.
Shame she wouldn't smile.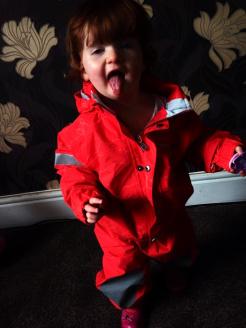 Here she is again with the Full outfit. The red really seems to suit her. She looks like she is ready to go on a long hike.
It really is a great little outdoor outfit which will keep her warm and dry and protected from the elements.
Yes it may be Spring, almost Summer and you may be wondering why she would need an outfit such as this at the moment. Well if you think about it we probably get more rain and wind than hot days in this country. The weather is very unpredictable and we never know what it will do from one minute to the next. Also the Summer months are over so fast that it is always a good idea to think ahead. As this outfit grows with the child it is likely it will last a good few years. It fits Izebella well but has lots and lots of room for growth.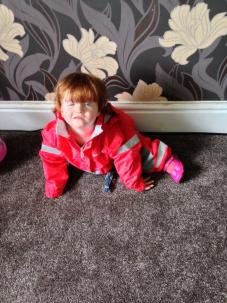 The outfits in the children's extendable ranges start for ages 1 to 8 years. I have spotted the Nera Kids outfit on sale at various UK online outlets via a google search. These include Little Trekkers, Wellies & Worms, Nipperskipper. UK stockist information may also be found at Didriksons website. Prices vary from store to store.