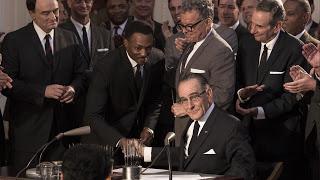 "You don't bring nice to a knife fight."
Bryan Cranston won a Tony playing Lyndon Johnson in Robert Schenkkan's
All the Way
. He reprises the role for HBO's new telefilm, a spiritual prequel to their
Path to War
(2002). That film showed LBJ humbled by Vietnam
All the Way
displays Johnson in all his towering, vulgar glory.
Lyndon Johnson (Bryan Cranston) takes office after John F. Kennedy's assassination in November 1963. Johnson struggles to maintain the Democratic coalition: Martin Luther King (Anthony Mackie) urges the Civil Rights Act, which Johnson's mentor, Georgia Senator Richard Russell (Frank Langella) bitterly opposes. Johnson overcomes a filibuster but faces an election battle with Barry Goldwater, whose conservative platform woos southern Democrats.
Helmed by
Trumbo
's Jay Roach,
All the Way
is a compelling political procedural. Roach and Schenkkan juggle multiple storylines, balancing Johnson's White House machinations with Senate battles, civil rights struggles and convention fights. King resists militant black leaders while Hubert Humphrey (Bradley Whitford) wrangles votes in the Senate. Idealism crashes against compromise, requiring the President's will to overcome roadblocks.
LBJ becomes a complex, fascinating hero. Schenkkan provides barbed dialog and meaty soliloquies probing Johnson's insecurities. He's a natural arm-twister, whether buttonholing Senators in elevators, threatening J. Edgar Hoover (Stephen Root) or bullying Humphrey, his reluctant running mate. His genuine idealism that baffles Russell; nor does King appreciate his scuttling voting rights or blocking black Mississippi convention delegates.
Bryan Cranston relishes Johnson's unctuous side while highlighting his obsessiveness. He rails to Lady Bird (Melissa Leo) about colleagues, the press and the voters abandoning him; when assistant Walter Jenkins (Todd Weeks) is jailed on a morals charge, he considers it betrayal. Nonetheless, he overcomes through sheer willpower. Cranston gives full measure to Johnson's strengths and weaknesses, his nobility and gaucherie, a great man rent by colossal flaws.
In broader terms,
All the Way
shows a Democratic Party fighting itself. Torn between northern liberals and southern segregationists, Johnson tries walking a fine line that barely exists. He endures a primary challenge from George Wallace and bemoans losing the South to Goldwater's Republicans. Even his landslide election offers little cause for comfort; Johnson reacts to the Gulf of Tonkin incident, foreshadowing another issue which would tear the Democrats apart.
Cranston's surrounded by an ace supporting cast. Anthony Mackie is a tough, engaging King, while Melissa Leo makes an underwritten role compelling. Frank Langella's genteel racist provides a nice foil for Johnson's egalitarian crudeness. Bradley Whitford, Stephen Root, Joe Morton and Ray Wise assay key supporting roles; Aisha Hinds has a showstopping cameo as Fannie Lou Hamer.
All the Way
offers more than a musty history lesson. Political idealism often falters before cowardice, compromise and indecision. Cranston's LBJ offers a leader who backs words with action - yet whose greatness informs his downfall.