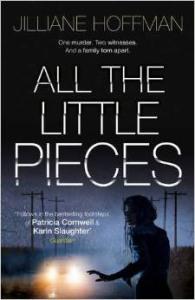 Crime Fiction
4*s
What would you do if you were in a car with your young daughter and a young woman knocked on your window and asked for help? Would you risk letting her into your car? Or would you, as Faith Saunders did, ignore the plea even though the girl in question was soon joined by two men. The moral dilemmas posed by this novel present the reader with a superb premise and this promise is realised in the execution.
This is a story of how a single lie by omission can have devastating consequences. Faith kept quiet unaware that Maggie aged just four had seen everything, and when the truth comes out Faith doesn't only have to explain to the police why she kept quiet but to her husband Nick.
The girl who asked Faith for help was found dead in a field and Detective Bryan Nil is convinced that the perpetrator is a serial killer but no-one else in Palm Beach police department is convinced, but as links are made to previous bodies and with the help of Maggie's testimony a series of shocking events are revealed. When the media run with the story Faith's guilt for not acting sooner is magnified. All The Little Pieces manages to recreate the way that the media follow the public; at first the murder of a girl who is a dancer in a gentleman's club wouldn't be newsworthy, but as soon as they realize that the witness is a four-year old girl the focus switches and it isn't long before everyone Faith knows is making judgment on her decisions.
Jiliane Hoffman expertly avoids falling into clichés or stereotypes with a book that is much about the witness as the hunt for the perpetrator. It soon becomes apparent that Faith's personal life was far from that she presented to the world before the drive that catastrophically changed her life. This is an unusual take on crime fiction, the witness usually serves their purpose by giving a statement so it was great to read a book which concentrates on a different perspective.
With a mixture of viewpoints including Faith, the perpetrator and DI Nils the reader gets to see the story from multiple angles. I particularly liked DI Nils who came across as a level-headed investigator determined to get to the bottom of the mystery but not unsympathetic to the woman who had delayed it.
At first the author felt the need to over-emphasise certain points by means of repetition which I always feel is unnecessary and slightly annoying especially as this book clocked in at just under 450 pages a few of which could easily have been discarded. I was pleased that this tendency lessened as the pace picked up and the author trusted her readers to remember the key bits of information.
This is a superb thriller, well-written with a great array of characters. The tension is there from the start but ratchets up to unbearable levels as the story progresses to its satisfying conclusion.
I want to say a big thank you to Lovereading UK who arranged for me to receive a copy of this book in return for my review. All The Little Pieces
is due to be published on 4 June 2015.