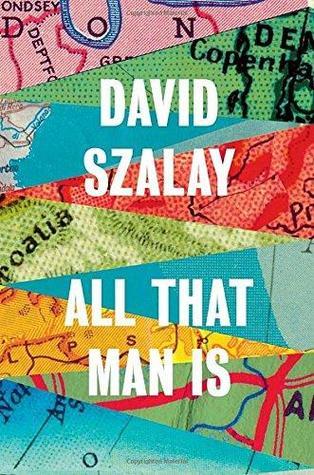 All That Man Is by David Szalay
Published by Jonathan Cape
Hardback
Published 7 April 2016
437 pages
Library book
Author page: agent's website
Buy the book: UK
Buy the book: USA
NB: I've decided to read all of the books long-listed for the Man Booker this year. Other book blogs do this so it seems like a good idea.
WHAT'S IT'S ABOUT
SHORTLISTED FOR THE 2016 MAN BOOKER PRIZE
Nine men. Each of them at a different stage of life, each of them away from home, and each of them striving - in the suburbs of Prague, beside a Belgian motorway, in a cheap Cypriot hotel - to understand just what it means to be alive, here and now.
Tracing an arc from the spring of youth to the winter of old age, All That Man Is brings these separate lives together to show us men as they are - ludicrous and inarticulate, shocking and despicable; vital, pitiable, hilarious, and full of heartfelt longing. And as the years chase them down, the stakes become bewilderingly high in this piercing portrayal of 21st-century manhood.
EXTRACT
Berlin-Hauptbahnhof.
It is where the trains from Poland get in and the two young Englishmen are newly arrived from Krakow. They look terrible, these two teenagers, exhausted by the ordeal of the train, and thin and filthy from ten days of Inter Railing. One of them, Simon, stares listlessly at nothing.
WHAT I THOUGHT
I'm not sure what to make of All That Man Is. For a kick-off, this is not a novel. It's is a sequence of stories about nine different men who lead similar lives. Each man is seven years older than the man in the previous sequences of stories. Each man is living in a country they weren't born in. And that's about it. The men also come from different social backgrounds. All That Man Is has different characters in each set of stories but there are universal themes including younger characters being more interested in sexy, money and fame and as the men get older they start to regret missed opportunities. Each man is All That Man Is is unpleasant and rather cruel most of the time. I didn't really like any of them especially the guy who assumes his pregnant girlfriend will have an abortion. What a p****. The female characters were little more than dolls for the horrible men to play with. I suppose a round of applause should be given to the author for creating such real, unlikable characters. I did enjoy the different settings in All That Man Is even though more effort could have been spent bringing the places to life. Overall, I didn't really get the point of this book. I just felt like All That Man Is was full of horrible people and I was glad to be rid of them. I can see what the author was trying to do but wouldn't recommend this book.