It always makes me laugh: the unexpected things I end up getting involved in Uganda, so I shouldn't have been surprised when John Ssempebwa, the new Deputy Executive Director of Uganda Tourism Board sent the Muzungu a message asking if I would help him do the voice-over for a promotional DVD… all about the Namugongo Martyrs.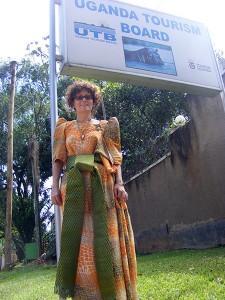 Muzungu in Basuti gomez dress
How the Muzungu came across on film, I've yet to see! – but nonetheless the filming was the perfect opportunity for me to learn all about the Martyrs, one of my "2014 blogging resolutions" in fact.
This Sunday in Kampala, the Uganda Tourism Board invites everyone to take part in the inaugural 10 km "UGANDA MARTYRS WALK."
Along the route of this unique walk, professional tourist guides will explain the history of numerous Namugongo Martyrs, including: Mathias Mulumba, Jean Marie Muzeeyi, Mapeera and the three Martyrs killed at Busega. These names meant nothing to me before; now I notice them every day, as I pass the churches and schools named in their honor. I am seeing Kampala in a new light.
About the Uganda Martyrs Walk
WHERE?
Old Kampala. The walk starts at Old Kampala Secondary School and finishes at Busega Martyrs' Church, Mityana Road. Check out the Martyrs Walk 2014 map on Google.
WHEN?
Sunday 1st June, 8 am
WHY?
This is the launch of what promises to be a big, popular annual event with people coming from all over the world.
Help us launch this event, please!
Proceeds from the Martyrs Walk will go to Uganda Heart Institute, Mulago Hospital, Kampala, to undertake life-saving cardiac operations on children and babies born with Congenital Heart Disease.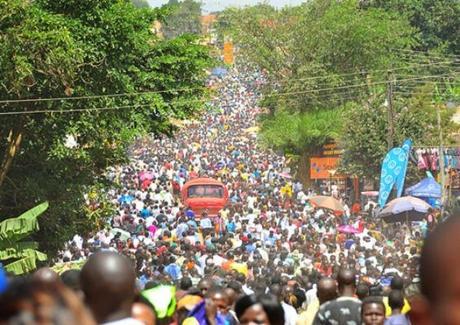 Millions of Christian pilgrims flock to Namugongo, Greater Kampala, every June. Photo courtesy of Red Pepper
In addition to the professional tour and the chance to learn more about the Namugongo Martyrs, walkers will have access to free medical check-ups provided by Lugogo By-pass based International Medical Link [IML].
SSENTE MEKA? How much?
10,000 UGX for the walk; 20,000 UGX for the special souvenir T-shirt.
HOW DO I REGISTER?
Registration for the walk is going on at the main Kampala Post Office and at the National Theatre. Pilgrims can also register by sending 10,000 UGX to Mobile Money tel +256 704 731 215 and +256 773 831 825.
Martyrs Day itself is celebrated 3rd June every year. On this day, hundreds of thousands of people congregate at Namugongo.
No-one can help but be moved by the Martyrs' incredible stories. I'm not a religious person but I was blind-sided by these individuals' belief, determination and the ultimate sacrifice.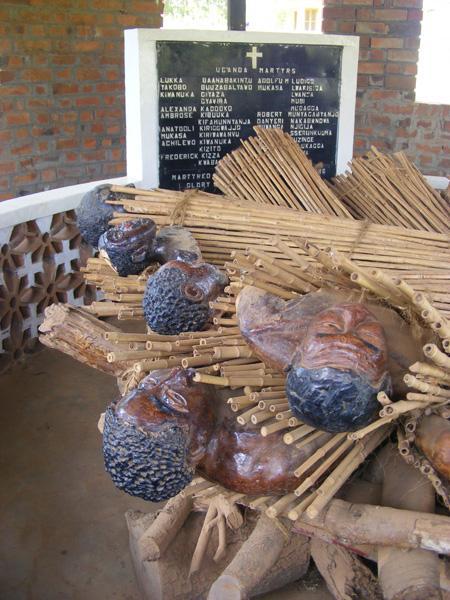 A model of the fire in which many of the Namugongo Martyrs were burned to death. Namugongo Martyrs Shrine, Uganda
For me, this event celebrates human survival and endurance. Every Martyr's story is inspiring. The reality of their unbearable agonies defies belief.
Join the pilgrims traveling to Kampala on this very special occasion.
My pre-filming homework was to read Father Simeon Lourdel, Missionary of Africa, White Father, Apostle of Uganda 1853 to 1890. Despite its incredibly dull-sounding name, this account had me hooked from start to finish. Catholic missionaries aren't normally my cup of tea frankly, but the six month journey on foot from the Indian Ocean coast, traversing Tanzania and fighting off wild animals (lions!), sickness and numerous antagonistic tribes to the south of Lake Victoria had me captivated.
The diary of a French missionary, writing in the 1870s, recalls:
"It was no joke to foresee all that would be necessary for 10 missionaries for a journey of six months across unknown land, all the food, the tools and equipment for putting up permanent settlements in an empty continent. The big headache was to go gather enough of the items to use for the bartering with the African tribes, for free and safe passage through the territories: bales and bales of calico material, boxes and boxes of glass beads, reels and reels of brass wire. The two (Catholic) fathers had also to recruit 300 porters and an escort of soldiers. They had two interpreters who spoke Kiswahili and managed to speak broken French to make sure that their orders were properly understood, and for bartering with the African chiefs on the way."
The traverse of Lake Victoria – the world's second largest freshwater lake – in a dugout canoe must have been one hell of a journey for these weary and sick travellers. As well as recounting the subsequent tales of many of the Namugongo Martyrs, the book gives a wonderful insight into the Buganda Kingdom, describing:
"A huge palace with hundreds of courtyards, a countless number of huts and thousands of servants living in and milling around. Great dignitaries of the kingdom were the only people allowed to approach the Kabaka (King). Also admitted to the courthouse visitors were dignitaries who came from neighbouring tribes, as long as they brought presents carried by slaves."
For more information about the Uganda Martyrs Walk, this Sunday 1st June
Please contact John Ssempebwa, Deputy CEO, Uganda Tourism Board, tel +256 772 390 300. The DVD story of the Namugongo Martyrs is available from Uganda Tourism Board.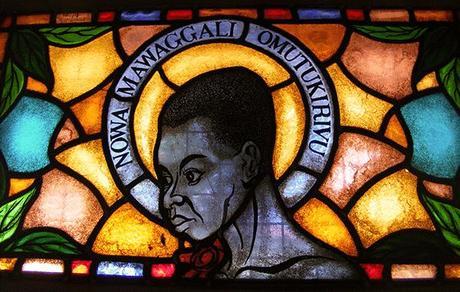 Namugongo stained glass window. Namugongo Basilica
As I write, pilgrims are walking to Namugongo, a few kilometres from central Kampala, from across Uganda and East Africa.
We hope to see you there!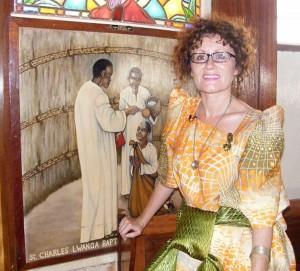 Diary of a Muzungu – painting of martyr St Charles Lwanga. Inside Namugongo Basilica