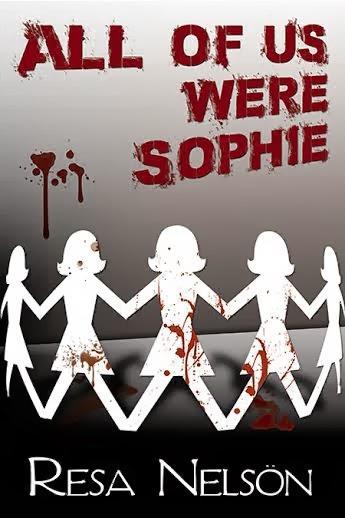 Synopsis for All Of Us Were Sophie

What if the only way you could save your own life was to kill yourself?
Someone is trying to kill Sophie Rippetoe, and she has no place to hide. But Sophie has a unique option. Her husband designed and built a duplicator machine to make exact copies of complicated and sophisticated machine parts. She knows how the duplicator works.
Will it work for people? No one knows.
There's just one problem: the duplication process destroys the original. The only thing Sophie knows for sure is that trying to make copies of herself will end up killing her.
Sophie isn't sure who's trying to kill her or why – but she has her suspicions and has gathered some evidence. Before she takes the leap of faith to use the duplicator on herself, she creates a trail of clues, hopeful that at least one of the Sophies she creates will figure it out in time to save herself.

All of Us Were Sophie by Resa Nelson
My rating: 5 of 5 stars
All of Us Were Sophie by Resa Nelson is a 2013 Mundania Publication. I as provided a copy of this book by the author in exchange for an honest review.
Someone is trying to kill Sophie. In order to find out who and why, Sophie sacrifices herself by using a duplicator to make more Sophies. Each duplicate has a piece of the original Sophie. They will all have to work together to figure out what was going on in the weeks prior to Sophie's decision to take drastic measures. Sophie's husband Jack was working on a duplicator and of course this was all top secret. He had secrets he had not shared with Sophie and Sophie had secrets she didn't tell Jack about. There were a myriad of possibilities .
When a woman calls the police claiming someone has tried to kill her, Jeromy is called to the scene. Working in the sleepy bedroom town of Hounslow was not where Jeromy had intended to land. He had opted for a place to raise his daughters and be more of a family man. After his wife died, it was more important than ever for his daughters to be a safe community environment. But, he would take the crime of the big city any day over the strange situation he has gotten himself into with this woman named Sophie. She claims someone is trying to kill her and that she has no memory of the last two weeks.
In the meantime the duplicates have given themselves unique names and are trying to follow the evidence the original Sophie left for them so they can prove who was trying to kill her.
The synopsis for this book will have your interest peaked to say the least. This novel is a very creative, intricate, and quirky science fiction and mystery combination. The duplicator wasn't really intended to be used on people, but it does work in ways Jack could never have imagined. As the story progresses we see multiple layers of Sophie's life prior to her duplication. She had a close relationship with her husband's friend, Ben. There were signs the relationship was more than platonic, and it puts Ben on the suspect list, as well as some rather unique neighbors of the Jack and Sophie's. With only bits and pieces of the puzzle, the Sophie's race against time to find the truth before one them becomes a victim .
I will confess that science fiction is certainly not my go to genre. In fact, it's pretty far down the list. Mysteries however are always at the top of my list. So, I had to see for myself how all this was going to play out. I was a bit concerned I was going to have trouble following the plot, but trust me, this is an easy to follow story without a lot of technical science fiction speak. The emphasis is on the investigation, the who and why of Sophie being on someone's hit list, and the drama that unfolds as more information is leaked out. I loved the wry humor the other Sophies had and the way the author gave each duplicate a special part of the original Sophie. Naturally, there is the question of what the long term consequences might be for the duplicates and the problems they would face if anyone ever discovered the truth about them. The novel also has a whimsical quality , a feeling of being surreal, and had me caught up in the story as though I were a part of it. I love it when that happens. I enjoyed the escape from the mundane for awhile and loved the creativity and obviously well thought out plot. Very well done. This one is an A+
AUTHOR INTERVIEW:
Resa Nelson has been kind enough to take time out to answer a few questions for us today. Welcome Resa! I'm so happy you could join us!
Resa Nelson interview:
 
1) You have written science fiction and fantasy novels for awhile. What gave you the idea for All of us were Sophie?
Like a lot of people, I sometimes feel overwhelmed by all the things I need to get done in a single day. I got the idea because I wished I could be more than one person so I could split up the work and the responsibility and get some breathing room.
2) This novel is an interesting combination of mystery and science fiction, but with the emphasis on the mystery. Have you ever thought about writing a mystery without SF elements?
That's a great question! Yes, I think I might someday. Most of the books I read for fun are mysteries. When I was in grade school I read Sherlock Holmes stories, and then I became addicted to Agatha Christie novels. So it's very likely I'll someday write a regular mystery novel without any SF elements.
3) Is there research involved in writing in the science fiction and fantasy genre? If so , what resources do you use?
Yes, I love doing research. My Dragonslayer series is about a female blacksmith who makes swords for dragonslayers. While writing that series I took a course in blacksmithing, as well as courses to learn historically accurate ways to use medieval weapons. I also do library research to learn about the historical period in which I set my fantasy books. For All Of Us Were Sophie, most of my research came from interviewing people, including a friend who is a scientist and a science fiction author.
4) Where did the idea of a duplicator come from?
When I first got the idea for this book, I talked to my scientist friend and asked him if he thought instant human duplication (as opposed to cloning) would be possible one day. He talked to me about how he thinks it would be possible and what would be required to make it work. So the credit for the science behind the idea goes to my friend.
5) Where can readers contact you?


My email address is

[email protected]

. I also spend time on Twitter, where my handle is @ResaNelson.


6) What are you working on now? Where can we find your books?


You can find my books on Amazon, Barnes&Noble,

www.mundania.com

(my publisher's website), and other websites. I'm getting ready to start a new series that's a spinoff of my Dragonslayer series. Later this year I hope to start another new series that's leaning toward horror. After that there's a standalone novel I want to write that is likely to be a near-future thriller. Also, throughout 2014 and probably well into 2015, each month I'm offering a different short-story ebook for free for a few days, which is a great way to sample my work. The best way to find out about these giveaways is to follow me on Twitter or subscribe to my monthly newsletter by sending email to me with the word "newsletter" in the subject line.


7) What is your favorite season? Coffee or Tea? Dogs or Cats? Physical books or e-books?
Definitely summer. I'm a big fan of tea. I like all animals, but I lean a little bit more toward dogs than cats because I love birds. Although I have a Kindle I haven't made the switch yet. I still like the feel of a physical book in my hands.
8) What is your favorite things about being an author? What is your least favorite thing about being an author?
I love the act of writing. Every time I sit down to write, it's a thrilling experience. I don't think I have a least favorite thing. I feel lucky to be living my life as a writer.
9) J.K. Rowling recently revealed she has had second thoughts about who her characters ended up being paired with. Have you ever had second thoughts about a book once it published?
No, not at all. When I write, I follow where my characters lead and trust their judgment. And once a book is done, it's done. I don't look back.
10) Do you have a favorite quote you would like to share?
 

That which does not kill me makes me stronger.
Thank you SO much for stopping by today! 

You can contact Resa or find her books by using the following links:
Resa Nelson's links:


Resa's website:

http://www.resanelson.com




GoodReads giveaway (10 signed copies, U.S. only):

https://www.goodreads.com/giveaway/show/77022-all-of-us-were-sophie



Twitter: @ResaNelson


Email:

[email protected]




Ebook ($4.99) and trade paperback ($12.95) are available directly from Mundania Press at:

http://mundania.com/book.php?title=All

of Us Were Sophie
(get a 10% discount at checkout with the coupon code MP10)

Paperbacks and ebooks are available also from Amazon, and Barnes&Noble:


http://www.amazon.com/All-Were-Sophie-Resa-Nelson-ebook/dp/B00HEVBT5S/ref=tmm_kin_swatch_0?_encoding=UTF8&sr=8-1&qid=1391905736




http://www.barnesandnoble.com/w/all-of-us-were-sophie-resa-nelson/1117748727?ean=9781606593202




Blog tour schedule:

http://www.resanelson.com/all-of-us-were-sophie-blog-tou/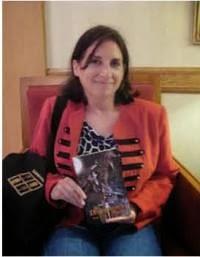 Resa Nelson's first novel, The Dragonslayer's Sword, was nominated for the Nebula Award and was also a Finalist for the EPPIE Award. This medieval fantasy novel is based on a short story first published in the premiere issue of Science Fiction Age magazine and ranked 2nd in that magazine's first Readers Top Ten Poll. The Dragonslayer's Sword is Book 1 in her 4-book Dragonslayer series, which also includes The Iron Maiden (Book 2), The Stone of Darkness (Book 3), and The Dragon's Egg (Book 4).
Resa's standalone novel, Our Lady of the Absolute, is a fantasy/mystery/thriller about a modern-day society based on ancient Egypt. Midwest Book Review gave this book a 5-star review, calling it "a riveting fantasy, very highly recommended."
She has been selling fiction professionally since 1988. She is a longtime member of SFWA (Science Fiction and Fantasy Writers of America) and is a graduate of the Clarion SF Workshop. Resa was also the TV/Movie Columnist for Realms of Fantasy magazine for 13 years and was a contributor to SCI FI magazine. She has sold over 200 articles to magazines in the United States and the United Kingdom.
Resa lives in Massachusetts. Visit her website at

http://www.resanelson.com

and follow her on Twitter @ResaNelson.