'Know Before You Owe' Will Change Everything
If you're in the mortgage industry, you're aware of 'Know Before You Owe' and the August 1, 2015 transition date. How you disclose to your borrowers is about to change dramatically, and the introduction of the TILA RESPA Integrated Disclosure (TRID) is still surrounded in mystery.
Credit unions, community banks and mortgage bankers need to understand the new regulation and implement new policies to prepare for the coming regulation. With three years in the making, the CFPB is not showing any sympathy for companies behind the curve.
According to the CFPB, these new forms reduce both paperwork and confusion. They suggest that the language and design are more clear and highlight the information most important to consumers. There will be more information on the costs of taxes and insurance as well as warnings about features they may want to avoid.
Finally, the agency says that by receiving the Closing Disclosure at least three business days before closing, consumers will come to the table better informed and able to ask questions.
It's a dramatic change, for sure, but one you can handle with the right knowledge and preparation. This ebook covers all the crucial aspects of 'Know Before You Owe', and will help your company build out new, or refine existing company policies.
Topics You'll Learn:
History of the regulation
The Loan Estimate Form
The Closing Disclosure Form
The predicted impact on consumers and the industry
Reviewing your loan origination system
Download "All in Good Faith: How 'Know Before You Owe' Changes Everything" by submitting the form to the right.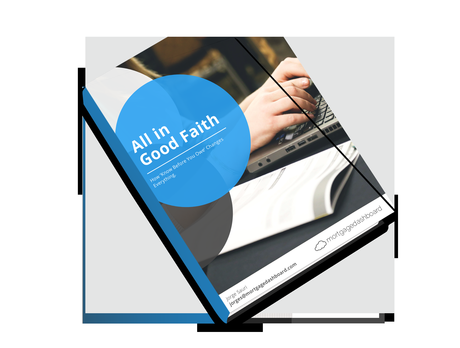 [contact-form-7]