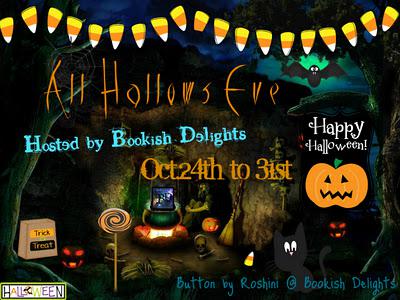 Today is Day 2 of Bookish Delight's All Hallows Eve Carnival! Be sure to come back daily this whole week for more games, giveaways, and guest posts from awesome authors, and our grand prize giveaway on Halloween night!


Today we are having a Spooky Short Story Contest!!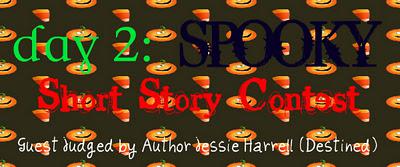 The More Creative The Better!


Rules: Your Short Story Entry May Not Be Previously Published And Must Be Your Own Work. The contest is open to anyone who would like to write a short story, ranging from amateur writers to those interested in becoming a writer.
Number of Winners: Three Winners (First Place, Second Place, and Third Place).
Restrictions: Only 1 short story per person may be submitted to be judged.

Theme for Short Story: Paranormal or Horror or Halloween Related
Prompt: Open-Ended

Length of Short Story: 3500 words or less
How To Submit An Entry: Please Submit Your Short Story via attachment to the email: bookishdelightsreviews@gmail.com with the Subject Heading As "Spooky Short Story Entry." In the email also please state your Full Name, Title of Short Story, and whether or not you would like your short story to be publicized (if it is chosen) on the winner's post for others to read.
Deadline To Submit Your Entry: Nov 5, 2011 by 11:59pm
Short Stories Judged By: We are very lucky to have a fabulous YA Author Guest Judge, Jessie Harrell, who is the author of Destined! (Releases Nov 17, 2011).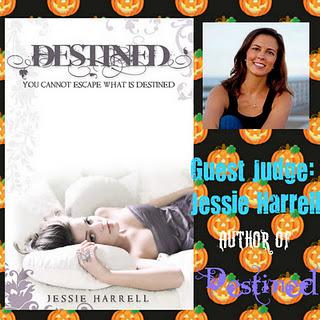 The 3 Winners will be announced once our guest judge Jessie Harrell picks them!!
1st Place Prize: A Paranormal/Horror YA Book Of Your Choice Up To $10 USD and A Signed, Charmed, Bookmark of Destined by Jessie Harrell
2nd Place Prize: A $5 USD Book and A Signed, Charmed, Bookmark of Destined by Jessie Harrell
3rd Place Prize: A Signed, Charmed, Bookmark of Destined by Jessie Harrell
Photo of Signed Bookmarks: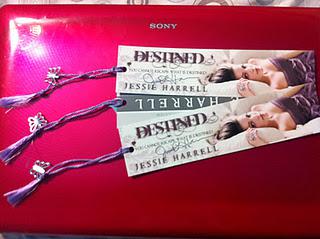 Note from Roshini: The photo really does not do the bookmarks ANY justice! These things are utterly gorgeous! I have literally had to hide them from my whole family after they begged me for them! The butterfly charms at the end are incredible and the whole bookmark itself is just plain beautiful! Don't miss this chance! P.S.

Ignore my laptop in the background...couldn't find any other place to set off the bookmarks' pretty lavender color. Also, for the non-writers out there, I still have a couple more bookmarks from Jessie to go into the grand prize!




Have Fun Writing Your Spooky Short Story!!!!




And Have A Happy Early Halloween!!!


DON'T FORGET!!: To be entered into the All Hallows Eve Carnival Grand Prize Giveaway On Halloween Night, You Must Unscramble A Bunch Of Letters That We Will Be Posting During The Carnival!!! So Be Sure To Come Back Each Day To Collect All The Letters!


HERE ARE TODAY'S LETTERS! :