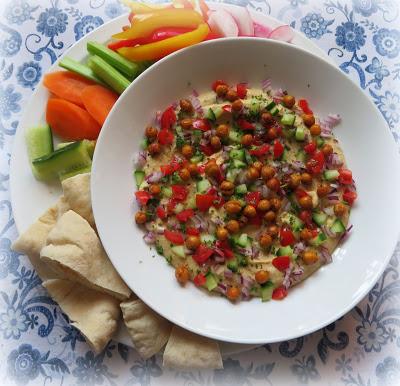 I am a huge fan of hummus.  I often make it to enjoy with crisp crackers or raw vegetables.  It has been my snack of choice for many years.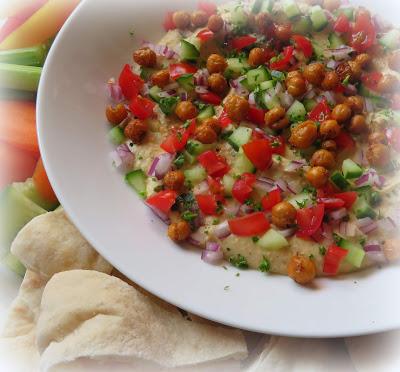 It is one of the few ways I can tolerate chick peas due to my diverticulitis.  I used to love to make a vegetarian chili which used tinned chick peas when my children were growing up.  It was really delicious. Sadly those days  of enjoying those types of things in abundance are over for me!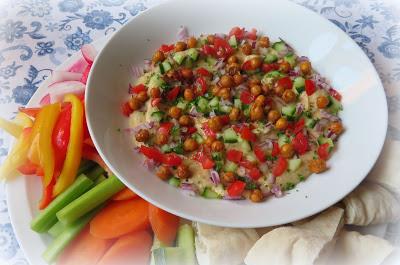 So far I have been able to enjoy hummus however.  Probably because the chick peas are pureed, which makes them easier to digest.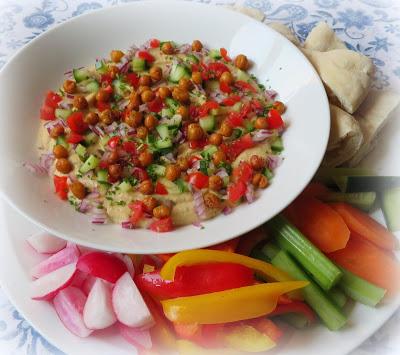 I love all kinds of hummus.
Perfect Hummus
is the recipe I normally use.  But my
Roasted Beetroot Hummus
is also very good, and a very pretty pink color.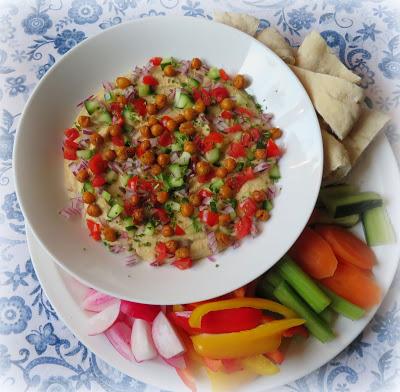 This All Dressed Hummus is also a real favorite around here.  I call it all dressed because it is topped with lots of lovely bits to dress it up.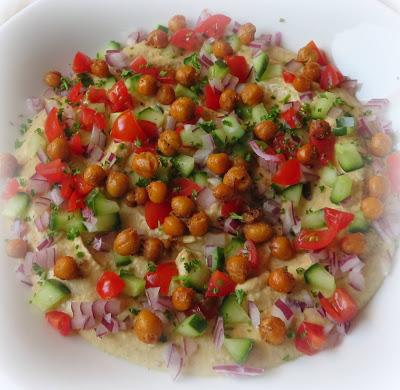 Its like the Cinderella of Hummus all dressed up and ready to go to the ball, glass slippers and all  . . .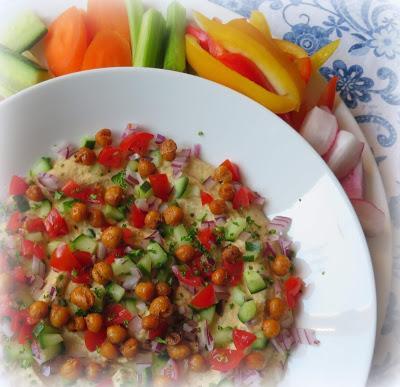 I like to top it with a variety of finely chopped vegetables.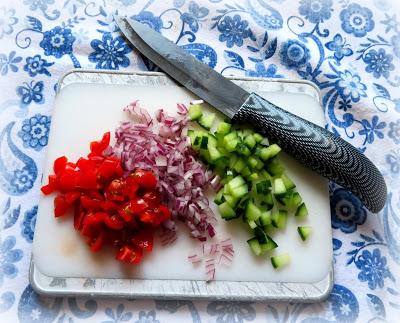 Chopping things up really finely isn't really a chore if you have a good set of knives to work with. For all of my chopping needs  I like to use these lovely knives  from the MyKtchn
Premium Black Ceramic Kitchen Knife Set. 
 Made of Zirconia ceramic, this six piece set of knives feature longer durability than regular steel while leaving your food free of chemical and metal taste. They are sleek, easy to handle and perfect for your slicing and dicing needs. I love them.  They make short work of slicing or dicing things into bits.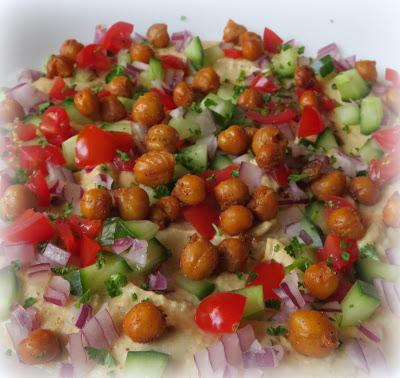 Along with the variety of diced veg I used, I topped this Hummus with some Crispy Chickpeas.  If you have never eaten them or made your own, you really need to try.  The oven basically does all the work and they are wonderfully crunchy and crisp, quite addictive as a snack or a garnish.
Yield: Makes about 1 1/2 cups
Author: Marie Rayner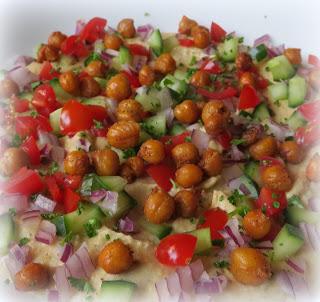 Crispy Chickpeas
These are crisp and delicious.  They are fabulous eaten out of hand as a snack, or used as a garnish.
ingredients:
1 (400g) tin of chick peas, drained and patted dry (14 oz)
olive oil to drizzle
ground cumin, paprika, garlic powder, onion powder, salt and coarse black pepper
(according to your taste, I find about 1/4 tsp of each is ample)
instructions:
Preheat the oven to 200*C/400*F/ gas mark 6.  Line a baking tray with foil.  Scatter the chick peas over top and then drizzle with a bit of extra virgin olive oil. Only about 1 TBS for the whole tin if that.)  Sprinkle with the spices/seasonings and toss to coat well with the oil and seasonings.  Spread out evenly leaving space between.  Pop into the pre-heated oven and roast for about 25 minutes until crispy.  Cool completely and then store in an airtight jar.
Created using
The Recipes Generator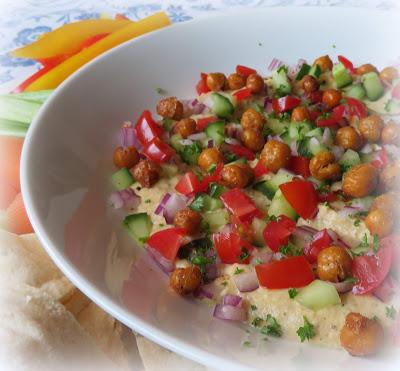 Almost like popcorn, except they contain a lot more fiber and protein.  I flavor mine with ground cumin, garlic, paprika, onion powder, salt and pepper, but you can use whatever flavours you desire.  As a snack you can also make a sweet variety as I did here with my
Gingerbread Roasted Chickpea
s. They also make a tasty snack. Again I have to control my consumption of these things because of my tummy. 😓 Getting older is not for sissies for sure.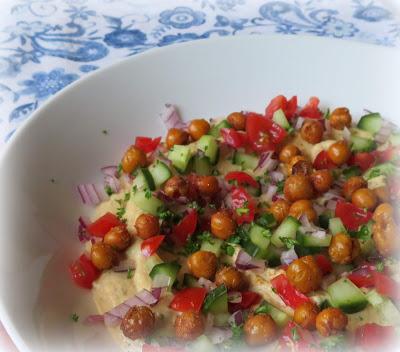 Today I topped my hummus with chopped tomatoes, red onions, cucumber, coriander leaf, a drizzle of EVO, and some crispy chick peas.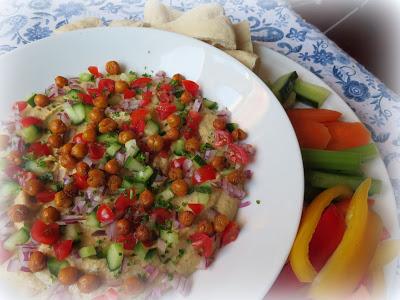 We
I enjoyed it with some crisp raw vegetable sticks and fresh warm pita bread. (Todd is not a fan of raw vegetables.)  They have started stocking a sour dough pita bread at our local grocers that is fabulous!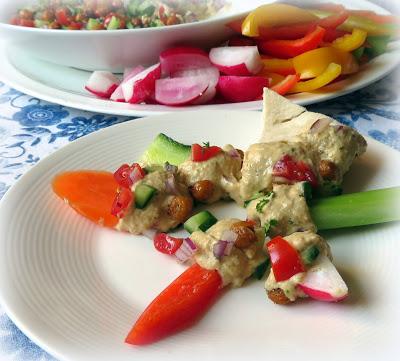 Altogether this made a really delicious and healthy lunch for me, which I really enjoyed. 
Yield: Variable
Author: Marie Rayner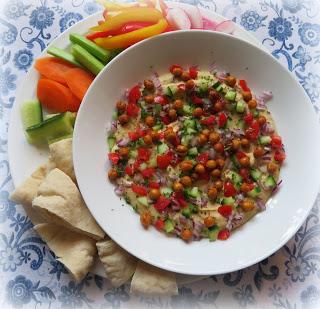 All Dressed Hummus
An incredibly tasty and pretty appetizer.  Serve chilled with plenty of warm pita breads and crisp vegetables for dipping.
ingredients:
1 (400g) tin of chickpeas, drained (reserve the liquid) (14 oz tin)
2 TBS Tahini paste
3 TBS extra virgin Olive Oil
1 clove of garlic, peeled
2 tsp lemon juice
1/2 tsp sweet paprika
1/4 tsp ground cumin
4 TBS water
1 TBS packed fresh coriander leaf (cilantro)
1 tsp fine sea salt
1/2 tsp coarse ground black pepper, or to taste
Toppings:
extra virgin olive oil to drizzle (optional)
4 TBS chopped cherry tomatoes
4 TBS chopped red onion
4 TBS chopped unpeeled cucumber
crispy chickpeas (optional)
toasted mixed seeds (optional)
chopped fresh coriander (cilantro)
crumbled feta cheese (optional)
instructions:
Combine all of the hummus ingredients in a food processor and blitz until smooth and to your desired consistency, adding reserved chickpea liquid as desired to give you what you want.  Spread the hummus in a large flat bowl. Cover and chill while you create the toppings.
When you are ready to serve, sprinkle your desired toppings over top of the chilled hummus and serve immediately with plenty of crisp vegetables and warmed pita bread cut into pieces.
Created using
The Recipes Generator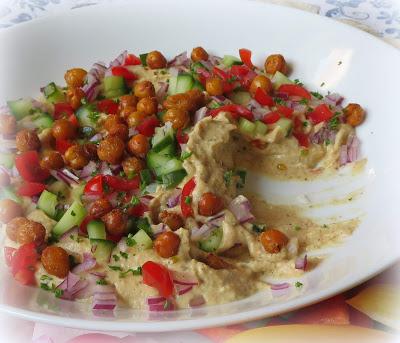 This makes a fabulous group appetizer for when you are entertaining, or for picnics (you can top it just before you serve it) and of course its great in the lunch box.  I would pack the hummus and the toppings and the dippers separately in that case.  What a treat!