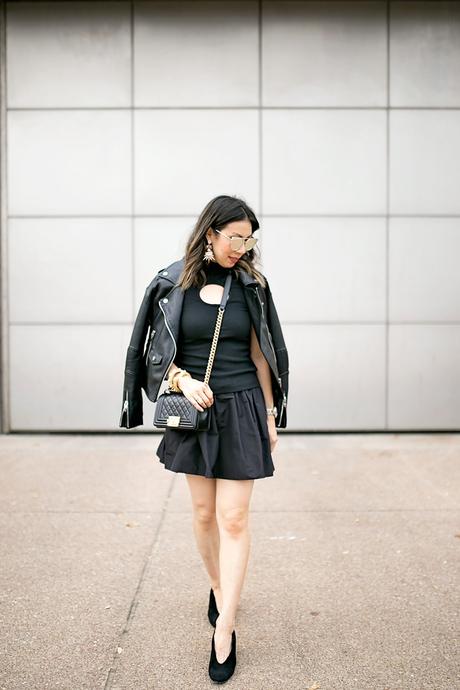 True Story. I used to wear black. A LOT. So much so that my BIL's called me "The Black Widow" after Jeanette Lee, the pool player. I stopped wearing as much black. I reserve it for when I'm at work running late in the mornings (aka ALL THE TIME). But a solid black outfit is so chic! Johnny Cash knew what was up!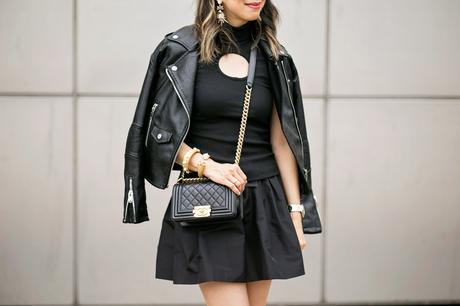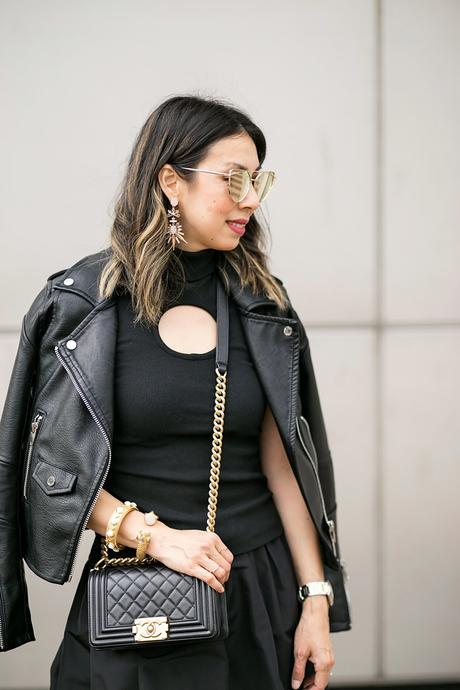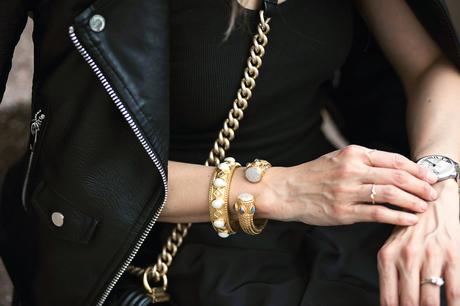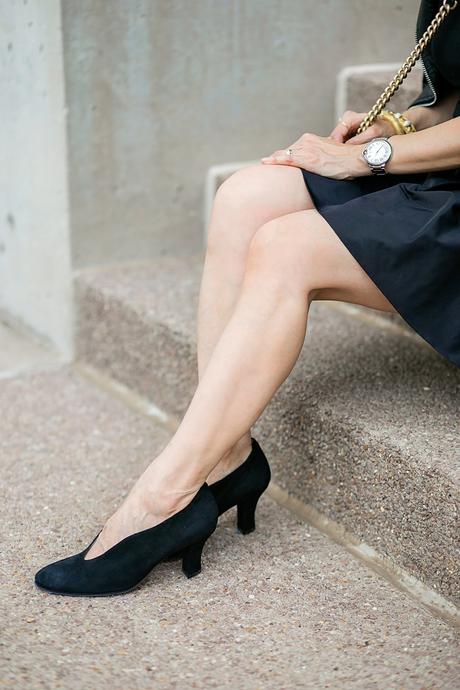 // Photography by Angie Garcia //
When I found this fabulous keyhole turtleneck at TTH, I knew it was coming home with me. It was a perfect unique piece to pair with a black skirt and moto jacket.
THE STYLE Rx: It's easy to look polished and put together when wearing all one color, especially black. Keep it simple with a matching set, top and bottom, for a chic look. Or try pairing different patterns/materials (as I have above) for a not-so-basic black look!
Do you wear all black?! What pieces do you wear?
Happy Friday Friends! Hope everyone enjoyed a lovely Thanksgiving. My mom came into town, and we celebrated at Mr. S's parents house. Then, Mr. S and I headed to a Dallas Cowboys football game! What a memorable Thanksgiving! We've never done a football game on Thanksgiving before. It was a late night for everyone but luckily there was no alarm this morning! :)

BTW, I wanted to remind you about the Nordstrom $1000 gift card giveaway currently going on! You can enter directly HERE!
Also, Happy Black Friday! There are LOTS of amazing sales going on, and I wanted to share my picks from some of my favorite retailers! You can also visit my "Shop the Sales" page for additional listings and my "HOLIDAY SHOP" for some gift guides. I'll be adding more categories soon.
********
NORDSTROM // Save up to 50% with an extra 20% off selected sales items! BTW, they have Stuart Weitzman OTK boots and booties for 40% off people! This is the time to make that investment - when it's on major sale!

NEIMAN MARCUS // up to 60% off AND GUCCI private sale up to 50% off


SHOPBOP // Buy More, Save More - Save up to 25% off with code GOBIG16


MODA OPERANDI // Save an extra 30% off sale items using code EXTRA30


Happy Shopping Y'all!!