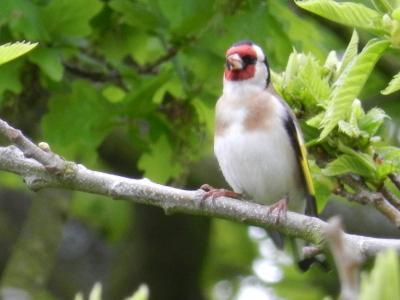 Among the numerous species of small bird that can be seen diving and darting around the British countryside, the Goldfinch is one of the most delightful. Easily identified by their striking plumage of brown, black and yellow wings and a bright red face, these small birds are easy to spot.
Found throughout most of the UK apart from the the far north and west of Scotland, Goldfinches are present all year round but are most active at this time of year as the nesting season is well under-way. There are in fact thought to be over 300,000 breeding pairs of Goldfinches in the UK with around 100,000 of these lovely little birds spending the winters here too.
Their beautiful colouration is not their only highly distinctive feature as their delightful twittering song can also make Goldfinches very easy to identify amongst the leaves and branches, often mixed in with the mutterings of many other birds. This lovely little tune is particularly prevalent at this time of year as pairs can be seen courting throughout the country.
Although they are becoming more commonly seen feeding at bird tables in our gardens, the best places to see Goldfinches is out in the wild where there are scattered bushes and trees and a good variety of seeding plants. Other good places to spot them are in orchards and parks where these birds are most abundant in numbers in the south of the country.
Goldfinches mainly feed off seeds year round. They have long, fine beaks that help them to extract seeds from plants that may not be accessible to other birds, such as thistles. In the warmer summer months, they also feed on small insects.