You find me in the midst of the summer holidays, which means I am now working funny hours.  Because we have the lovely Lily-Rose to look after, Mr Walker and I take it in turns to be at home, alternating our weeks in and out of work.  As I normally work part-time, I extend my working week to full time and then take the next week off.  It's rather complex and utterly knackering as I change my journey to work from a 45 minute drive (maximum) to 2 and a half hours each way, incorporating a 10 mile walk and hour long train journey. The walking loses its novelty after a couple of days but I like the train as it gives me time to think and write.  It even has a faint air of Victorian romance about it.  Well, sort of...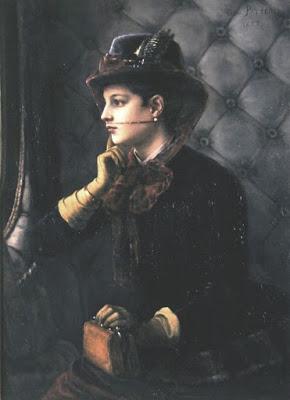 The Departure (1885) Cesar Pattein
There is a glamour that clings desperately to rail travel, earned in the days of steam (if you had a bit of money) where elegant women sat on rigorously upholstered seats and looked wistfully out of the window at the countryside.  Sadly, in my little bit of railway I don't get to see much in the way of haystacks, smock-clad yokels or ploughs but I do see a bit of seaside as I hurtle into Portsmouth.  Otherwise it is an unending line of B&Q, Fitness First and scrubby railway sidings.  Maybe that is what lies behind the above lady's expression - 'Did I already pass that KFC? Where on earth am I?  Did I doze off again?'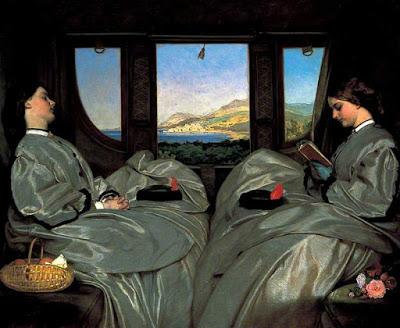 The Travelling Companions (1862) Augustus Egg
It's good to have a companion while traveling to poke you awake at the relevant station.  If possible, travel with your doppleganger as by a nifty combination of hiding in the loo and keeping a look-out you can possibly get away with one ticket.  I still maintain that
The Travelling Companions
is a picture of one woman at different points in her journey and her companions are her book and her picnic.  Thinking about it though I'm not sure how effectively you would be able hide in that amount of skirt. A giant skirt is a good way of getting a double seat to yourself and a lot more elegant than a rucksack.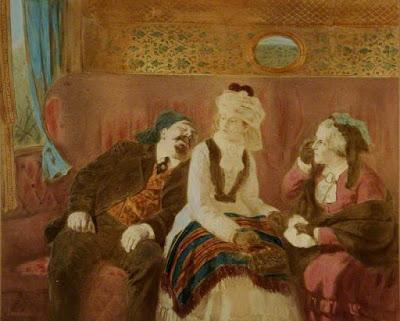 Scene in a Railway Carriage with a Man and Two Women (1872) Benjamin Vautier the Elder
See, this is the sort of nonsense that can happen if you don't get the seat to yourself. I've never actually had some bloke fall asleep on me, thank goodness although my worst railway encounter was much more awful.  I got stuck in a train carriage with a contingent from a fascist organisation who told the conductor that I was smoking the dope that he could smell (the conductor rolled his eyes at me and mouthed 'I know, I know...') and shouted abuse at anyone who wasn't them.  They then announced they were going to rip the carriage apart when the police arrived.  It made the journey a little more bracing than I like, I can tell you.  On the scale of awful, I'd rather have the Rossetti lookalike doze off against me.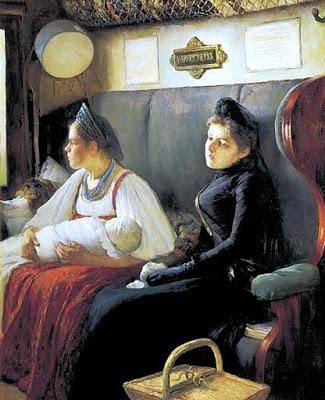 To the Relatives (1891) Leonid Pasternak
This is a very sober scene of travel.  I especially like how neatly packaged the woman in morning is compared to the flowing gown of her sister, or is it her wet nurse? Our lady in black is not looking best pleased at the trip to her family but her bereavement may well be the cause of her devestation rather than having to spend time with relatives.  Probably.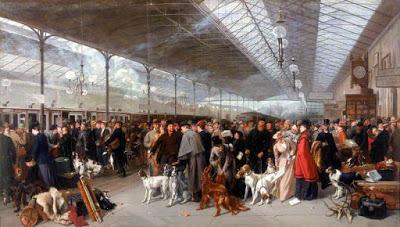 Coming South: Perth Station (1895) George Earl
The Victorians loved a railway scene as it combined their twin passions of progress and judging people.  All sorts of people could be on a railway platform from criminals to royalty giving ample scope for vignettes of human interest.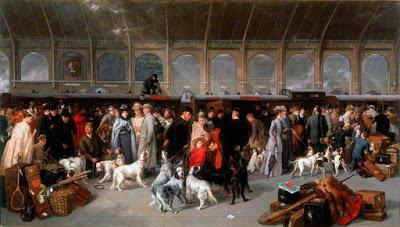 Going North: King's Cross Station, London (1893) George Earl
There is usually a fair amount of still-life, with the assortment of luggage.  Earl seems quite keen on his dogs too, echoing their owners in anthropomorphic interplay.  Or maybe he just liked dogs.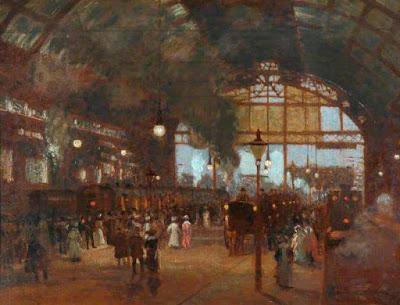 Cannon Street Station (1908) Algernon Talmage
This is a particularly beautiful picture, capturing the steam rising from the engines in the great glass arches of the roof.  In the dim light, women in pastel Edwardian gowns hurry as best they can to board a train or meet a loved one.  A cab waits patiently for a fare, its dim lamps making spots of light by the platform. All is blurry and atmospheric.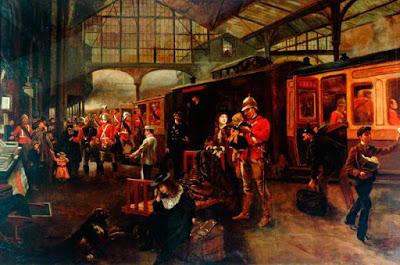 Farewell (1900) Robert Hillingford
As I talked about in my post about wives and girlfriends of military-types, the Victorians loved a scene of tragic parting.  Handsome soldiers bid goodbye to their beloveds before boarding the TRAIN OF DOOM.  'I'll be back soon, my darling!' Yeah, right.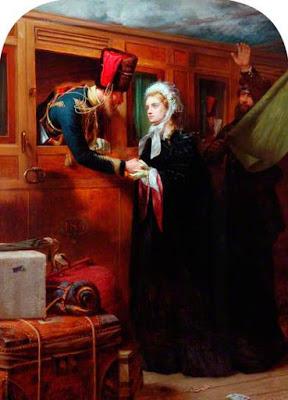 Farewell to the Light Brigade (1870) Robert Collinson
It's a bit previous for his wife to get her black clothes out but it's probably a good thing because we all know he is not coming back, just as surely as we know he will knock off his hat trying to get his head back in that window. He said to her 'I always wanted to travel first class!' and she replied 'Probably best to do it on the journey out then....'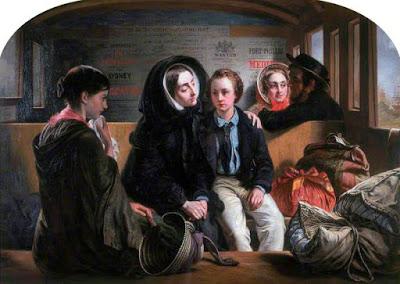 The Departure, Second Class (1855) Abraham Solomon
The Victorian obsession with social mobility through hard work can be seen in railway pictures.  This young man is going forth into the world to make his fortune and become a thoroughly upstanding, and more importantly wealthy, young man.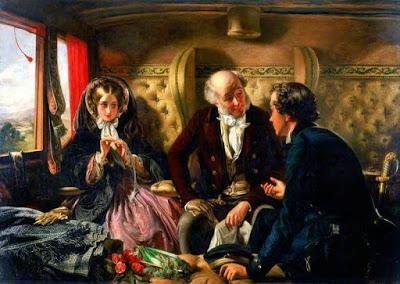 The Return, First Class (1855) Abraham Solomon
The difference between first and second class is marked but not as extreme as you'd think.  Second class looks clean and honest but drab.  The people look nice but there is a solemn understanding that this is not the jolly side of life.  When our young hero comes back, the seats are richly studded, there are flowers and rosy cheeked maidens.  He's become an officer, hence his sword on the right, and can talk to receptive fathers about his prospects and intentions. The man behind him in the first picture is also a sailor and so it could be argued that his rise to first class status was not guaranteed but he has applied himself to the opportunities available (possibly some of those listed in the posters on the back wall of the second class carriage) and now he can apply himself to the opportunity of the rosy cheeked girl in first class.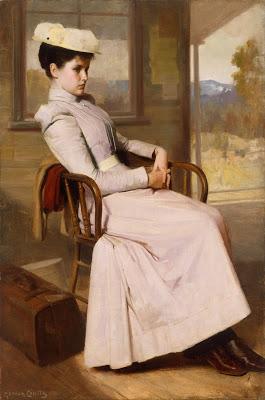 Waiting (1896) Gordon Coutts
The bit I don't like is waiting around on drafty platforms, or in the case of this week, sweaty platforms.  This young lady is managing to look deliciously bored and stylish all at once as she waits for either a train or a loved one.  I'm guessing it's a train as the suitcase next to her speaks of travel away on the rails behind her.  Maybe she is waiting for someone to join her on her adventure?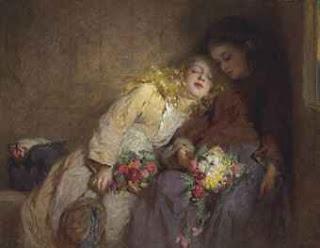 The Return Home (1873) George Hicks
Far too much adventure has been had by these two who are coming home with bouquets of flowers. At least they are quiet because we have all been on a train with noisy kids.  Some of us have been the parents of noisy kids on trains and that can been mortifying.  Mercifully since the advent of Minecraft silence rules the Walker traveling party but when Lily was a loud and mobile toddler I remember losing her under the table only to have her appear again shoving floor-crisps into her mouth. The horror.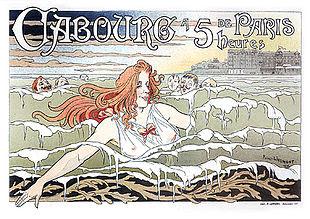 Train poster advertising the 5 hour train journey from Paris to Cabourg
Now this is more my idea of fun - semi-naked sea-bathing in Edwardian splendour.  All this can be yours in around 5 hours!  A lot of gentlemen have traveled to do a bit of swimming.  Obviously the idea of bobbing around in the briny ocean is the only incentive that brought them to Cabourg.
Well, I have a summer of rail travel ahead of me so I will keep the glamour of Cabourg in mind, although the reality is somewhat more like this...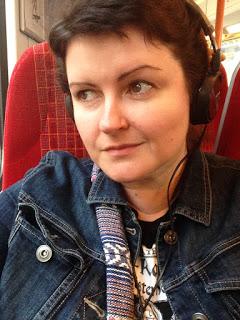 This is how glamorous 6.30am looks (not very)
Happy travelling!