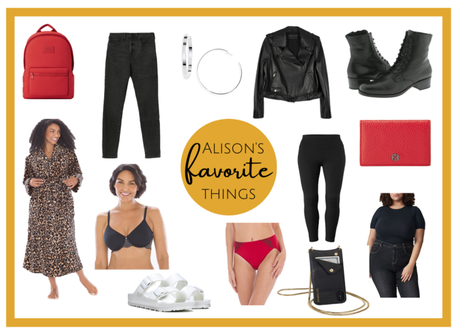 Last year, inspired by Oprah, I shared a post of my favorite things. It was fun to put together and you all really enjoyed it so I decided to make it an annual tradition. Below are Alison's favorite things - items new to my life this year or things I've loved for years that have changed my life for the better. I have them separated by category since it's a pretty long list!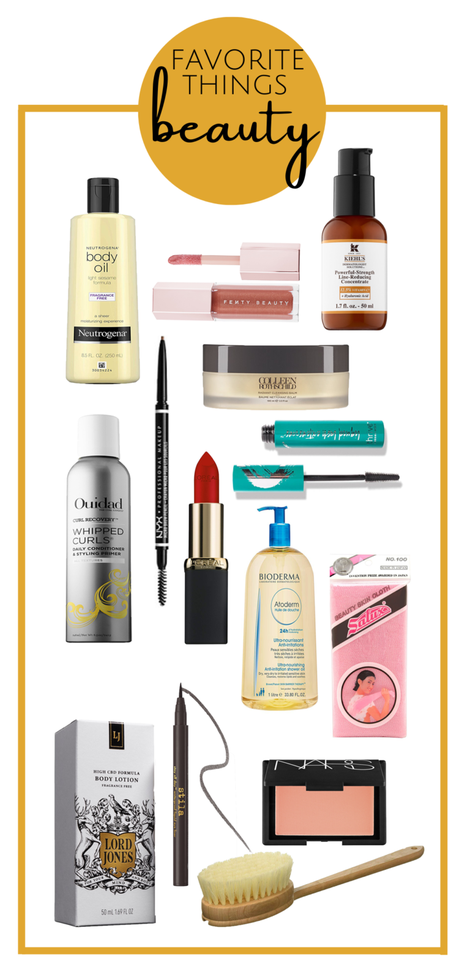 Beauty, Skincare, and Body Care

We are now on our 8th bottle of Atoderm Cleansing Oil. The whole family loves it. No heavy scent, plenty of suds to feel like you're getting clean, yet it doesn't dry out skin. No greasy or filmy residue. Only a few pumps are needed to clean the whole body. It's so gentle it can even be used on babies. Many of you have shared you also tried Atoderm and it was great for your sensitive skin. Heads up, this is often on sale during Prime Day and Cyber Monday. Buy some now, but then stock up during those Amazon sales for the rest of the year!
Not just tubing, Liquid Lash Extensions has fibers to thicken and lengthen your lashes without looking clumpy or gross. All this and Thrive Causemetics is vegan, cruelty-free, and gives back with every purchase.
I'm a blogger, but I'm also a blog reader. And blog reading has made me think CBD is a load of bunk. I am sick of seeing every single person in my feed, my inbox, and my Instagram hawking one CBD brand or another. I don't believe any of it. And yet here I am hawking a CBD product in my Favorite Things for 2019?
I bought this for my husband who loves woo-woo things. Supplements, herbs, baths, cold showers, meditating, special breathing, grounding mats... I could go on. He finds benefits, so for Christmas last year I got him a bottle of Lord Jones CBD lotion after he commented on it being featured in GQ. I loved the idea of marrying his love of woo and my love of Sephora. I never expected to find it so radically effective.
Mosquito bites. Sore knees after a hard workout. My husband's foot that has endured several stress fractures over the years and gets grumpy when it rains. An achy lower back when used in conjunction with traditional anti-inflammation or pain-relieving medication. It truly works. There is a version that smells like patchouli, and one that smells like absolutely nothing.
Maybe it's my allergy eyes, maybe it's my impatience, but I have never been good with a pencil liner. I have come to love making a very thin line with a brownish-black non-shiny liquid liner right along my lash line to make my lashes appear thicker, my eyes more defined, without being too obvious. Last year I shared that Maybelline Line Stilleto was one of My Favorite Things, but since then Maybelline discontinued the product in Brownish Black. I was devastated, every brown was too light or too shiny. Then I found this one from Stila and I am again a happy camper. While it is waterproof, it comes off easily with my face cleanser. It's not shiny, it's not too warm or too light or smeary. I don't love the pen quite as much as Line Stilletto but it's still an awesome product. If dark brown isn't your jam this liner comes in a ton of other colors!
This is the BEST. It's of the same plastic as a traditional bath pouf, but woven into a super scratchy long washcloth. It's so long you can grab each end and scrub your back! You can ball it up and use it like a pouf or fold it into a pad and scrub the heck out of your skin. It dries super fast and it's an awesome price! Get this, the Atoderm, the body brush, and the Neutrogena oil and your skin will be aaaahhhhh-mayyyy-zing for less than $40!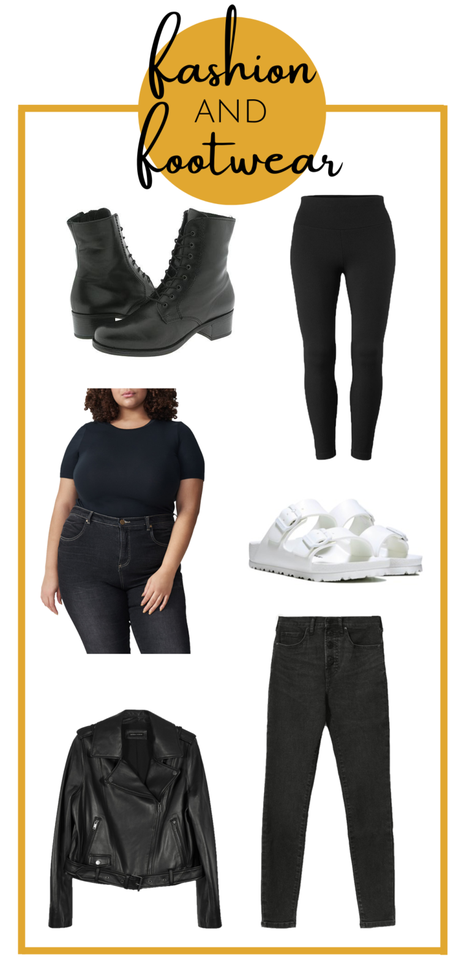 Fashion and Footwear

These boots are buttery soft but lined for warmth and comfort. They have functioning laces AND a side zipper so you can create a custom fit but easily get them on and off. They come in widths. They're waterproof. And I am able to fit my favorite insoles into them even while wearing thick wool socks. They have been glammed up with beautiful dresses and they've tromped through muddy woods on hikes. They live next to our front door because they're my favorite shoe to slip on quickly and get on with my day. They look and feel and perform every dollar of their pricetag and I believe I'll be wearing these classic and stylish boots for many years to come, even after the combat boot trend has retired.
I got this shirt last year, it was a gift from Universal Standard when they launched their FOUNDATION line. I was like, when will I want to wear a tight black high crew neck t-shirt? I put it on and it was so long it could be a mini dress on me. But I was impressed with how stretchy it was, how soft it was, how it was snug but not at all transparent. The sleeves just the right length, and while it was tight it wasn't clingy or uncomfortable.
I wear this shirt all the time. I wear it with full skirts and pants. I wear it under blazers and overalls. I wear it as a layer to stay warm in the winter, and as my primary piece of clothing on the hottest days of summer. I've accidentally washed it with jeans, I've thrown it in the dryer, it's been laundered over a dozen times and it still is saturated black, still opaque, still soft, and fuzz ball-free. I am a huge fan of Universal Standard's Tee Rex t-shirts; this is not a replacement but a completely different piece. Different fabric, different fit, but still as high quality.
I don't want to admit how many leather moto jackets I've purchased over the years. As someone who isn't thin and is short, it's hard to find a real leather moto jacket that is high quality and fits. I want one that is soft buttery leather, looks good over a dress but also can be worn with a sweater. I want it to be able to zip up over my bust and not make me look like I'm wearing a straightjacket. I don't want any superfluous details - no extra zippers, no studs, no fake pockets, no embroidery. I want a moto that will get better with time, will mold to my body, will be a worthy investment.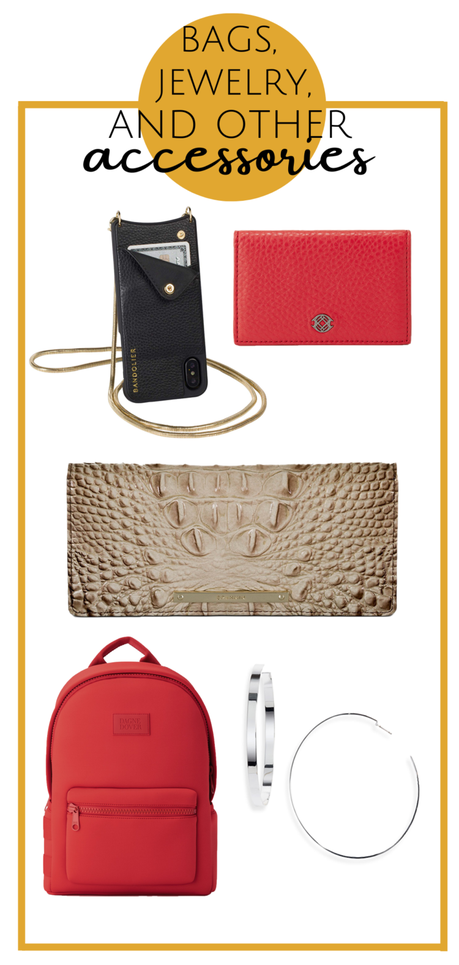 Bags, Jewelry, and Other Accessories

This was also one of Alison's Favorite Things of 2018. Bandolier is a brand that makes phone cases with a crossbody strap. The case also has a small pocket to hold your ID, some cash, and other small essentials. I bought my first one a few years ago and it has been such a gamechanger I buy a new one with each new phone I get. My trick is buying the cheapest plain black case I can find and reuse the old straps. I also bought this pouch when I got my first plus-sized phone and continue to use it with all the different phones I've had since. These cases are NOT cheap, but they work great. It's a good choice when sightseeing, at concerts, and times when you need your phone but little else. With a pretty strap (I have this one), it can replace a purse for many social occasions.
I was so lucky to have Jenny Bird gift me with a few pieces this year. The brand reached out after seeing I was such a fan and invited me to pick a couple pieces from their upcoming collection. When the box arrived with my picks, they also included a pair of their Cober Hoops, with a note saying they thought they looked to be my style. Boy were they right! I wear them several times a week, they are big but not heavy, simple yet not boring, and seem to make every outfit more "Allie." They are a true statement without being too over the top and have truly become a part of my signature style.
I like a big wallet like this for everyday. I want a pocket for bills, a pocket for receipts, a pocket for things like stamps. I want a zipper pouch for change that can also hold a safety pin or two. I want plenty of slots for credit cards and business cards and stamp this card at the sushi restaurant to save $20 off a future order. And I want my wallet to not be black and to be a texture so I can easily find it in the dark cavern of my purse.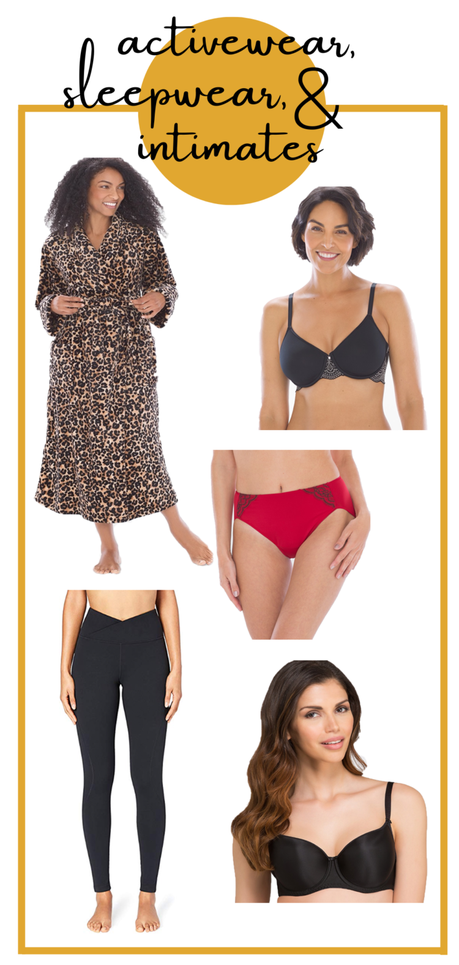 Activewear, Intimates, and Sleepwear

I have washed my Core10 leggings at least 30 times, it's probably more like 60 times. They go in the dryer, they're not babied. Other leggings this old and worn have stretched out, have gotten covered with fuzz balls, or have become thin in places. Not these babies, they're still a great fit and in great condition. The cross waist is amazing because it doesn't roll over when I do crunches or bend over and stays in place not showing my undies in the back. The legging isn't shiny and thick enough that if I end up having them go from gym to the street I don't look like I'm wearing activewear. These aren't the ones you want to wear in the middle of July for a run, but they're fantastic for most any other situation.
Shop the List:

And now I'd love to hear from you - what would YOU put on your Favorite Things list? Do share in the comments for your favorite may be just the thing another is lacking in their life!