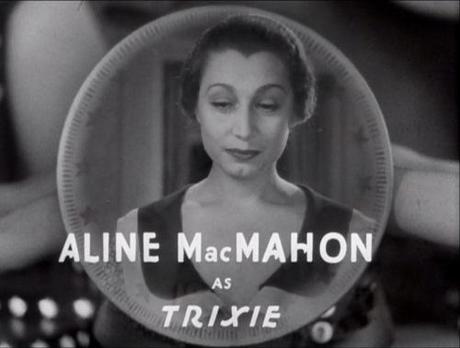 Gold Diggers of 1933 has a wonderful ensemble cast, but if anyone doesn't get enough love, it's Aline MacMahon.  Busby Berkeley tends to get a lot of the credit for Gold Diggers of 1933 thanks to his unforgettable musical numbers. After Busby, people tend to think of Ginger Rogers, Ruby Keeler, Joan Blondell, and Dick Powell. Keeler, Blondell, and Powell are some of the stars most strongly associated with Busby Berkeley musicals and Ginger's part may be small, but she sure made a splash in the opening "We're in the Money" number. Poor Aline MacMahon as Trixie tends to go overlooked.
Ruby Keeler may get to be the cute, girl next door and Joan Blondell may be the pretty one, but Aline MacMahon gets to be funny one in Gold Diggers of 1933. Busby Berkeley musicals aren't just great because of the dazzling, kaleidoscopic musical numbers; they also have a lot of humor in the non-musical scenes as well. So while Keeler, Blondell, and Powell may get to shine in the musical numbers, Aline steals the spotlight in the other scenes.  She gets practically every good quip in the movie.
Fay: "If Barney could see me in clothes…"
Trixie: "He wouldn't recognize you."

Barney: "It'll be the funniest thing you ever did."
Trixie: "Have you ever seen me ride a pony?"

(After Trixie gives Fay out of a little kick toward the exit of a nightclub for having designs on Fanuel, causing her to yell.)
Fanuel: "Did little Fay cry out?"
Trixie: "No, that must have been the coronet you heard."

Trixie: "After what he called you? A parasite? Say, what is a parasite? You better resent it."
Aline MacMahon gets her biggest moment in the spotlight in the scene when Fanuel and Lawrence show up at Carol, Trixie, and Polly's apartment, looking to pay Polly to break things off with Brad.  Not amused at being called parasites, Carol and Trixie decide to have a little fun with the stereotype just to mess with Fanuel and Lawrence.  Aline plays the stereotypical gold digger to a hilarious degree.  She always cracks me up in those scenes.