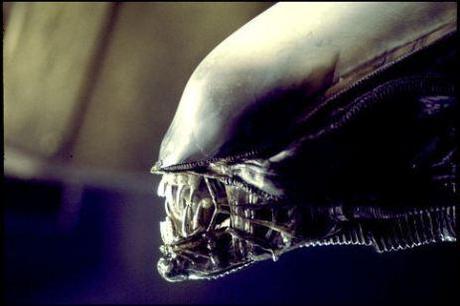 There comes a point in every monster movie — and we have been privy to a spate of them in recent years — where the monster shows itself to its intended victim. We cringe as the look of utter horror ripples across the victim's face. In the next instant, the loathsome beast is about to pounce on our unsuspecting innocent.
In Ridley Scott's sci-fi classic Alien (1979), much of what we've come to expect from screen monsters has been turned inside out. From the moment this monster appears on the scene — and by now, viewers engrossed in the saga know precisely when that moment arrives — our surprise and revulsion are such that, considering the wild ride the movie ultimately takes us on, we can never be sure where or when that beast will turn up next.
As any horror/science-fiction fan will tell you, it's those unexpected moments audiences crave for and find the most absorbing. The tension that's been building almost never lets up: your heart races, your head spins, and the person sitting to your right knows their forearm is about to get bruised before the flick is over.
That's how it's been, ever since the original Alien made its feature "debut." It's a movie that's been defying audience expectations for well over three decades. The other films that make up the so-called Alien Trilogy — James Cameron's Aliens and David Fincher's Alien3 (discounting the fourth vehicle in the franchise, Alien Resurrection, as beneath contempt and even further below the level of consideration) — have provided similar fodder, but in their own gut-wrenching style.
We're talking about three individually tailored visions here, and from three very different directors with their own distinctive approach — a concerto for sci-fi lovers, each one comprised of a single movement, with variations on a main theme that in almost every respect translates to survival of the fleetest.
Alien: First Movement (Adagio)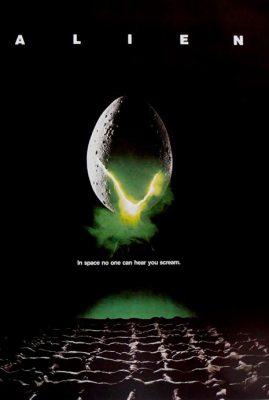 Alien
logo and poster art
Rather loosely based on the hoary B-picture It! The Terror From Beyond Space, with action sequences borrowed from The Texas Chainsaw Massacre, plus such classic models as 2001: A Space Odyssey, Star Wars (its immediate predecessor at Twentieth Century-Fox), The Exorcist, and, most logically, The Thing from Another World, this space opera-cum-creep show combines chest-bursting excitement with solid shock value for the buck, albeit in slow, agonizing doses.
In addition to obvious horror elements there is plenty of artistry to admire, with a good deal of the credit going to two-time director Scott for his fine sense of the subtle: few filmmakers of his stature (at that point in their careers, at any rate) have used silence to such a nerve-wracking degree. When the thrills do come, they literally jump out at you, thanks to a photogenic feline named Jonesy.
To let readers in on a poorly kept secret, Alien is much more than your average monster-on-the-loose epic — indeed, with its gleaming slickness, oozing drool, and molecular acid for blood, the Alien takes on undeniably sexual overtones. Swiss artist H.R. Giger's horrific phallic symbol is so grotesque and so disgusting, it's actually quite beautiful.
Penetration (yes, in all its myriad forms) is taken to the ultimate extreme — but that's the whole "point" of the picture. It's what our not-so-friendly neighborhood Alien represents, the creature's menacing presence standing in for warrant officer Ripley and the doomed crew's scariest and most nightmarish wet dream. Quite fittingly, it soon becomes the audience's wet dream as well.
Fear of the enigmatic other, specifically of the one committing a violation, and its intrusion upon our person — call it intergalactic rape — epitomizes the unnatural force behind this thriller set in the outer reaches of space; a contradiction in terms when applied to the confined spaces of the cargo transport Nostromo, or the tighter quarters of the shuttlecraft Narcissus.
Like everything else in this dark, moody work, the violations occur in unique, often bizarre fashion: at times, they're overt; at others, merely hinted at. But no matter how they occur, they're committed by the Alien (along with a few others) in constantly shifting forms and in ever-more ghastly situations.
Likewise, each form the Alien takes on comes with its own set of problems, which the ill-prepared and inadequately-equipped crew members slowly come to appreciate. Their collective battle will bring to fruition the movie's advertising tag line: "In space, no one can hear you scream." AAAAAAAAAAAAAARRRRGH!
Adventure Time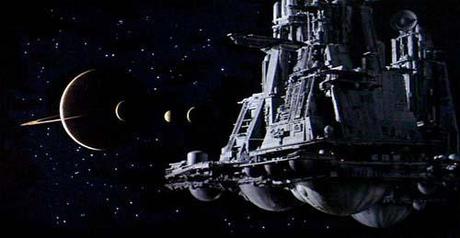 The commercial cargo transport
Nostromo
The crew's "adventure," for lack of a better word, begins shortly after awakening from deep-space hibernation to find Nostromo completely off course. Light years from its destination (i.e., Earth) and hauling a huge and "terribly expensive" payload, the cargo transport intercepts an alien distress signal, resulting in its setting down on a stormy, uncharted planetoid. The plan is to fulfill what the crew members perceive to be a rescue mission. In truth, they will be the ones in need of rescue!
All told, there are seven crew members, everyday working stiffs very much like ourselves. Indeed, our complete identification with these characters — "truckers in space" as Scott once referred to them, who undergo a traumatic readjustment of their priorities — lends credence to this stark tale of space travelers stranded in a hostile environment competing to overcome it.
What we have is a manifestation of the fight-or-flight phenomenon, pitting an all-too human task force — first Kane (John Hurt) and Dallas (Tom Skerritt), then Brett (Harry Dean Stanton), followed by Ash (Ian Holm), Parker (Yaphet Kotto), Lambert (Veronica Cartwright) and Ripley (Sigourney Weaver), in that order — against an amorphous and ostensibly invincible adversary embodied by the Alien (six-foot, ten-inch Nigerian design student Bolaji Badejo).
Once on the surface of the planetoid, three of Nostromo's crew members (Dallas, Kane and Lambert) are dispatched to check out the alien spacecraft from whence the distress signal originated. Dwarfed by the gigantic vessel, they scramble about precariously in an attempt to gain a foothold alongside the outer hull. Finally, they are able to enter through vagina-like apertures. (Note: This is the first of several violations, as previously indicated). Their smallish size, in contrast to the enormity of the craft, gives the crew members the semblance of invading sperm cells, unintentionally "impregnating" the vessel's interior with their seed.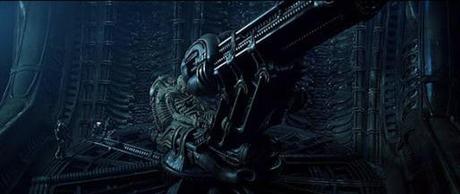 Alien space jockey
No sooner has their investigation begun when it becomes all-too apparent they have stumbled onto something out of the ordinary: a once living and breathing entity, but now hollowed out and wholly abandoned. Groping their way in the dark (as if stepping gingerly in a dream), they come across the massive, fossilized remains of one of the ship's former occupants, a gigantic alien life form still strapped to the navigator's chair. The creature's ribcage has exploded, but from the inside — an ill-fated omen of things to come.
For not only does the ship contain a skeletal inner structure — scenes of the interior reveal a grotesquely shaped backbone or spinal column of some kind — but there are other clues scattered about that indicate something truly terrifying must have happened to these beings. (The mystery of the alien vessel and its inhabitants was explored — rather unsuccessfully, in our opinion — in Ridley's Prometheus from 2012).
To get at the source of the signal, Kane is lowered into an inner chamber. At the same time, Ripley, the senior officer in charge, informs Nostromo's secretive science officer Ash that their computer (whose name happens to be Mother) has analyzed the alien transmission: it's not a distress signal at all, Ripley advises, but a warning. Of what, is still unknown.
The Better to Hug You With, My Dear
Shifting back to the alien craft, Kane has managed to slip through a laser-like force field that blankets the egg chamber — an intriguing, blue-beamed hymen of sorts that alerts the sleeping eggs an intruder is present. Could this be what the distress signal was warning about? Perhaps, but the damage has been done. Kane's involuntary act, i.e., his accidental penetration of the chamber's "womb," starts a chain reaction of events that will bring about his downfall and, it should be noted, the bulk of Nostromo's crew.
In the past four or five years, I've seen this picture at least a dozen or so times. That's an average of two or three viewings per year. Part of the fun of watching Alien on DVD or Blu-ray Disc is the pleasure I get out of discovering new and hitherto unperceived actions I never had the chance to appreciate before now. One can linger over the smallest details and on every facet of production: a freeze-frame here, a line of dialog there, that in a cursory screening were completely lost on the first few go-arounds.
Take, for example, the sequence in which Kane's curiosity about the egg chamber gets the better of him. The object that shoots out after one of the eggs opens up and attaches itself to his kisser resembles a sliced fillet of sole blended with horseshoe crab innards. Its tail tightens around Kane's neck, while it keeps him alive via an organic breathing tube inserted inside his throat (one more example of penetration).
Ugh! You can't help clutching your own throat as you witness this highly impressionable scene. That disgusting "face-hugger," as it's known to film buffs, reminds us of a large and extremely gaunt, almost skeletal claw grasping at someone's face. When it does finally detach itself, the crab-like creature expires but its reflexive grasping mechanism is still active. God help the person who comes near that thing!
The same grasping mechanism is alluded to again, but under a different set of circumstances. In the strange scene where Ash freaks out and tries to shove a girlie magazine into Ripley's mouth (still another act of violation), he's accosted by Parker. Ash reacts to his attack by placing his hand over Parker's chest (where his heart would be) and squeezing it tightly (is this what they call "copping a feel?"). That reflexive action, whereby Parker is clutched by Ash's vice-like grip, mirrors the face-hugger's grasping mechanism to a "T."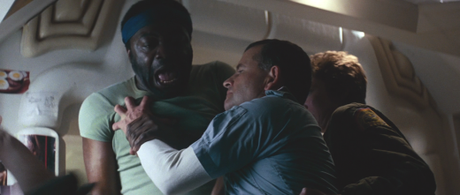 Ash (Ian Holm) attacks Parker (Yaphet Kotto)
I never noticed it before, but Ash, who's obviously gone haywire, was instinctively mimicking the Alien's face-hugger stage that, only minutes later (with cyborg head neatly severed from his torso), he would be praising: "Perfect organism. Its structural perfection is matched only by its hostility." And further: "I admire its purity. A survivor… unclouded by conscience, remorse, or delusions of morality…"
Remorseless, unconscionable, and patently amoral, the Alien's only thoughts are for the preservation of its kind. It's reasonable to assume that of all the crew members Ash is the only one who does not meet his end in the double jaws of the beast. How ironic, then, that Ash's own demise by decapitation (he's a robot, so we can presume that he lacks a functioning male organ) is a form of emasculation of the sole crew member incapable of reproducing himself.
In the above instance, Ash poses no threat to the Alien, which is why the faceless corporation (Weyland-Yutani or just plain "the Company") has instructed the science officer to "Bring back alien life form. All other priorities rescinded. Crew expendable."
Another observation: moments after Ash forces the magazine down Ripley's throat, Parker disrupts the proceedings by whacking him hard on the shoulders. This sends the science officer spinning about the room and spewing forth a liquid that, to the average viewer, resembles a milky-white substance we might equate to ejaculate. Parker then delivers the coup de grâce to Ash's head which subsequently detaches his noggin from the rest of his body. Youch!
This episode illustrates just how deranged the cyborg has become, and how like a praying mantis (or the HAL-9000 computer?) Ash's natural predatory instincts have taken over his sick mind. At the first sign of a breakdown, he bounces Ripley around the spaceship's corridor as if she were a stray volleyball. His eyes begin to twitch and a bead of white sweat runs down his brow. This is followed by the business with the girlie magazine.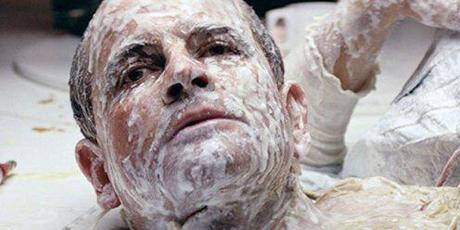 Ash's severed head
Since Ash is basically a neutral being (neither male nor female, one would gather), this incident is as close as he'll ever come to experiencing sexual pleasure from a human. It's also among the last things Ash does before the plug is finally pulled on his circuits.
Gender Bending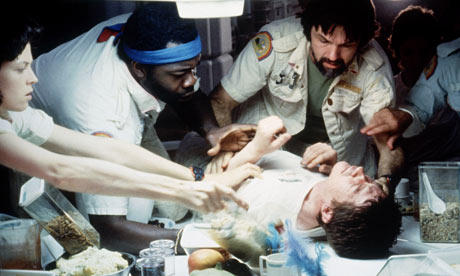 The birthing scene (Photo: Allstar/20th Century-Fox)
Needless to say, the traditional roles of men and women are, to put it bluntly, indelibly reversed and reassigned in Alien. For instance, that notorious chest-bursting scene is one that not only gives women the willies, but us men, too. And with good reason: it's a birthing scene, plain and simple, with copious blood splattering about, and all the yelling and screaming and carrying-on generally associated with live delivery.
Just to be clear, Kane is carrying an Alien fetus to term — that is, one that grows at a tremendously accelerated rate, to be sure. And to make the comparison even more odious, after Brett is seized and killed by the Alien, and Parker blubbers on in a state of shock re: Brett's ordeal, he voices serious concerns about finding and destroying the creature: "This son of a bitch is huge! I mean, it's like a man; it's… it's big!" And what is Ash's response? "Kane's son." Oh, yeah…
The last sequence is the most "revealing," in more ways than one, of the entire Alien series. Believing she is finally free of the vicious beast, Ripley, the "last survivor of the commercial starship Nostromo," prepares herself for deep-space hibernation. She starts to undress and winds up stripped down to her tiny panties and a teasingly petite T-shirt. This is woman at her most vulnerable state.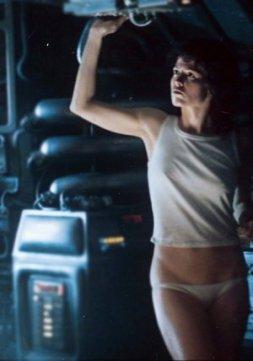 Ripley (Sigourney Weaver) in panties
Throughout the course of the film, Ripley is seen as the most level-headed and fiercely determined of the crew members — the word "macho" readily comes to mind. She takes over the normally (for 1979) male leadership role on Nostromo, and resumes the methodical search for the Alien, after Captain Dallas disappears from the airshaft. (In a deleted scene, Ripley finds Dallas in one of the corridors. He is barely alive and being used by the Alien as sustenance.)
Taking off her "dog tag," Ripley flips on, or off, a series of switches. She does an about-face, bending down slightly as she continues her task, thus giving the movie audience a sneak peek at her rump. This is director Scott's little in-joke, telegraphing to viewers that the film is about to "end" (get it?). It's also a clever way to throw us off the track by diverting attention away from the slate-gray tubes and pumps that line the shuttlecraft wall where Ripley is standing.
The reason for that diversion becomes clear: it's where the Alien is hiding. He announces his presence by flicking out a hideous hand, which makes both the startled audience and Ripley jump about twelve feet in the air. Ripley runs for cover, to the safety of Narcissus' locker at back where she finds a handy pressure suit and helmet.
Ripley slowly steps into one of the suits, all the while keeping a cautious eye on the fearsome Alien, whose huge, metallic-colored head and tube-like appendages gleam in the shadows. We do not need to linger over the particulars, since most fans of the film know how the story ends: Ripley manages to flush the beast out of the shadows and open the shuttlecraft's door; this action is followed by her firing a spear-gun into it, which knocks the Alien out of the craft. Undeterred, the wily creature tries to latch onto the shuttlecraft's engine, but Ripley turns on the juice in time to fry the Alien into oblivion.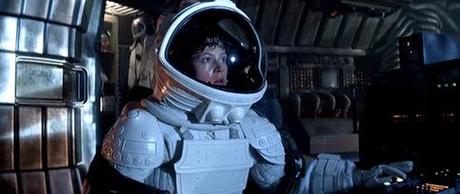 Ripley manages to dispose of the Alien
One need not be a disciple of Freud (or even a Jungian acolyte) to discern the symbolic nature of the individual elements that make up the above sequence of events. In not so many words, it's payback time! So let's go over them one by one: Ripley's stripping away of her garments indicates a casting off of her soiled past to face a clean and wholesome future; her fear of impregnation by the Alien leads Ripley to flee to the safety of the locker; her seeking of shelter there represents a ritual return to the womb; her wearing of a pressure suit inside the locker suggests she's surrounding herself with a layer of protection akin to amniotic fluid; her shooting of the Alien with a spear-shaped weapon is her way of completing the act of penetration — her tit-for-tat moment ("You did that to them, but I'm going to do it to you!"); etc., and so forth.
At the time, Ripley's fight for survival against an unbeatable foe, her mano a mano battle to the finish, proved once and for all that women — even one as tall and elegant and efficient as warrant officer Ripley — could be just as successful at depicting the action hero as any man could. Sigourney Weaver, who played Ripley, continued to portray the character in the next three installments of the franchise. And her director on Alien, Ridley Scott, went on to film the critically acclaimed Thelma and Louise (1991), with an Oscar-winning screenplay by Callie Khouri that's been described as a veritable treatise on feminism.
Origin of Species
On an unrelated matter, Roger Ebert, the popular movie critic of the Chicago Sun-Times, used to throw a fit every time he was forced to debate the efficacy of the Alien's morphology. His pet theory was that whenever the Alien opened its jaws, it would reveal a second set of jaws; and that second set of jaws would, in turn, open up to reveal… yet another set of jaws! And so on, and so forth, all the way down to a miniscule pair of tiny little tweezers at the end — much like what happens with those Russian nesting dolls, but with plenty of drool and razor-sharp teeth.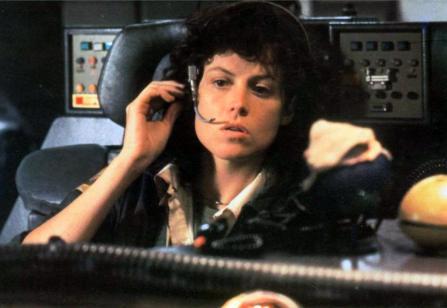 Lt. Ripley on board
Nostromo
It seemed trivial at the time to have made this observation. And, surely, if memory serves me, Ebert must have been the only critic around to have brought the matter up. Still, he had a point to make: if you are going to show a creature with a twofold set of mandibles, there should be a perfectly logical explanation in nature for their existence. Roger's reasoning was this: why would a creature such as the Alien, who supposedly rose to the top of the evolutionary food chain, even need another set of choppers in the first place? As Ash inquired of Ripley, "What's the point?"
As for me, I was more concerned with how an extraterrestrial of the Alien's shape, size and strength was never once shown chowing down a meal, or even taking a drink to quench that monstrous thirst of his. One gets awfully dehydrated in outer space, you know! It could be that extra pair of jaws got in the way every time the Alien tried to get near a water cooler. Whatever!
Not to make light of this argument, but if the Alien really had molecular acid for blood, as Captain Dallas theorized early on about the face-hugger, then how could the creature prevent its veins and arteries, not to mention all those internal organs, from dissolving through its own bone and tissue? Now that's a subject I'd like to learn more about. Hopefully, it will be tackled in the next iteration of director commentaries. For now, we're left with good ole Roger.
(End of Part One)
To be continued…
Copyright © 2014 by Josmar F. Lopes