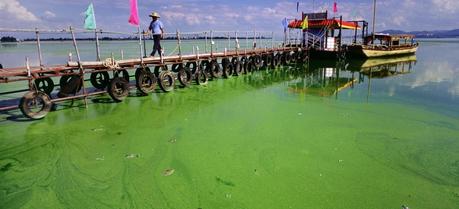 An algal bloom in Dianchi Lake, China. (Credit: Flickr @ eutrophication&hypoxia https://www.flickr.com/photos/[email protected]/)
The Basque Institute for Agricultural Research and Development has confirmed the capacity of Chlamydomonas acidophila microalgae to absorb ammoniacal nitrogen present in the liquid that comes from the decomposition of agri-food waste.
Chlamydomonas acidophila microalgae can grow in these liquids and assimilate the ammonium, which prevents this gas from being volatilised in the form of ammonia (NH3) and contaminating the atmosphere. Furthermore, the microalgae biomass obtained in this procedure can be used as a raw material for producing biogas or used as animal feed, compost or fertilizer besides being an extraordinary source of lutein, a powerful antioxidant used as a food supplement.
SEE ALSO: New Technology Transforms Wet Algal Biomass Into Biogas
Ammoniacal nitrogen (NH
3
-N), is a measure for the amount of ammonia, a toxic pollutant often found in landfill leachate and in waste products, such as sewage, liquid manure and other liquid organic waste products. The values of ammoniacal nitrogen in water or waste liquids are measured in milligram per liter. Ammonia can directly poison humans and upset the equilibrium of water systems. Ammonia even at dilute concentrations is highly toxic to aquatic animals, and for this reason it is classified as dangerous for the environment.
The decomposition process of agri-food waste in oxygen-free conditions produces effluent that has a high content of ammoniacal nitrogen, specifically between 2 and 5 grams per liter. Significant quantities of this waste is produced on farms and biogas plants, among other facilities. That is why it is essential to find suitable methods for managing it and for preventing the ammonia from being volatilized and ending up in aquifers and surface waters.
Chlamydomonas acidophila microalgae display characteristics suited to growing and reproducing in a medium that contains up to 50% of the liquid that comes from the decomposition of agri-food waste, as researchers have been able to confirm. The main advantage in cultivating them lies in their capacity to develop in very acid mediums (pH 2-3) and to tolerate, to a high degree, the presence of heavy metals and high organic loads.
In addition to their environmental contribution owing to their capacity to assimilate ammoniacal nitrogen, they have a significant capacity to produce lutein, a powerful antioxidant that helps to delay cell and tissue deterioration and oxidation; lutein protects the organism from free radicals attack and is used in various therapeutic treatments.