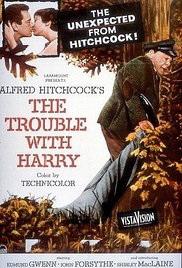 Director: Alfred Hitchcock
Writer: John Michael Hayes (Screenplay) Jack Trevor Story (Novel)
Starring: John Forsythe, Shirley MacLaine, Edmund Gwenn, Mildred Natwick, Mildred Dunnock, Jerry Mathers, Royal Dano, Parker Fennelly, Barry Macollum, Dwight Marfield
Plot: The trouble with Harry is that he's dead, and everyone seems to have a different idea of what needs to be done with his body…
There may be spoilers the rest of the review
Verdict: Smart Mystery Comedy
Story: The Trouble with Harry starts as Captain Albert Wiles (Gwenn) accidently kills a man known only as Harry. While trying to clean up his accident he runs into a string of visitors to the location it happened. Albert continues to wait for his time to move the body while we meet artist Sam Marlowe (Forsythe) who has been trying to sell his work on the side of the road with no success.
Sam sees the dead body as his latest piece of art and decides to work with Albert to cover up the truth but Jennifer Rogers (MacLaine) just so happens to be the wife of Harry who is tired of her husband. The story takes a twist when it appears that other people could have been involved in the murder.
The Trouble with Harry gives us a comedy that has to deal with covering up a dead body. This film starts with one man need to cover it up before it gets more people involved which builds on the comedy happening through the film as we go through all what should happen both what is a good idea or bad idea. The story does feel like a play which I did find enjoyable to watch.
Actor Review
John Forsythe: Sam Marlowe is a small town local artists trying to sell his work with little success. He stumbles on the dead body for his latest piece of work an agrees to cover up the death while trying to woo the local single mother Jennifer. John is good in this role nailing all of the scenes he is in.
Shirley MacLaine: Jennifer Rogers I thee newly widowed lady whose husband is in fact the dead body, she is a single mother that wanted to get out of her marriage. She is charmed by Sam and willing to go along with the cover up. Shirley is great in this early role for her showing all of her potential.
Edmund Gwenn: Captain Albert Wiles is the man who believes he kills Harry and decides to cover up the body in his own way dragging more and more people into helping him as he starts to learn who really was involved. Edmund is great in this getting most of the laughs.
Support Cast: The Trouble with Harry has a small supporting cast that all work for the way the story is set working really well with the main cast.
Director Review: Alfred Hitchcock – Mr Hitchcock gives us one of his most unique films that works perfectly completely out of the norm for the legendary director.
Comedy: The Trouble with Harry is filled with comical moments throughout the film as the people decide what to do.
Mystery: The Trouble with Harry does keep us wondering where the story will go and what happened to Harry.
Settings: The Trouble with Harry keeps the settings simple with the whole film taking part in a small town like location.
Suggestion: The Trouble with Harry is one to try with the comedy all coming off nicely. (Try It)
Best Part: Concept really comes off great.
Worst Part: Comedy might not work for everyone.
Believability: No
Chances of Tears: No
Chances of Sequel: No
Post Credits Scene: No
Oscar Chances: No
Budget: $1,2 Million
Runtime: 1 Hour 39 Minutes
Tagline: The UNEXPECTED From HITCHCOCK!
Overall: Enjoyable mystery comedy that doesn't seem to have aged.
Rating