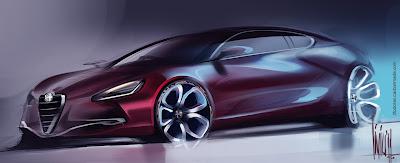 Liviu Tudoran Alfa Romeo proposal
Dear friends,
today I was looking around car design portfolios websites and I was positively impressed by this Alfa Romeo color rendering made by Liviu Tudoran.
I love it!
What I like the most is the good balance between the front structured design respectful of the Alfa Romeo brand identity and the rest of the car which is sort of a muscle car very elegant and sporty at the same time. A real good interpretation of good Italian design codes, proportions are also very well managed and controlled. It is not a revolutionary design proposal, but a very good and tasty design exercise that shows Tudoran's talent and great skills.
Liviu Tudoran comes from IED Turin based design school in Italy.
I invite all of you to look at it carefuly and also to go check Liviu Tudoran's full portfolio to discover all his amazing works including digital art scenes for science fiction scenarios. You will love it!
Click:
Liviu Tudoran's portfolio
Thanks!