Over at AlexSkarsgard.net, they are looking for ways to help pass the time until True Blood Season 4 starts and also help charity, so they decided to throw a party!  And there are prizes.
The prize is a signed 8 x 10 photo of Alexander Skarsgård…or two…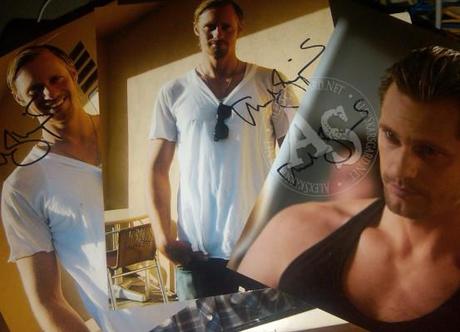 and consists of two parts:
The Recipe Roundup
The Cookbook Cover Design Challenge
All the recipes donated to the site will be used to turn the roundup into a lovely "Skarsworld's Yummy Book"! A cookbook made by all of the fans! Once completed…the books will be available for purchase…the profits benefiting a charity that Kristin Bauer van Straten recommended, the The Amanda Foundation –a nonprofit organization that rescues dogs and cats who, through no fault of their own, are spending their last days at City and County Shelters.
Go on over to AlexSkarsgard.net to read all the details and enter to win and to help the Amanda Foundation.