SPOILER ALERT!  
True Blood's Executive Producer and writer Alexander Woo talked to The Hollywood Reporter about Tommy's demise in last week's episode 10.  He discussed the decision about the manner in which they ended Tommy's story line by saying:  "I think we needed to redeem Tommy at the end."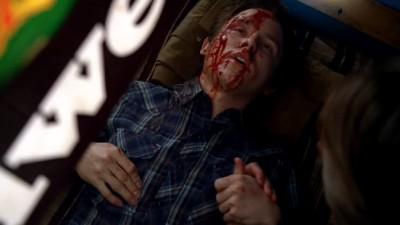 "Despite all the terrible things he does, we always felt he had a good heart on the inside," Woo adds. "He has done so many things that have hurt others and hurtful to himself, but ultimately we thought it was important to emphasize the basic humanity at the bottom of that character."
THR spoke with Woo about the choice to kill off Tommy, how it will affect Sam, and whether we can expect any more casualties as we enter the final two episodes of Season 4.
Watch the scene of Tommy's death below:
Below is part of that interview:
The Hollywood Reporter: When you're choosing to kill off a character, what is the thought process among the producers and writers?
Alexander Woo: It's not something we take lightly at all. As writers and fans of the show, you get to know these characters as real people. So, saying goodbye to them when you've gotten to know them for a period of years is never easy. There is a lot of discussion about whether to do it and how to do it. This is a vampire show. Death is a part of the life of this show, so characters do die. The heart of the show is always going to be in Bon Temps with this small core group of characters that we have. So often when we lose a character, we feel it from the point of view of our main characters.
THR: Going forward, how will Tommy's death affect Sam?
Woo: Sam has a lot of heavy stuff to deal with. He went out in search of his family. And because he went out if search for his family, they're all dead, which of course is quite a heavy burden for him to carry and it's something he's going to have to come to grips with.
To read this entire article go to: hollywoodreporter.com
video source: http://www.youtube.com/user/BWQBClips