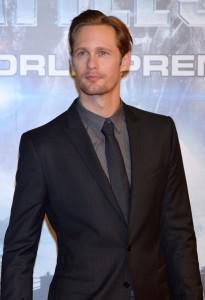 Alexander Skarsgård at the Battleship World Premiere in Japan/Koki Nagahama, Getty Images
Update: Per Skarsgård News, Alexander will be starring in Hidden. See the conformation here.
Alexander Skarsgård (Eric Northman) is currently in negotiations for the horror film Hidden. According to a report published by the Hollywood Reporter this afternoon the movie, slated to be directed by Matt and Ross Duffer is described as:
"…As an elevated horror-thriller about a family hiding in a bomb shelter after escaping a mysterious outbreak. "
If the negociations are successful, Hidden will begin shooting later this year. The film will be the first film Skarsgård has lined up for 2012. But he has three that are set to be released this year including Battleship, What Maisy Knew, and The East.
More information will be posted as it becomes available.
Source: Hollywood Reporter.com- "Alexander Skarsgård to Star in Warners' Horror Thriller 'Hidden'"