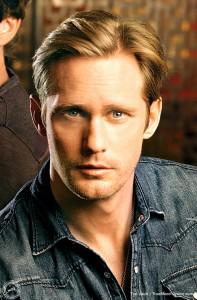 "True Blood's" Alexander Skarsgård will star in a Viking epic tentatively titled "The Vanguard" for Warner Bros., according to Variety.
The project includes acclaimed playwright Chris Boal who is set to write the script. Story follows the adventures of two Viking warrior brothers who embark on a journey to return to Sweden after being banished to North America.
Jon Berg and Chris Gary will oversee the project for WB.
Additional story details are being kept under wraps, but the project, being eyed as a potential tentpole for Warner Brothers, will be in the vein of Best Picture winners "Gladiator" and "Braveheart."
Charles Roven and Richard Suckle will produce for Atlas, whose young execs Andy Horwitz and Jake Kurily brought the project in and will also be involved in some producer capacity. Skarsgård will make his producing debut with "Vanguard," signaling his rise in stature following his starring turns in Universal's "Battleship," Screen Gems' "Straw Dogs" remake and Lars von Trier's "Melancholia."
source: variety.com