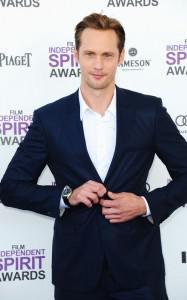 Alexander Skarsgård as Eric Northman, the 1000-year-old Viking vampire who runs Fangtasia, the most decadent and depraved nightclub in the Louisiana Bayou might not get to spend too much time there this season since he and Bill are on the run from the Authority. Recently Alex sat for an interview with ph.omg.yahoo.com where he talks about his experiences on True Blood and it's 5th season.  Below are excerpts that pertain to True Blood from that interview:
Q: Alexander, what can you tell us about the upcoming 5th season of True Blood?
Skarsgård: Oh, I don't want to spoil to much of the fun, but this year will probably be an epic year in the series. More blood, more thrills! Eric will be meeting a very special new member of his circle – my vampire sister Nora (British actress Lucy Griffiths) will be appearing on the show. She's also Godric's child and a very important part of his life.
Q: At the end of the 4th season, Sookie breaks up with both your character, Eric, and with Bill. Is this the end of the menage a trois?
Skarsgård: (Laughs) Eric and Bill are going to be working on their bromance a bit now. We team up against a natural enemy. They have no choice but to set aside their disputes and form an alliance of sorts. It's going to be a bit like Butch Cassidy and the Sundance Kid.
Q: In addition to True Blood, your film career is also taking off. Are you at all anxious to end your vampire duties?
Skarsgård: No, no. I love my work in the series. This is a great character and Eric is tremendously popular all over the world. It would be insane if I wanted to leave the series voluntarily. Right now I'm enjoying getting to do movies in between seasons and I'm trying to find good projects and see where that takes me. I remember what it's like to spend years not getting any phone calls and not having any scripts sent my way. So I'm very happy to have True Blood to look forward to every year and I'm enjoying seeing my character and the series unfold. I don't think it's an accident that we have a very big following.
Q: Do you ever worry that playing such a popular character like Eric will create too strong an identification with audiences and overshadow your film roles in the coming years?
Skarsgård: No. Audiences are able to separate you from your other characters quite easily as long as you don't play similar roles and of course no vampires! So I've been playing different kinds of characters in movies like Melancholia, where I play a passive man, a much weaker man than Eric, who is very much an alpha male. Also my role in Battleship was very different. As long as I avoid playing vampires or similar roles in films, I don't think audiences will have much difficulty separating me from Eric. I actually think the identification works in your favour because people think they know what you will be doing and then your character in a movie does something to surprise you.
Q: You've become something of a sex symbol in recent years thanks to True Blood. How do you deal with the attention?
Skarsgård: I'm glad the series is receiving so much recognition. There are a lot of very talented actors working with me and we all share the success. Obviously it's very gratifying personally but I like to live as quietly as possible. I'm Swedish, and we're not known for flaunting ourselves although I know people might question that because of True Blood's sexual content.
Q: You do a fair amount of nude sex scenes. Is that an interesting aspect of your work?
Skarsgård: There's a certain amount of pleasure in being naked and knowing that your body is fit and toned. I always enjoyed working out and this is the kind of role where vampire sexuality takes on amenacing quality, so your body becomes an asset to your acting and your work takes on a much greater erotic intensity. But the nude scenes themselves aren't that sexy, because there are too many technicians standing around and there's a director telling you where to place your hands, which takes some of the spontaneity away and so none of us are getting turned on in front of the cameras.
Q: There's something of a menage a trois going on between your character and Anna Paquin's Sookie and Stephen Moyer's Bill. Are the sex scenes between you and Paquin odd considering she and Bill are married to each other in real life?
Skarsgård: We're actors so we understand the requirements. Anna is like a sister to me and it makes erotic scenes somewhat odd but with the camera a few feet from your face and technicians standing around you're not getting turned on or coming anywhere close to feeling that it's real. It's just part of the job.
Read this entire inteview by going to: omg.yahoo.com