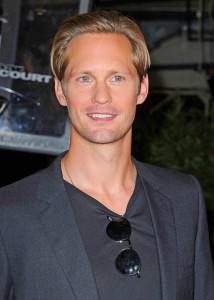 True Blood's Alexander Skarsgård is making a smart play for his next movie role in Brit Marlng & Zal Batmanglij's "The East."
Brit Marling currently has two Sundance hits in "Another Earth" and "Sound Of My Voice" and with a role in Robert Redford's forthcoming "The Company You Keep," the actress/writer/producer is having the kind of year people dream of. And while she's had her pick of the projects to take on this fall including Steven Soderbergh's "Magic Mike" and the Tom Cruise vehicle "One Shot," getting the next project she penned with 'Voice' co-writer and director Zal Batmanglij moving has been a priority and it looks like it's now beginning to come together with Skarsgård now boarding the film.
Details on the project are slim, but the story will revolve around a woman who infiltrates an eco-terrorist group called, you guessed it, The East. Skarsgård will play the group's leader probably with some serious blue/green eye intensity (seriously, just try and look away).
The film will shoot in October and November, with Marling's new home at Fox Searchlight backing the production as previously announced. As far as casting goes, it's a solid choice. Skarsgård is a great actor who is certainly destined for bigger and better roles; his talent is far too good to just be contained on "True Blood." As for Marling and Batmanglij, it seems they are under no pressure to cast up A-list stars in their pic to get it rolling which is encouraging and considering the cult leanings of 'Voice' this project appears to be a different approach on a pervasive group mentality. Exciting times ahead for sure. But before it starts, Marling will shoot 'Company' and Skarsgård will finish up the indie flick "What Maisie Knew" with Julianne Moore and Steve Coogan that is shooting now.
source: blogs.indiewire.com