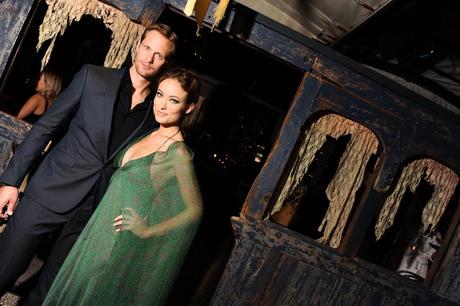 Although the fragrance went on sale at the beginning of September, the official launch party for CK Encounter, which boasts True Blood vampire Alexander Skarsgard as its face, held a launch party on September 28th in New York.  Skarsgard was on hand for the party having just wrapped filming of his upcoming movie 'Hidden', which required a diet of kale salads and water for two months.  He took time out to speak to Elle Magazine who had named him the Hot Topic of the Week and he addressed the Christian Grey rumors (fans have their fingers crossed!), what its like being the face of Encounter, and which city has the best looking women.
First up Alex says that he is honored to be the hot topic of the week and jokes that he only came for that reason.  Then Elle asks him what its like to be the face of Calvin Klein's new fragrance and he replies:
I hadn't really done campaigns before, but I felt like if I was ever going to do it, then this is the one. Calvin Klein is such a cool, classy house. It's got a great creative team behind it—Fabien Baron and Steven Klein. I had worked with Lara Stone before and enjoyed it. So it felt like the stars aligned. It felt like the one. I was excited about it. I was flattered and honored; they had never worked with a male actor on a fragrance before.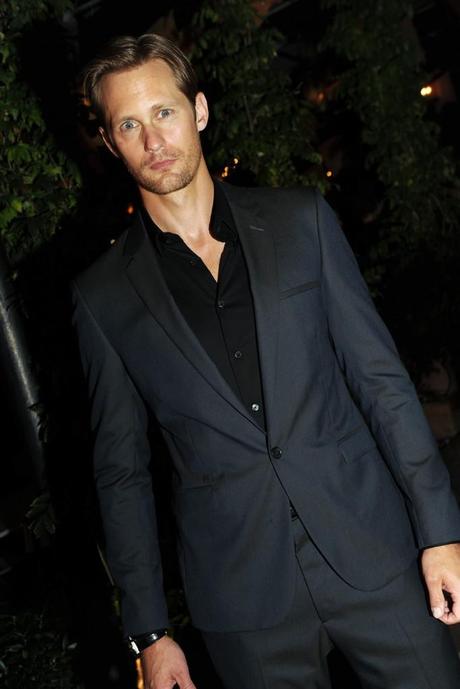 When asked if it is more fun to play "good" Eric or "bad" Eric on HBO's True Blood, Skarsgard replies that he really likes that Eric has both sides to him.  He says that makes Eric more relatable because he's good and bad, like all of us. 
Elle asked Alex whether he will play Christian Grey in the Fifty Shades of Greymovies and he replied:
I have no idea. I haven't read a script, and I don't think there's a script out there. And I haven't read the novels, so it's difficult to say. The first thing you do is read the script, and then you feel if you're good for it or not.
And finally, when Alex was asked which city has the most beautiful women, Skarsgard replied "Stockholm, Sweden".  He mentions that the men are also very attractive as well.
Source: Elle.com – Alexander Skarsgard Interview
Image Credit: Steve Eichner