During the Toronto International Film Festival this past weekend, Alexander Skarsgård answered fan questions that were  sent in to the New York Times. Here are a couple of the questions and answers, you can read the complete article at artsbeat.blogs.nytimes.com.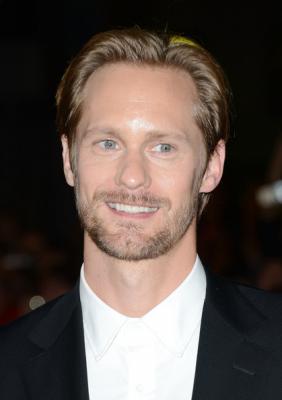 Q: I was really struck by the different physical characterizations of Lincoln and Eric after attending [Friday's] premiere of "What Maisie Knew," and having just finished watching the season finale of "True Blood." What discussions or collaborations are involved in determining the physical presence and representation of a character? — Ellen C, Toronto
A: To me, it's all about inspiration. What gets me creatively excited is a challenge. There's gotta be a discovery. When I read a script and have my first interaction with this character, do I feel like there's something I'm gonna learn here? If I feel like it's something I've done before, then what's the incentive for me to do it? That's why, after playing Eric Northman for seven months shooting a season, I don't want to play Eric Northman in a movie, but just without fangs. I want to try new things.
Q: Wondering if you are in interested in doing a comedy? — Gina Bianchin, Chicago
A: Yeah, absolutely. I've done that in Sweden before. My first film out here was actually a comedy, "Zoolander," many years ago. I had a small part in that. But I'd love that. It's different, and something I haven't done in a while.
Q: What are your favorite things about Sweden that you can't get in the States?— Jasmine, Omaha
A: The most obvious answer is: the reason I go home is family. But also, I've been in L.A. for 8 years, so all my memories there are from being an adult; oh, I went to that restaurant with that friend. In Stockholm, it goes deeper because when I walk down the streets, every single street corner will mean something. There will be a history there. There's a connection to my childhood there. It means so much to me to go home and relive all those memories.