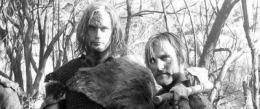 Yesterday, it was announced that True Blood's Alexander Skarsgård would be starring and producing a major Viking epic called, The Vanguard.
Also, a while back it was announced that Mel Gibson was working on an epic Viking movie starring Leonardo DiCaprio. After the Mel Gibson scandal came to light, DiCaprio pulled out of the movie and not much has been heard about it since then.
After yesterday's announcement about Alexander, people started to speculate that this was the same movie that Mel Gibson had been working on… It's not. It's a completely different movie and has no connection with Mel Gibson whatsoever and a lot of websites are getting this confused.
When you read this quote from this source, you can see why there is confusion:
"Then I read the fine print. Yes, this epic—or saga, given its Norse subject matter—will likely involve three hours of the unbearable hotness of Skarsgard, but it will  be under the direction of Mel "Sugartits" Gibson. "
So, please know that this is a completely different movie with no connection whatsoever to Mel Gibson's movie.
source: skarsgardnews.com