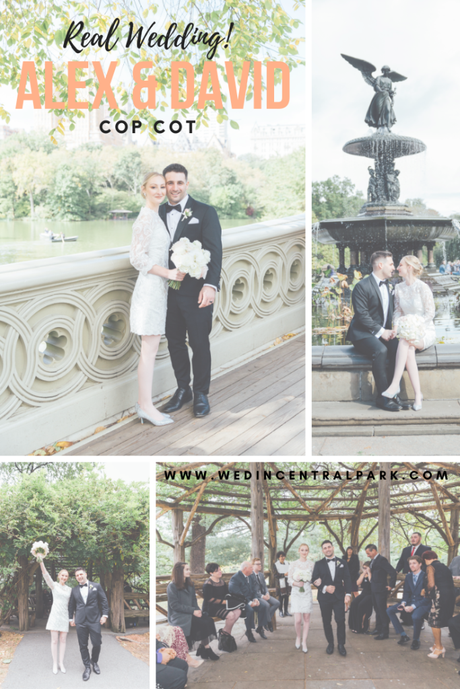 Alex and David got married in Cop Cot in October.  They had been together for ten years when they got married.  They had around fifty guests with them for the wedding, brought over to New York for the wedding from their home in Montreal, Canada.  Alex and David first met at a hockey rink, when Alex's brother Phil and David were about seven years old and played there together.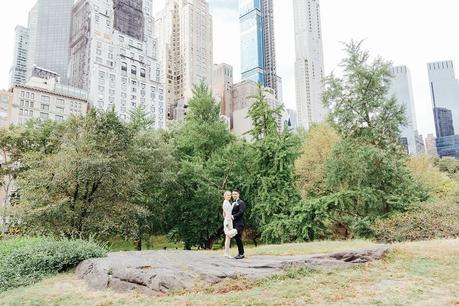 Originally, Alex and David wanted their own officiant to perform the wedding.  It was someone who is a member of the family, but she was not New York state registered, so if she had done it alone, the wedding would not have been legally binding.  So, we arranged for our own NY state registered officiant to perform the ceremony with her.  I usually write the ceremony with input from the couple, but for this one, their family member, Alex and myself did it together, and it worked out great.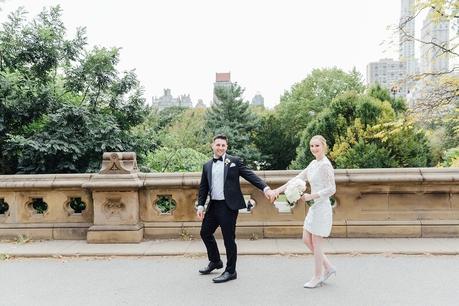 The couple wanted to have a rehearsal the evening before the wedding, so our officiant, their family member officiant, the couple and some of the party met in Central Park before dinner on Friday to go over the ceremony in advance.  Their family member had wanted to say something special on the day and keep it a surprise from the Alex and David so we kept some of it back from them while writing the first drafts and for the rehearsal.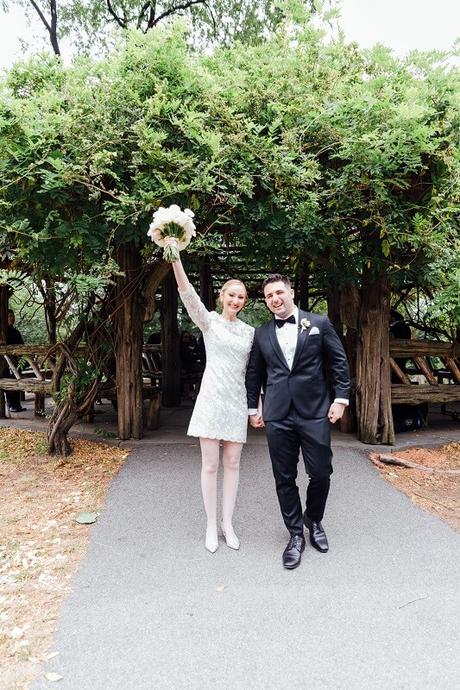 We arranged for a bridal bouquet and matching boutonniere to be delivered on the morning of the wedding to their hotel.  Alex carried a rounded, and compact petite bouquet of white mixed blooms of garden roses, spray roses, hydrangea, standard and mini phalaenopsis orchids and ranunculus with a slight touch of blush and no greenery.  Alex and David were staying at the Kimpton Muse hotel.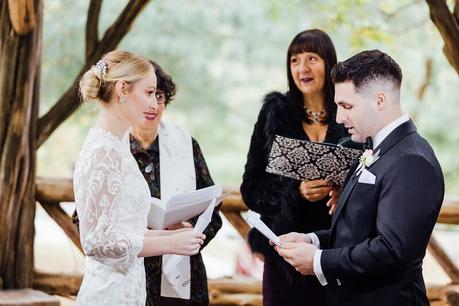 Alex and David got married in the morning.  They had wanted to get married in the afternoon, but when we applied for the event permit, all of the afternoon slots were all taken, so they were happy to go for a morning slot.  We agreed to do the wedding in February of the same year and applied for the event permit straight away, but a Saturday in October is a popular day for a wedding and Cop Cot is a popular location.  The permit applications for Central Park open at the end of the previous year, so if you want to get married on a Saturday afternoon in a popular ceremony location then it's best to get in early.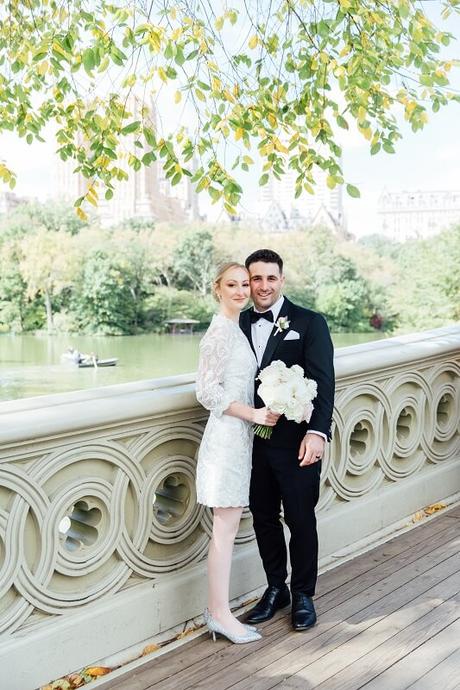 We arranged for a harpist to play in Cop Cot for the party.  She played background music for the guests while they waited for the bride to arrive, and then when she did, she arrived to Sweet Child O' Mine by Guns and Roses.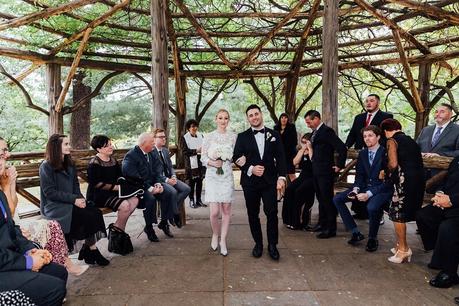 Since their officiant was someone who knew them, she had lots to say in the introduction.  After that, they exchanged traditional vows and then some they had each written personally.  The officiant read the poem Reasons Why, by Joanna Fuchs, which I'll put at the end of this post.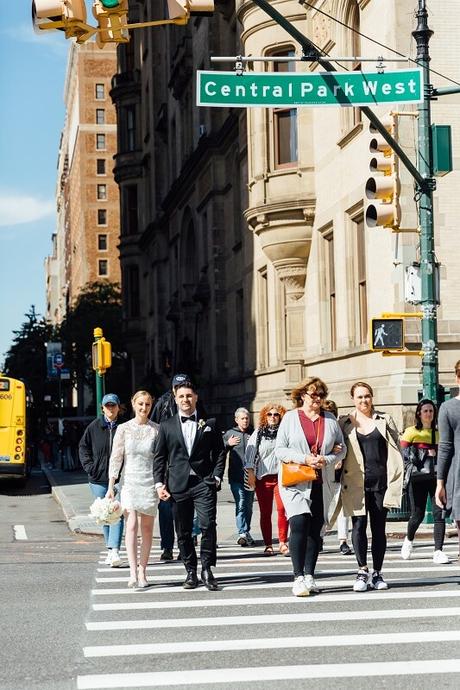 Our photographer Julieanne took them around the park for photographs after the ceremony.  Sometimes couples send their guests off to a bar or similar for an hour or so while they take portrait photos around the park, but Alex and David wanted their guests to hang out with them while they took photos.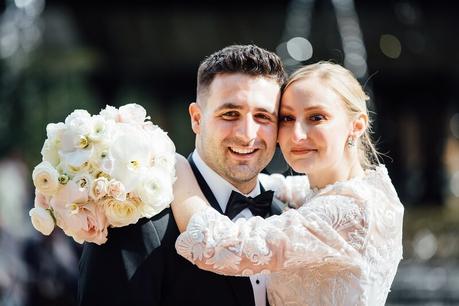 After the photos in Central Park, they took their whole group up to the Top of the Rock in the afternoon.  I think that's a great option for a destination wedding – it makes the day so much more memorable for everyone than doing only the traditional stuff!  So, having the afternoon free to take their guests somewhere amazing and uniquely New York was a happy consequence of deciding to have the ceremony in the morning instead of the afternoon as originally planned.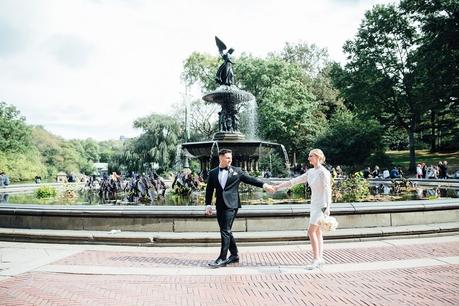 I asked Alex how we did.  "Everything went very smoothly and we all had a blast," she said.  "Thank you so much for planning everything it made for a very stress free weekend!  We were beyond happy with how everything went!" she told me.  If you would like me to help you with planning your own Central Park wedding or elopement, whether you're from near or far, visit our website.  Keep updated with our news and see lots of beautiful photos, "like" us on Facebook, follow us on Instagram and follow us on Pinterest.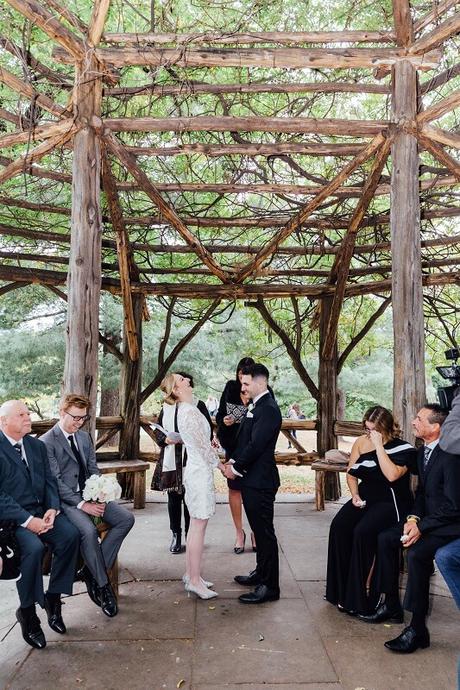 Reasons Why, by Joanna Fuchs
Our love is the long-lasting kind; we've been together quite a while.
I love you for so many things, your voice, your touch, your kiss, your smile.
You accept me as I am; I can relax and just be me.
Even when my quirks come out, you think they're cute; you let me be.
With you, there's nothing to resist; you're irresistible to me.
I'm drawn to you in total trust; I give myself to you willingly.
Your sweet devotion never fails; you view me with a patient heart.
You love me, dear, no matter what.
You've been that way right from the start.
Those are just a few reasons why
I'll always love you like I do.
We'll have a lifetime full of love, and it will happen because of you.