By Sophie Rae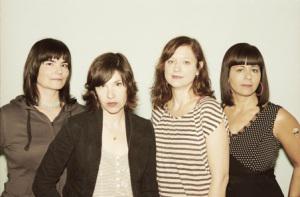 I first heard (and heard of) Wild Flag when they opened for Bright Eyes at Radio City Music Hall last March. Sitting in the balcony and looking down at the empty stage, I remember thinking anxiously of all the homework I had to do when I got home and wishing that Bright Eyes would go on soon. Then, to my surprise, I saw four women walk onto the dimly lit stage and pick up their instruments. I leaned excitedly into the aisle to get a better view of the stage. Seeing four women take the stage makes me automatically happy.
When they started playing, every feeling of impatience immediately fell away— they were amazing. Even in the controlled and sterile environment of Radio City Music Hall, their sound was so intense and powerful and strong. When the vocals came in, I turned to my friend, "Wow, her voice sounds so familiar… almost like… HOLY CRAP IT'S CARRIE BROWNSTEIN!"
Ever since that show I've been waiting to hear this incredible band again. And today, my wish came true! Wild Flag's self-titled debut album came out today and it is AWESOME.
The band, based in Portland, OR and Washington, DC, was started by Carrie Brownstein with fellow Sleater-Kinney band-mate Janet Weiss, Helium's Mary Timony, and The Minders' Rebecca Cole when, in Brownstein's words, she "started to need music again."
The album is entirely its own, unique and distinctive in its music, lyrics, and energy. It reinvents Riot Grrrl, combining the 90s sentiment with more complex music and instrumentation. It's like Riot Grrrl all-grown up, with a new level of sophistication that comes only from abandoning the old limitations of a musical genre and making room for new ideas and influences. Catchy and artfully dissonant guitar lines weave seamlessly around and into each other, working in perfect harmony with Cole's organ-like keyboard. Brownstein's vocals feel like an impending explosion, emotive and intense in a way that is at once exciting and disconcerting, as she sings lines like, "I'm a racehorse, yeah I'm a racehorse, you put your money on me!"
One of my favorite tracks on the album is 'Boom.' With its Patti Smith-esque vocals and simple but powerful lyrics, it sounds like something Sleater-Kinney would have written if they'd kept playing, which, given my undying love for Sleater-Kinney, is certainly a compliment.
Given how professional this album sounds, it's hard to believe that this album was recorded live (except for the vocals). But with a band with this much talent, it's also hard to be entirely surprised. These four women have experienced great success with their past bands, and Wild Flag is just a continuation of these musicians' valuable contributions to rock music. This album is a must-listen and I seriously suggest that everyone check it out asap!