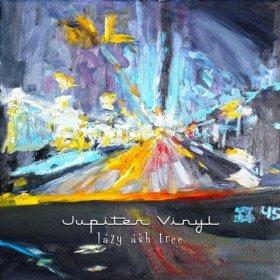 Pittsburgh-based acoustic duo Corinne Bohjanan and Edward Horey perform under the name Jupiter Vinyl, and have released an album of simple, upbeat folk pop songs: Lazy Ash Tree. Both Bohjanan and Horey provide the vocals, with Bohjanan accompanying on bass guitar and Horey on acoustic guitar. It's certainly a stripped down approach – and one many may consider risky – but the duo have the talent and charm to pull it off. With nothing to hide behind, the duo's vocals, lyrics and performances in general are completely exposed, but both Bohjanan and Horey perform excellently throughout.
The duo has been performing together since August 2010, but in many ways they sound like they have been collaborating for far longer. Lazy Ash Tree is a very comfortable listen – it's a record that sounds like it was very enjoyable to make, and as a result is very easy to listen to. The tracks are well written, surprisingly varied (for so few instruments) and their harmonies in particular are very unique and often quite challenging and unusual.
Opening with "Magic Soap" we are instantly introduced to what Jupiter Vinyl is all about – charming indie folk that has a very intimate and retro feel. Bohjanan's lyrics (in this track in particular) bring a smile to your face:
"I know I can't read it in my horoscope, or in the shower on the magic soap/Even the fortune in my take out dish won't tell me how to handle this."
"Plastic Hero" is perhaps one of Lazy Ash Tree's standout tracks – featuring gorgeous harmonies, quirky-yet-sincere lyrics and an upbeat, toe tapping rhythm; it's definitely a track that you will be humming for days afterwards. Other standout tracks include the funky, aptly titled "Simple Song," and the lovely closing track "Picnic."
One thing that is quite striking about Lazy Ash Tree is how despite there only being two instruments and (for the most part) two voices, it never feels empty or like it is missing anything. Sure, it may be nice to hear some percussion or some strings added in, but they aren't needed here. Anything else would likely serve as a distraction from the important elements, which are all here.
Jupiter Vinyl is definitely onto something good here. Lazy Ash Tree is full of indie pop/folk gems which are incredibly charming, clever and just very likeable. Bohjanan and Horey are talented songwriters, vocalists and instrumentalists, and deserve all the praise which is bound to be coming their way.