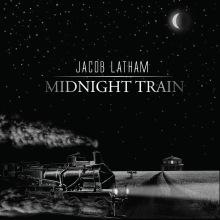 Midnight Train is the first EP to be released by folk/rock musician, Jacob Latham. At only 18, Latham already has 6 years of performing under his belt, and is a truly remarkable talent. Latham has been performing on stage since the young age of 12 with his family folk band, and is not only a singer, but also an accomplished mandolin and harmonica player.
Latham's sound is an amalgamation of Bob Dylan and The Avett Brothers, brimming with self-assurance and confidence, rarely heard in someone so young. Particular praise must be given to his mandolin playing, where Latham grabs your attention with every pluck of a string.
Opening track "Pay Attention to the Rain" is lyrically quite dark, and showcases Latham's talent for storytelling perfectly. Kate Long performs backing vocals on this track, and her harmonies perfectly compliment Latham's delivery. The choice of harmony is not necessarily the most obvious, which makes them – and the track – even more interesting and engaging.
"Where Do We Go From Here" signals a turning point in the record, and is a toe-tapping delight. Latham's mandolin playing is particularly memorable here. This is bound to be a live favorite, with an engaged audience singing every word back, loudly and with big smiles on their faces.
Latham slows the pace down with the EP's title track, "Midnight Train," which again showcases his ability to tell a story through song exceptionally well. His delivery is emotive, without being overly so. Every word is performed with clear conviction and Long's harmonies are a beautiful accompaniment, not drawing too much focus, but enhancing the melody and lyrical content just as harmonies should. Truly masterful.
"Don't Let Them In" features Latham's trademark mandolin in fine form, and a lyrically dark, introspective theme. Closing track, "John Brown," in contrast, is another upbeat track which highlight's Latham's abilities as a songwriter and defies you not to sing along. It's nigh impossible to choose a standout track here as every track stands out in its own way. A rare accomplishment, to say the least!
Midnight Train is an EP which has been crafted with true musicianship, integrity and a clear sense of direction. Latham is without doubt, a remarkable lyricist, musician and performer. On repeat listens, it's difficult to believe that this is Latham's first release. He is clearly a seasoned performer, and everything from the delivery to the production is of an outstanding quality. His musicianship and artistry beguiles his years, and it's a pleasure to witness the emergence of such a promising new troubadour. Outstanding.
Midnight Train is released on March 1st, 2013. More details available at jacoblatham.com