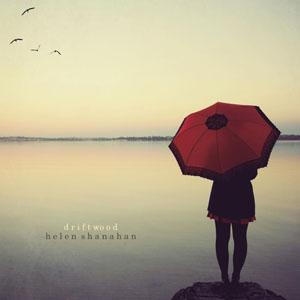 Driftwood is the debut album from singer/songwriter Helen Shanahan, and is the eagerly anticipated follow up to her Girl in Love EP, which firmly established her as a serious and soulful musician. Shanahan is based in Perth, Western Australia and has a sound which could easily capture hearts worldwide. Shanahan is a recent graduate of the Western Australian Academy of Performing Arts, with a major in voice.
On Driftwood, Shanahan writes about the joys and sorrows that come with the ups and downs of life, her words accompanied by rich layers of harmonies and acoustic instrumentation. The end result is an incredibly warm, contemporary album that certainly has commercial appeal, and would be very well suited for use in film and TV soundtracks.
There is a undeniable purity to Shanahan's voice, and she performs with a great deal of conviction, without ever sounding contrived or forced. Her voice shows hints of fellow Aussie, Missy Higgins, at times, (which can probably be attributed largely to the slight Australian twang at the end of some of her phrasing) which is definitely a positive comparison. Stylistically, Shanahan's music can most accurately be described as contemporary acoustic-based folk-pop. Charlie Young's production on Driftwood is of an incredibly high quality, and while the instrumentation is sparse for the most part, it never fails to sound rich and always allows Shanhan's crystal clear voice to shine, bathed in lush harmonies at all the right moments. The songs are well crafted, and could stand up just as strongly if they were performed with just a single vocal and guitar – they're that good.
Shanahan has receiving some deserved industry praise and recognition in her native Australia; "Driftwood" won the folk category in the Western Australian Music Industry 'Song of the Year' competition – and listening to it, it's easy to hear why.
Other standouts include opening track "Close to You," "Lonely Room" (featuring cello from Elise Chong) and "He Says" (which was also nominated for in the WAMI Song of the Year Competition in 2010), however, all of the tracks are solid.
Shanahan ticks all the boxes; her writing is top notch, vocals are close to perfection, and she knows exactly who she is as an artist. The only question is…when can we hear more? Driftwood is the beginning of a great career from a supremely talented up and coming artist. Charming, authentic, introspective… the list of adjectives could go on. Don't miss this one.