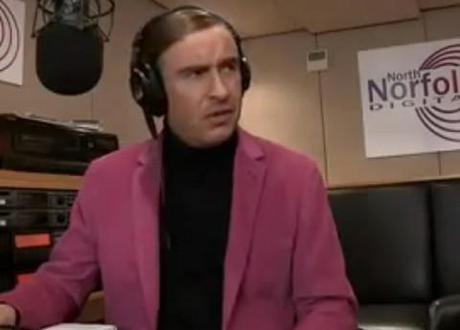 Steve Coogan as Alan Partridge
Alan Partridge is set to hit the big screen. All together now: A-HA!
Steve Coogan's hapless Norwich-based presenter most recently appeared in Mid Morning Matters, an online mockumentary sponsored by Foster's. I, Partridge: We Need to Talk About Alan, a spoof autobiography, was published in 2011. Hot on the heels of successful British sitcom-to-cinema transfer The Inbetweeners, filming on the Alan Partridge movie is slated to start later in the year, co-writer Armando Ianucci told Empire.
So what do we know so far?
A Norwich setting. Like many commentators, Ian Burrell predicted in The Independent that Partridge is unlikely to transfer to a more glamorous setting for the film: "In an interview for ShortList magazine two years ago, Iannucci said the Partridge film would be based in Alan's home turf of Norfolk, rather than transporting him somewhere more exotic."
Surprise visit. Norwich Evening News pointed out that even though filming won't begin until later in 2012, Partridge has not been a stranger in the Norfolk city: "Coogan was in Norwich last October, fully in-character as Partridge, to sign copies of his new book at the Waterstone's book shop on Castle Street."
The Times (£) provided a round-up of classic Alan Partridge quotes, including: "Well Sonja, that was classic intercourse," (to his girlfriend) and "Include open letter to Tony Blair on how to solve the Israel problem. Could save lives. But could also cost lives. Ask Bill Oddie for advice," (in a memo to himself).
Father Ted director. Declan Lowney is at the helm of the Partridge film, and has directed two series of hit sitcom Father Ted, as well as the Christmas special. According to Empire, this is "highly auspicious news considering it's one of the greatest things ever filmed". The script will be written by Ianucci, Coogan, Rob Gibbons and Neil Gibbons, said The Guardian; Brüno co-writer Peter Baynham worked on an early version.
Watch Alan Partridge on episode 12 of Mid Morning Matters below.
Title speculation. Ianucci revealed that Alan Partridge: The Movie is the working title, but that this may well change.
What do you think the Alan Partridge film should be called? The Periscope Post's suggestions: Alan Partridge: Back of the Net; Alan Partridge: It's My Film, You Mother; Bang: I'm James Bond (Or to Be Accurate, I'm Alan Partridge Saying I'm James Bond).