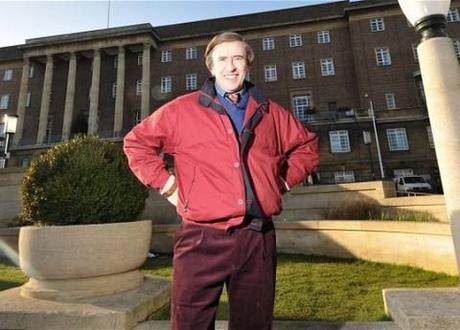 Alan Partridge, Sky Atlantic
The background
Everyone's favorite Norfolk presenter Alan Partridge has returned to the small screen – and apart from a few minor quibbles, critics were delighted.
Steve Coogan revisted his hapless creation in the first of two one-hour specials on Sky Atlantic. In Welcome to the Places of My Life, Alan took viewers on a tour of the locations that have made him the man he is today. Hint: Norwich figures heavily. For the next outing, Alan Partridge on Open Books with Martin Bryce, he will be interviewed as part of a book club.
The fun doesn't end there for Partridge fans: as The Periscope Post reported, Alan Partridge: The Movie is set to begin filming in 2012. Cashback!
Still fresh after all these years
"By rights, Alan Partridge should have been dead as a character years ago," wrote John Crace in The Guardian. "But Steve Coogan keeps finding ways to make him feel fresh." According to Crace, Coogan's achievement lies in continually revealing more of Partridge's character over each series: "He becomes a genuinely darker, more complex, more interesting character."
Funny but muddled
The latest offering may not have entirely satisfied "Partridge purists", suggested Tom Sutcliffe in The Independent. "It wasn't that it wasn't funny – there were wonderful moments all the way through. It was just that it was muddled and a little impure, in a way the Iannucci-scripted series almost never were," Sutcliffe wrote. Some of the different jokes didn't seem to belong in the same programme. Then again, Sutcliffe admitted his criticisms may seem "unnecessarily picky".
A perfect performance
"The writing has to be commended for its succinct truthfulness, but really it's Coogan's delivery that amplifies that truth," wrote Alex Hardy in The Times (£). "His every facial twitch, his every semi-tone of vocal pitch was so finely tuned it could have guided missiles."
Minor missteps but otherwise wonderful
"Often, the brilliance of I'm Alan Partridge sprang from the sitcom format which meant that there were the same people for him to spar regularly with, to puncture his pomposity, to be amazed by his crass insensitivity," said Ben Lawrence in The Telegraph. But the documentary format of Welcome to the Places of My Life meant that these characters "aren't around long enough to make an impact". However, said Lawrence, this is a minor quibble: "Egotistical, bombastic, bigoted, insecure, lonely, needy. Partridge remains a brilliant, monstrous, pathetic creation who can still raise a smile in his audience."
Watch Alan in action below.