Everyone with a keen eye on the Premiership will have been astounded by Newcastle United's unbeaten start to the league campaign.  Of all the teams they took points from, you could argue that their opponent's position in the table and form was also poor – only their home draw at Spurs was against a side in the upper echelons of the league. Even though these games have primarily been against teams in the lower half of the league, the performance level and set up of the side have been very impressive. You would never normally class them as being previously good on the road, but they have excelled with wins at difficult and imposing stadiums such as the Britannia and Stadium of Light, whilst also securing valuable points away to Villa, QPR & Wolves – the latter two teams will rely on home victories to secure their top flight status.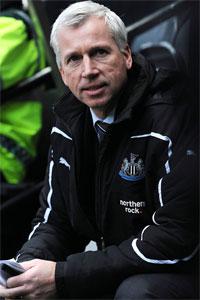 Alan Pardew has turned Newcastle's fortunes around
What has been as equally as impressive as the togetherness and spirit of the Newcastle United side, is the way they have coped with the loss of some seemingly invaluable players to their team. Joey Barton played two league games before moving to Loftus Road at the end of August, following former club captain Kevin Nolan, defender Jose Enrique & striker Andy Carroll who left in the summer and January transfer windows respectively. Barton, who even caused controversy in his two appearances before leaving this season, was a player that other teams loved to hate and the Toon Army adored – a combative, marauding midfielder who gave everything when he pulled on the Black & White jersey. The fans must have feared a gaping hole would be left in their battling midfield but with Yohan Cabaye & Danny Guthrie filling the central voids and the ever willing running of Jonas Gutierrez down the left flank, the energy and passion shown has been inspirational and provided the platform for the team to build on their amazing run. You can only beat what is put in front of you and Newcastle have professionally and effectively dispatched their opponents so far – coming up in November & early December though, they will have to dig even deeper.
In their next two games they are taking on Manchester & England's top two at the Etihad and Theatre of Dreams – high-flying City are in no mood to give out favours and have fired in twenty goals in their last five in all competitions, whilst United – being on the end of six of those strikes – will be eager to find their feet in the title challenge again. Following some cagey performances in United's last few outings, there is going to be a side on the wrong end of a Red Devils' thrashing – but Newcastle's water tight & ever-present back line have only conceded three in five away fixtures and they could prove an extremely hard defence to breach. Another positive for the Toon army in these upcoming fixtures is the space which can be created and will be available when on the counter attack – Manchester United capitulated spectacularly when chasing a goal against their rivals last month and whilst City have improved their against column figures, they will still be susceptible to a slip up.  Alan Pardew's side have added some different dimensions to their attacking prowess this year and even without Andy Carrolls' height and presence, Demba Ba, Leon Best and Shola Ameobi have all proved they can be a danger at this level. Of Ba's eight league goals so far this season, four have been headed conversions and the Frenchman is oozing confidence given this purple patch of form. The versatility offered from direct route one football has seldom been used, but given the targets available to aim at in the offensive third, this could be an invaluable plan B in the forthcoming fixtures – John Terry and David Luiz have looked anything but imposing at the heart of the Chelsea rearguard so far and I predict an equally tough afternoon when they visit St J…I mean the Sports Direct arena(it's not going to stick!) in early December.
Discipline & confidence have been qualities instilled into seemingly ordinary players by Pardew and his ability to let the team express their footballing talents has proved rewarding. Prior to the season kick off, you wouldn't have been alone if you predicted the Magpies would be languishing in the bottom half of the table, flirting with another possible year in the Championship – you would be mad to think they could soar any higher in the table, but the groundwork is there for an impressive standing come May. Pardew's predecessor Chris Hughton, was lauded for the job he did in the North-East, at this rate the former West Ham boss will get the freedom of the Metro Centre. Geordies and football fans alike rightly lambasted owner Mike Ashley for his treatment of Hughton & his general day to day running of the football club, but the appointment of Pardew will have clouded over his colourful past – well perhaps today's announcement will have reminded them!
One of my first live matches was at St James', pre fancy all-seater stadia days, standing with a few thousand die-hard Geordies watching Killer Kilcline rampaging through a 2nd division match against Barnsley on what can only be described as a mud bath with my uncle and father. I was astounded at the transformation just a few years later come the mid 90′s, names such as Cole, Shearer, Asprilla, Ginola, Clark & Lee were all household and Newcastle United were challenging for honours – this time around the big players have been swapped for a team with a great work ethic built on hard work, diligence and pride for the club they are representing.