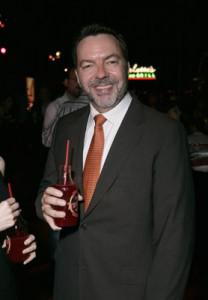 Alan Ball, spoke to Arts Beat of the New York Times about "True Blood." In these excerpts from that conversation, he discusses the creation and history of the show, what the new season holds in store and why he recently filmed a portion of a coming "True Blood" episode in 3-D.  Below are "excerpts" from these "excerpts", enjoy!

Q.How closely do you follow Charlaine Harris's novels in planning the seasons of "True Blood," and are you already thinking about Season 5?
A. When I first brought this material to HBO's attention, there were four books in the series. Now there are 11. So I knew that there was a longevity and it had a big, crazy, Dickensian sprawling feel to it. I'm pretty much a live-in-the-moment guy, so I will start thinking about Season 5 when that happens.
We've started to lay pipe for that in very buried ways. Television viewing has become for me a completely different experience, because I don't watch shows on a weekly basis. I wait until the DVD or I TiVo everything and wait until the end of a season and watch it all over a weekend. For me that's a really satisfying experience, like reading a book. And some of my favorite shows I watch again, so there's a certain enjoyment in knowing what's happening and you're like, Ohhhh. It makes me think about in Season 1 of "Six Feet Under," when Nate was complaining about having headaches, and of course now you know that's a symptom of the thing that's eventually going to kill him.
Q.And that was completely by design, right?
A.Sometimes things are planted and sometimes things sort of happen. In the first season of "True Blood," there's a moment where Arlene is thinking, God, I can't believe my period is late again. When it came time for her to be pregnant, it just worked perfectly. Almost as if it were planned.
Q.As the show has grown into a cultural phenomenon, does it affect how you plan and write for it? Do you feel like you have to respond to the wishes of the fan base?
A.I find that whenever I start to think about how I believe people are going to respond, then I get in trouble. Because then it's no longer writing, it's marketing. You start thinking about your audience, or your consumers, what are their needs and how do you meet them, and you're no longer just telling a story. For me, I was reading Charlaine's books and yeah, it was about a vampire, and then there were werewolves and all of this other stuff. That's part of what I love about this. The fact that's it's this big onion and you just keep peeling back the layers, so I just tried to take that into the show as much as I could.
Q.It seems like Sookie went through a transformation from Seasons 1 and 2 to Season 3, where once she was a perpetual damsel in distress and now she's going undercover in werewolf bars and battling with Russell Edgington.
A.She's fighting, yeah. And now it's just clear in the writers' room that Sookie is a force to be reckoned with. She has come into her own. She has her own powers, which she's gradually becoming more and more accustomed to. She still can't totally control them. But, yeah, she still looks like that sweet girl next door but if you try to kill her, she'll kill you first. Which is kind of fun, to have a character like that.
Q.Did it feel to you like maybe Season 3 got a little baroque with all the intricacies of the vampires' kingdoms, and Russell running around while carrying his dead companion's remains in a jar?
A.Well, you have a character who's been around for 3,000 years and he's a king, and we got to write in fancy king-language. So, yeah, it did get baroque and to me that's part of the fun of it. Because of the supernatural nature of the story, you can just keep opening doors, in terms of telling stories. By Season 4 of "Six Feet Under" in the writers' room, somebody would pitch something and we'd be like, "Oh, we've already done that. Oh, somebody's already been unfaithful. Somebody's had this sexual addiction problem." Whereas on "True Blood," when you have characters who are thousands of years old and you can do a flashback, it's not to 1980 – although we do have a 1980s flashback this season – but it can be to the 9th century. We go to the Spanish Inquisition a lot this year. That's really, really fun.
Read the rest of this Q&A excerpts by going here: artsbeat.blogs.nytimes.com