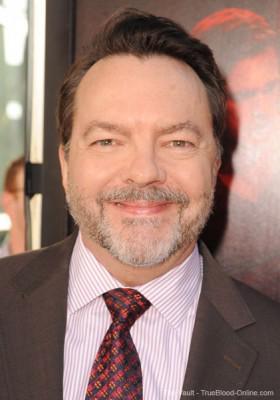 The creator of True Blood, Alan Ball is traveling in Australia right now and, as we previously reported, will be seen in his appearance at the Sydney Opera House tomorrow. Best known for True Blood and Six Feet Under, as well as American Beauty, the film that earned him an Oscar, all that counted for nothing as his neighbor Quentin Tarantino went ballistic over his noisy parrots.
In Sydney, Ball tells The Australian he is amazed Tarantino didn't even bother to get in touch before calling in his lawyers, who then sued him in March.
"Not only did he sue us but he leaked it to TMZ at exactly the same time," he says. "It was a very aggressive move."
The macaws ended up in a Santa Monica sanctuary as part of a rehabilitation program for returning war veterans, with Ball paying Tarantino's court costs.
His comments come ahead of a pair of public talks to be given by Ball in Sydney and Melbourne about his life and work.
While he admits the popular obsession with vampires is probably peaking, True Blood, in its fourth season, shows no signs of slowing down.
Ball, 54, says he enjoys tapping into his audience's subconscious primal urges. "I think the show gives people an hour in the week when they can let their minds do really bad things, like the [True Blood] title song," he says, referring to Jace Everett's Bad Things.
But it's not just the mythical creatures or the toned bodies that make the characters of True Blood so attractive. Ball wants to show their depth as well. He describes himself as an "elementary student of Buddhism" and says all beings deserve compassion.
He believes, by writing in a way that does not judge the characters, he creates more interesting story-lines that engage audiences. "I feel so much of pop-culture entertainment is delineated by heroes and villains. We want the heroes to succeed and we want the villain to be punished," he says. "I'm not interested in judging characters, I'm interested in trying to show why these characters do the things they do."
Openly gay, Ball grew up in a "very repressed home" in the southern US state of Georgia. He says much of his personal journey towards self-acceptance is reflected in his work and the characters he develops.
"Growing up as a WASP, you repress feelings until they come out as a heart attack or tumour," he says. "Embrace the feelings, embrace the things that are not perfect, embrace the messiness, warts and all. Embrace it and don't be afraid of it."
source: theaustralian.com.au