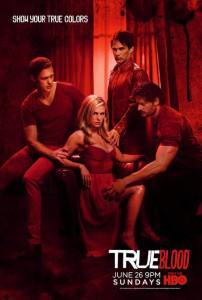 HBO is still holding out before officially ordering Season 5, but today creator Alan Ball assured the crowd at the Television Critics Association summer press tour that it will happen. 
The dialog kicked off when a reporter asked the showrunner if there's any merit to the rumors that he's leaving the series. "No," says Ball. "I closed a deal to do another season… I don't have any desire to leave, because I'm having more fun than I've ever had in my life."
Fans of the book series from Charlaine Harris need only look to Book 5, "Dead as a Doornail," to see what next season might bring, though Ball did say specifically that they will explore how the vampires were made (rumors point to it being Pam) …since the show is more of an emsemble show, we have more freedom coming up with stories for the other character's."

"I am working from source material," says Ball, turning the adaptation conversation to the onscreen breakup of fellow panelists Anna Paquin and Stephen Moyer. "That plus the fact characters being happy is really not that interesting… I never said I'm going to split Bill and Sookie. I knew they did in the books."
Something not in the books, which also got some love during the Q&A, is the demonic baby currently stressing out Arlene (Carrie Preston) and Terry (Todd Lowe).
"Once we made the decision in the writers room to jump ahead in time, we knew the baby would be here," says Ball, who confesses the creepy doll seen in Jessica's home at the end of Season 3 led the writers down this path. "There should be something weird… that doll has found its way to the creepy baby. They've teamed up now."
Ball says there's definitely more to the duo, so maybe there's hope for little Mikey after all.
So, everyone breath a sigh of relief, we've definitely got at least another season of crazy insanity to come, and I can't wait!
Alan also said that splitting up Bill and Sookie this season had nothing to do with Anna and Stephen marrying last year in real life.
"I know that they think they kept [their relationship] a secret for a long time, and they did, but maybe not as long as they thought… Characters being happy and things working out for them is really not that interesting," Alan said of why the drama moved on in Season 4 from Sookie and Bill as a couple. "But I never said, 'I'm gonna split Bill and Sookie up.' They split up in the [Charlaine Harris] books and that's probably why we did it."
As for filming those scenes with Sookie and Bill fighting in Season 4, Anna said they haven't been taxing.
"Just speaking for me, our love in real life is fine, so I'm totally happy for our characters to be as sad and distraught and messed up and hating each other [as they have been]," she said.
"We want the show to be as dynamic and interesting as possible," she added.
Stephen Moyer told reporters he's been enjoying Season 4, especially since the usually-serious Bill finally got to say a few funny lines, including last week's beekeeper reference to Kristin Bauer van Straten's Pam, who wore a hat and net to cover her decaying face.
"Kristin's got one coming up that's possibly one of the great lines of all time," Stephen said, slightly envious of his blonde co-star's upcoming dialog.
"But she does them so beautifully," Anna added.
source: blog.zap2it.com
source: assignmentx.com
source: accesshollywood.com