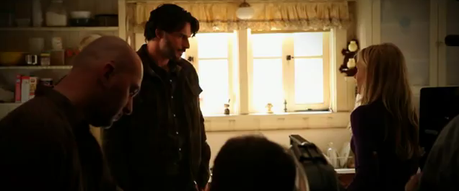 Sookie and Alcide, played by Anna Paquin and Joe Manganiello respectively were spied getting hot and heavy during episode 5.05 Boot and Rally this season. But in one of the more memorable episode openers, Sookie throws up on Alcide's shoes pretty much signaling the end of any action between them for the rest of the season. TV Line's Andy Patrick and Michael Ausiello asked departing showrunner and creator Alan Ball why he didn't proceed with the couple any further. He states that he and the writers felt Sookie had more than enough on her plate besides love:
"The decision to not do it this season [came about because] every single season, it's been all about Sookie falling in love with this person or that person,"t seemed like she had enough on her plate this season to not just [say], 'Okay, now Sookie's gonna fall in love with Alcide!'"
However, nothing is written in stone and Alan confirmed to TV Line that True Blood is open to re-visiting the idea of Sookie and Alcide as a couple in the future:
"That doesn't man that that door is closed…All of these supernatural guys in town carry a big torch for Sookie – even Eric, who doesn't want to admit it."
What do you think? Was the show right not to put Sookie in a relationship with Alcide? Sound off in the comments below!
Source: TV Line.com- "Exclusive: Find Out The Real Reason True Blood Stuck a Pin In Sookie and Alcide"
Image Credit: HBO, Inc.