True Blood's executive producer Alan Ball has dropped hints about what is coming up for Bill and Portia in future episodes of Season 4.
SPOILER ALERT!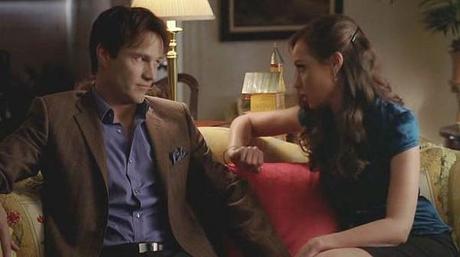 Last episode we saw Bill break off the relationship with he and Portia after discovering that he is actually one of Portia's ancestors.
Ball has now hinted that Portia may be keen to continue the romance despite being related to Bill.
"It certainly puts a crimp in their relationship," he told TV Guide. "Her being a lawyer, she may try to argue why it shouldn't be such a big deal.
"But Bill's an old-fashioned man. I don't think he's going to be able to get past that one."
We know that many have already expressed concerns about this relationship in the comments at previous posts, but there are just as many who think that there's nothing wrong with it. Bill and Portia are very distantly related and Bill, being essentially "dead", seems to justify their coupling. After all, in some states in the USA first cousins can even marry.
However, we'll just have to wait and see what might happen.
Let us know your opinions on this topic. What do you think about Bill and Portia's possible reuniting?
source: digitalspy.com