By Susan Duclos
YouTube channel
SyrianGirlPartisan
uploaded a video last week of an interview with an unnamed Syrian soldier with his face blurred out to protect his identity. The interview included what he believes he is fighting for, as well as specifically saying he believes "al-Qaeda is run by the U.S.," as written in the details of her video.
He also claims this is "not about defending one man (Assad) this is about defending the country," and "We're fighting for the whole world against Imperialism."
It is obvious this is what he believes and the reason he fights in the ongoing battle between the Syrian government and the rebels, in what some call a civil war.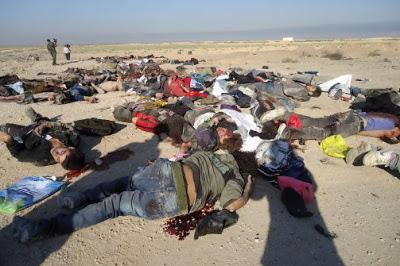 Bodies of Syrian rebels lie on ground where they were killed during an ambush by Syrian forces near the Damascus suburb of Adra, Syria, August 7, 2013
Cross posted to Before It's News