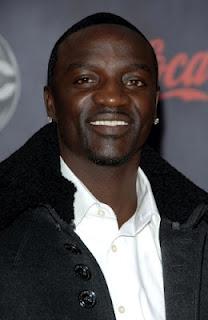 Akon
I just read a very positive article on TMZ.COM about the singer Akon, and I have gained so much respect for him! Akon has been in the press before for a few things that were not so positive but this story deserves its shine too!
***Akon "smacked that" ... and now he's taking responsibility for it -- filing paternity docs in court last month to become the legal father of two children he had out of wedlock. The singer filed a Petition for Legitimation in GA Superior Court ... he claims he's the father of two minor sons born in 2008 and 2009. In the docs, Akon asks the court to grant him joint legal custody of the little tykes, allow him to be involved in all major decisions and most importantly to establish child support --
even asking that his enormously high income be a factor in how much he'll have to shell out. Not only that ... he's also requesting the kids be eligible to inherit from him -- same as if they were born in wedlock
-- and to keep his last name, "Thiam" as their own. Sources close to the singer tell TMZ, "Akon has been a father to the boys since they were born, and this is just a necessary step to make sure he is legally recognized as such." FYI -- Akon has made it clear in the past he has multiple kids with at least 3 different baby mamas. Thanksgiving must be fun. -Credit TMZ.COM***
Isn't he the coolest? It takes a real man to step up and take responsibility for not only 1 child out of wedlock, but 2! His children should never have to suffer for his decisions he made in the past and Akon should be recognized for being a real man.
Take notes.