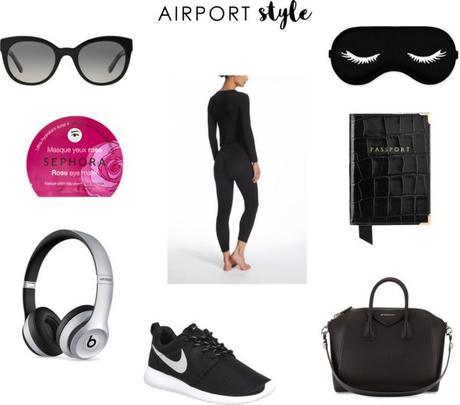 Airport Essentials: *Tani USA Black Leggings and Long Sleeved Top (here) | Black Burberry sunnies (here) | Sephora Rose Eye Mask (here) | Beats By Dre Headphones (here) Rose Gold Version (here) | Nike Roshe Run trainers (here) | Givenchy Antigone bag (here) | Aspinal of London Passport holder (here) | Black eye mask (here).
The last couple of months has been a whirlwind with back to back trips to Marbella and Mallorca so there's no better time to go through my list of flight essentials that tend to come with me on most holidays. Due to the first couple of flights being under three hours, I stuck to my staple travel attire for both of these European getaways which consists of my stretchiest black Zara jeans and my go-to denim shirt. However, when I jetted off to NYC this June, I wanted the ultimate long haul outfit that wouldn't make the 7 hour flight more unbearable than it had to be. Introducing the ultimate travel outfit from Tani USA.
So let's talk about the bare bones of your travel outfit. Airport chic is such a hard look to pull off. There's a fine line between being comfy and looking scruffy and I've always been intrigued when it comes to the perfect look. Rosie Huntington Whitely always nails it but the thought of enduring a long-haul flight in leather leggings does not sit well with me. I'm a firm believer that when it comes to airport chic, the simpler the better and simple is something this brand does well. Tani USA have created super soft leggings and long sleeved tops made from fabric that is lighter than silk making them perfectly comfortable and breathable for long journeys.
For my long haul flight I opted for the plain black leggings and the black long sleeved top (also available in pink and white) which I layered under a cosy knit jumper that I could take off on arrival. The Tani USA designs are the comfiest leggings I've ever worn and versatile enough to wear with all kinds of jumpers or even a bomber jacket. I honestly prefer a casual, sporty inspired look when traveling and styling paired back pieces with a pair of designer sunnies, stylish trainers and a good sized carry on is the perfect way to complete the look. If you don't fancy wearing such a simple outfit, you can roll them up, stow them away in your carry on and quickly change after take off. I usually do this to some degree on most flights as I usually add cosy jumpers or leggings to whatever I wear.
I like to keep myself occupied on long haul flights as I'm often too anxious to sleep (I often find Sudoko helps a lot) so I like to slot a couple of beauty products into my carry on to test while I'm in the air. On my way home from NYC I packed this Rose eye mask from Sephora. I always panic buy in Sephora because we don't have it in the UK so everything seems more exciting so I came home with five of these masks (around $5 each) including the green tea one and an avocado one. These masks are great especially if you tend to go makeup free on long haul flights as you arrived fresh faced without that dry feeling. Rather than applying the full face mask (I didn't want to give the other passengers a fright) I opted for the eye mask which is pretty much invisible when on.
What's your airport style and what beauty products could you not live without on a long haul flight? These are just a few of the essentials I like to travel with and I'm fully intending to upgrade my carry on to something a little more stylish that my current design. Where are you traveling to this summer?