This post may contain affiliate links. Please read my disclosure.
Learn how to make your very own air fryer banana chips! This healthy snack is perfect for kids and adults, too! Made with fresh banana slices, this crispy snack is sweet and a little bit salty. These homemade plantain chips are ready in minutes. Great for school snacks and whenever you're looking to add a little bit of variety to your meals!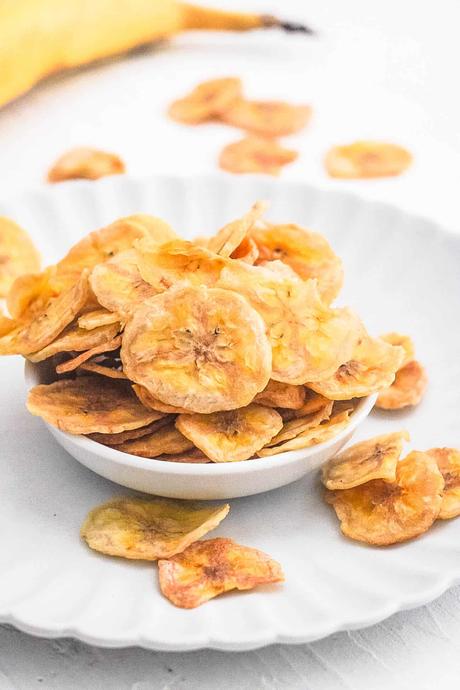 Simple snacks are a favorite in our household - especially whenever it is a crunchy chip! While I love traditional banana chips, they aren't exactly the healthiest option since they are deep fried and full of fat and calories.
Banana chips made in the air fryer are a great way to make a healthier version of this deep fried snack, and to use up any leftover bananas you may have lying around! This easy recipe is fitting for any time of the day or when you need the perfect snack to satisfy your cravings.
Latest Recipe Video!
Homemade banana chips are some of my very favorite things to make because there are so many options and variations for flavor! I use my trusty air fryer all the time, because it's a great way to create healthier versions of more indulgent treats. When it comes to cooking family meals, the air fryer is our best friend!
This dehydrated banana chips recipe is a salty snack that is one of best options for whenever you are running errands or spending time outdoors for picnics or camping. Made with fresh lemon juice and just a little salt, these crispy chips contain the perfect balance of bright flavors that are so tasty!
This is an easy snack for anyone who loves sliced banana and who is looking for a better option than potato chips. This healthy recipe is packed dietary fiber, potassium, and Vitamin C. The crunchiness from these air fryer chips resemble the best part about potato chips - making them somewhat similar and totally desirable!
This quick method for making air fry banana chips is a fuss-free way to prepare a healthy snack from scratch for the kids or yourself. This air fryer recipe is one that we make quite often because it yields such a great snack!
👩🏽‍🍳 Why This Recipe Works
Perfect Texture: You will swoon over these crunchy chips because they are so tasty, smooth, crisp, and subtly sweet!
Vegan: This plant-based snack is great for those looking for a healthy snack option!
Made with Simple Ingredients: Made with only five ingredients, this recipe contains super easy and straight forward ingredients that you may already have on hand. Even though the ingredients are simple, the flavors are bold!
Lots of Variations: Customize these crispy banana chips to your liking! Savory or sweet - it's up to you!
🥘 Ingredients
The ingredient list is basic and easy enough for all cooking levels! For the full measurements, be sure to scroll down to the recipe card.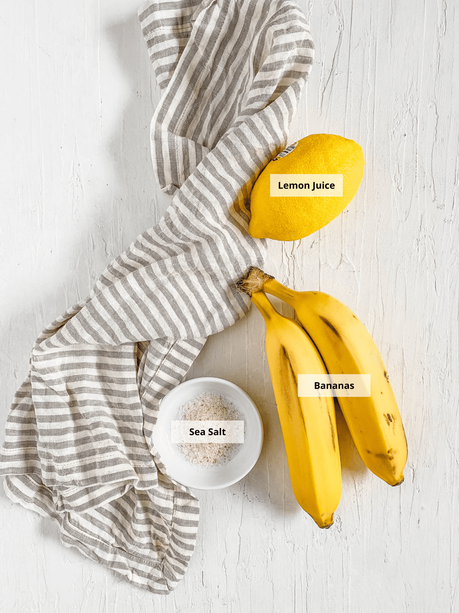 Bananas: Ripe but still firm, peeled, and sliced plantains or sliced banana are what you will need for this recipe. You don't want to use completely raw bananas, as they won't taste as sweet.
Lemon Juice: Fresh lemon juice prevents these bananas for turning brown and gives them bright flavors!
Salt: This pantry-friendly ingredient allows these chips to have a little more flavor and brings out the natural sweetness of the banana.
Oil / Cooking Spray: Your choice of neutral spray oil for these healthy air fryer plantain banana chips. Coconut oil, olive oil, or avocado oil spray would all work well.
Healthy plantain chips are the perfect family snack, are made with very few ingredients, and require little effort - which means it is a way for you to spend less time in the kitchen! This balanced snack recipe is full of banana flavors that any banana lover will approve of.
🍽 Equipment
Air fryer (Note - there are so many types of air fryers out there, and any model will work well for this recipe! Two of our favorites include the Philips air fryer and Cuisinart air fryer toaster oven).
Sharp knife or mandolin slicer
Cooling rack
Serving bowl
📖 Variations
Add Savory Spices: For additional flavor and depth, try addingchili powder, paprika, or cumin!
Air Fryer Salt and Black Pepper Chips: Sprinkle these chips with salt and pepper for a classic combination of flavors!
Kerela Banana Chips: Turn this air fryer banana chips recipe into a popular snack from South India simply by adding 1/4 teaspoon ground turmeric and a little more salt to these chips!
Lime Juice: For extra bold flavors, add some freshly squeezed lime juice to the chips!
Sweet Spices: Try adding a sprinkle of granulated sugar, coconut sugar, ground cinnamon, ground nutmeg, ground cardamom or even pumpkin pie spice to make these chips sweet and spicy!
Oils: You can use different types of spray oils such as coconut, avocado, or olive oil.
Plantain Chips: Instead of using ripe bananas, try using ripe plantains for this airfryer recipe! Plantain bananas are part of the banana family, but they are typically larger and thicker than bananas, and slightly more savory than sweet.
🔪 Instructions
Preheat Air Fryer, Prepare Bananas: Preheat the air fryer to 212 degrees Fahrenheit or 100 degrees Celsius. Next, slice bananas into thin slices.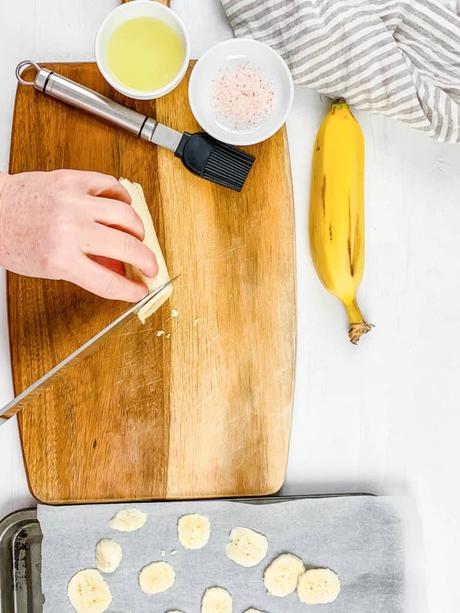 Season the Banana Slices: Place the banana slices on a baking sheet. Coat the banana slices with lemon juice and sprinkle lightly with salt. Spray the banana slices with a little oil. Repeat.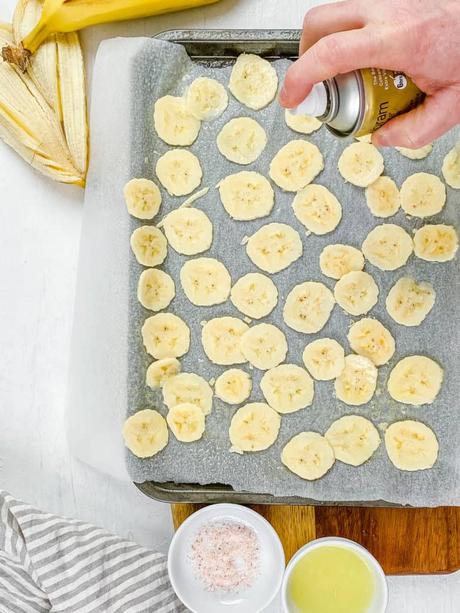 Cook the Bananas: Place the banana slices in a single layer in the basket of the air fryer. Place the basket into the air fryer and cook the air fryer banana chips for 40 minutes.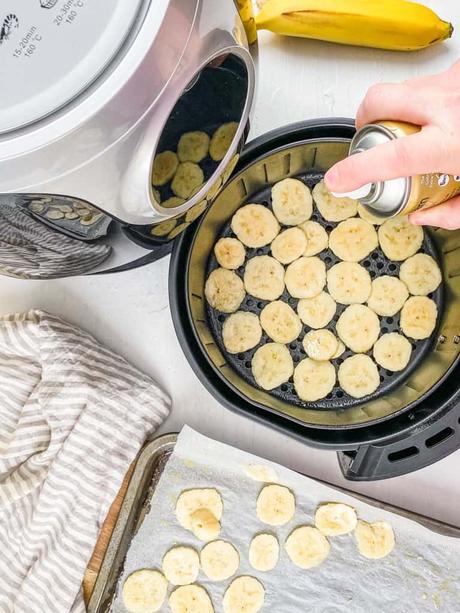 Check halfway through the cooking time and loosen the bananas from the air fryer basket if needed. Continue to cook.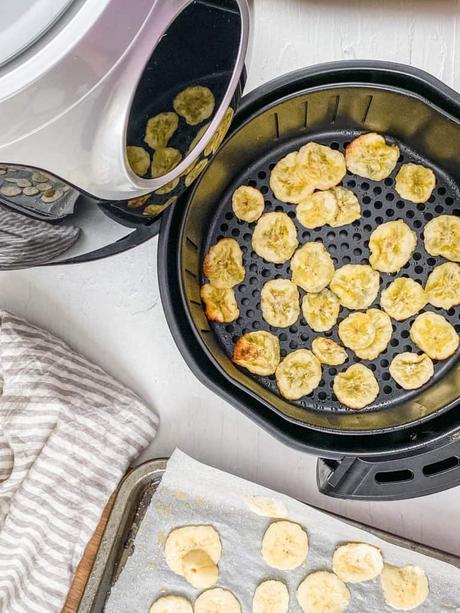 Remove from Air Fryer: Finally, remove the thin chips from the air fryer and place on a cooling rack. Repeat the cooking process with the rest of the bananas slices.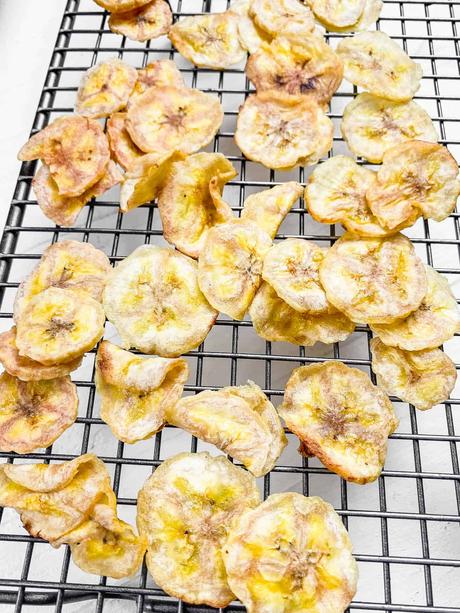 ❓Recipe FAQs
Are dried banana chips bad for you?
The answer is - it depends! Some brands of dried banana chips add oil and sugar, which makes them more of a dessert and not healthy for you. But if you are buying dehydrated banana chips or making this air fryer banana chips recipe, then you will end up with a low calorie and low fat snack option!
How long does it take to dehydrate bananas in a food dehydrator?
It takes anywhere from six to seven hours to fully dehyrdate fresh banana slices! We like this banana chips air fryer recipe because it doesn't take nearly as long.
What's the healthiest dried fruit?
If you are eating dried fruit that has no oil or sugar added, just about any dried fruit is healthy in moderation! We like to eat a variety of dried fruits such as apples, blueberries, dates, and raisins.
But keep in mind that dried fruit is not a low calorie snack and you're likely to get hungry faster than if you ate a whole fruit. This is because all of the water has been removed from the fruit so it won't keep you full as long as eating a whole fruit will!
Are banana chips low carb?
Unfortunately no! If you follow a low carb lifestyle or are keto, then you will want to avoid these chips, or eat them in moderation. This is because all banana chips are high in net carbs, making them not keto-friendly.
How thick do you cut bananas for dehyrdrating?
You will want the banana slices to be about ¼-inch thick! This size is not too thin or thick which means the chips will cook evenly.
🧊 How To Store
Let the banana chips cool completely, then place them in an airtight container. These easy air fryer plantain chips will keep at room temperature for up to 4-5 days.
👨‍👩‍👧 How To Serve
Serve these in lunchboxes as healthy snacks throughout the day whenever you need some extra fuel.
Pair these homemade chips alongside your favorite smoothie recipes for a quick and balanced breakfast or lunch.
Top these banana chips on top of your preferred store bought or homemade ice cream. Yum!
Enjoy these as a paleo-friendly dessert after a main meal
💭 Expert Tips
Extra Cooking Time: These easy air fryer banana chips will become crispier as they cool. If you find the chips are chewy, then cook them in the air fryer for an additional five to ten minutes.
Crispy Results: Make sure to use firm bananas for this recipe for best results. Overripe bananas won't crisp up properly.
Slow Cooking: Cooking on low heat will prevent the banana chips from getting burnt.
Thin Slices: Be sure to thinly slice the bananas.
Optional: The salt is optional; however, it does enhance the sweetness of the bananas.
Balanced Cooking: Preheating the air fryer ensures even cooking.
Enjoy Immediately: For best results, enjoy the banana chips immediately as they will lose their crisp over time. However, they will keep for a few days at room temperature!
Model: Cooking times will vary on make and model of air fryer used.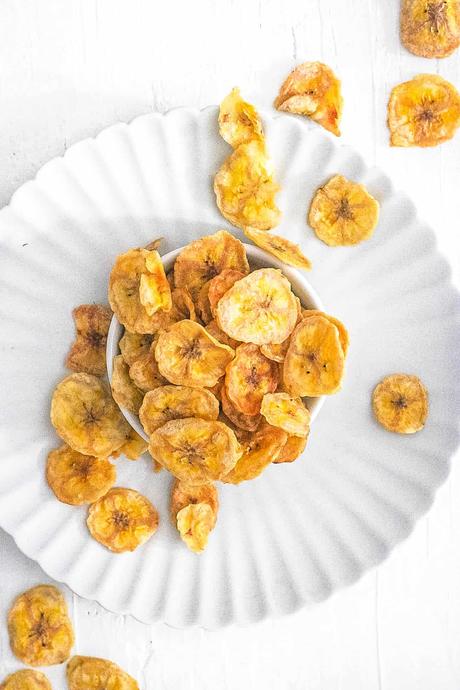 🍲 More Air Fryer Recipes!
📋 Recipe Card
Air Fryer Banana Chips