This post may contain affiliate links. Please read my disclosure.
These Air Fried Sweet Potato Fries are spicy, crispy, and bake up to a perfect golden brown. Easy and quick, they're a healthy alternative to traditional fries!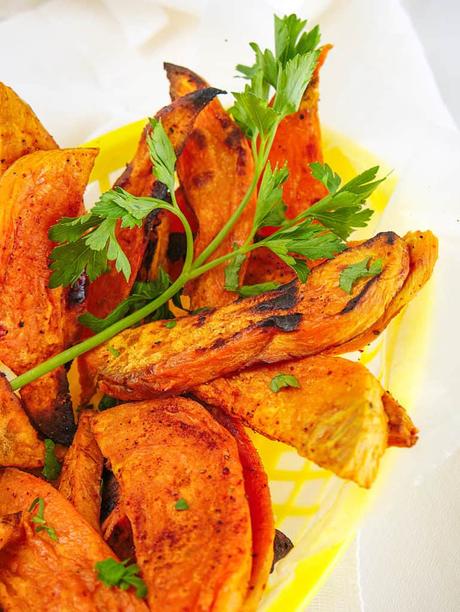 French fries are the classic American snack, and they're SO yummy! But - they're FILLED with fat, calories, and very little nutrition. I spent a long time just avoiding fries at restaurants, or if someone ordered a plate of fries for the table, I'd eat like 3 fries and then stop. Then I realized I could make healthy alternatives to french fries using my air fryer!
I started out tossing potato wedges in olive oil (no more than 1 Tbsp), salt, and pepper and baking them (400 degrees for ~30 min). Then I started getting creative with my air fryer creating even easier, healthier versions of fries in a matter of minutes.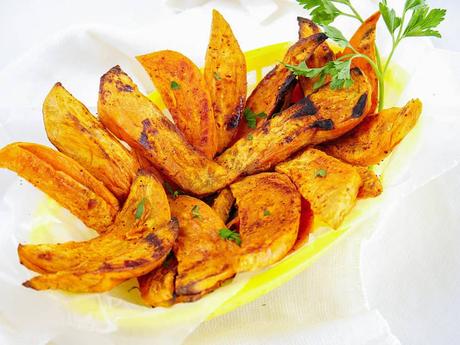 Tools and Equipment You'll Need For This Recipe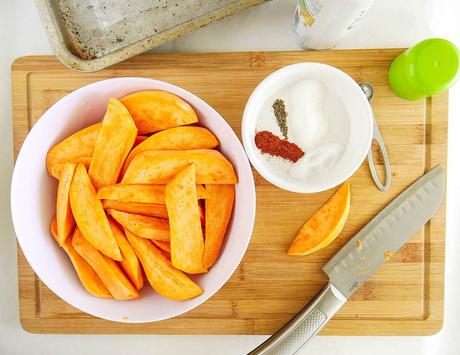 How to Make Air Fried Sweet Potato Fries - Step by Step
Step 1: Slice sweet potatoes into thin strips.
Step 2: Lightly spray sweet potato slices with olive oil cooking spray. Sprinkle with sugar, salt, red pepper, and black pepper. Toss until well coated.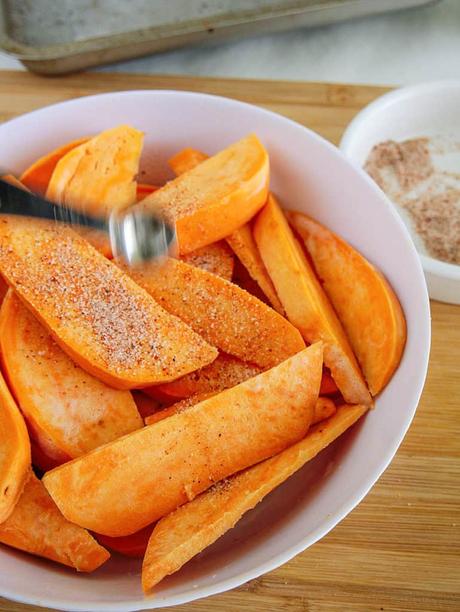 Step 3: Add fries to air fryer basket in a single later. Bake at 400 F for 10 minutes, tossing half way. Bake in batches if your air fryer is too small to make at one time.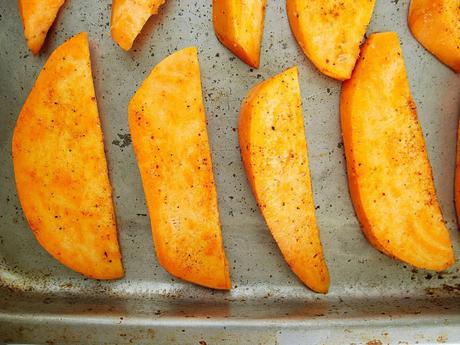 Note: Cooking times and temperature may vary depending on the size and thickness of your fries. Directions above are for thinly sliced fries.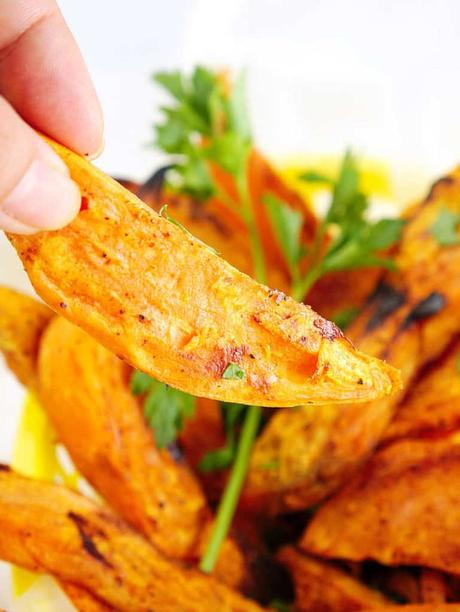 Are Air Fried Sweet Potato Fries healthy?
Lower in Fat and Calories: These fries come in much lower in both fat and calories than regular french fries. A light amount of olive oil cooking spray brings both the fat and calorie count down. One serving of these fries is just 106 calories and 1 gram of fat. Compare that to regular fries from a fast food restaurant that come in at 365 calories and 13 grams of fat.
High in Fiber: Sweet potatoes are naturally high in fiber. One serving of these potatoes have 3 grams of fiber.
Rich in Vitamins and Nutrients: Using sweet potatoes or yams instead of white potatoes boosts the nutritional content. They are high in Vitamin A, C, B6 and manganese to name just a few.
Will kids enjoy them?
My kids love these sweet potato fries. I leave out the red pepper when I make a batch for them as it can be a bit too spicy. They bake up nice and crispy, and make for a healthy snack or side dish.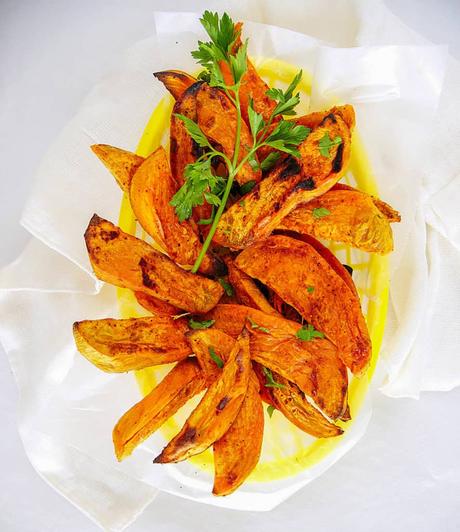 How do you season sweet potato fries?
To season the fries make sure to toss them with spices and seasoning before adding them to the air fryer basket. Using a small amount of oil will help the seasoning and spices stick to the fries.
Spicy Fries, use 1/4 tsp ground red pepper.
Smoky Fries, add a 1/2 teaspoon of smoky paprika.
Herbal Fries, try 1/2 tsp Italian Seasoning, or Oregano.
Garlic Fries, add 1 tsp of minced garlic, and a 1/4 tsp of garlic powder.
How do you cut sweet potato fries?
Step 1: Wash, dry, and peel sweet potatoes.
Step 2: Slice off both ends to create a flat base.
Step 3: Cut into thin slices lengthwise. Stack a few of the thin slices on top of one another. Chop into 1/2 to 1/4 inch long slices creating fries.
How to Serve
Enjoy straight from the air fryer, or with a dipping sauce of your choice. Some popular dipping sauces include...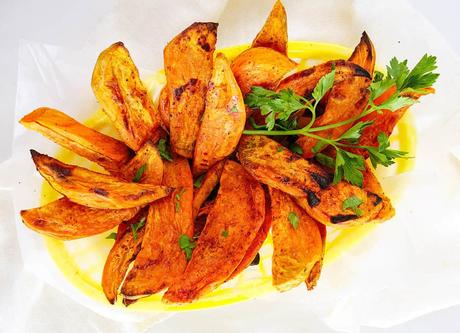 Top Tips and Variations
Time and temperature may vary depending on the size of your air fryer and how thin or thick you cut your sweet potato slices. I recommend starting with 400 F, for 10 minutes, tossing at the 5 minute mark. If fries are not cooked, add an additional 5-10 minutes.
Slice fries thin for best results
Spray with oil and then season so that spices will stick to the fries.
Instead of sweet potatoes, you can try this recipe with yams, carrots, or even regular potatoes!
Customize by seasoning with your favorite spices.
Check out these other healthy air fryer recipes!
If you have tried these Air Fried Sweet Potato Fries, or any other recipe on my blog, then please rate it and let me know how it turned out in the comments below! You can also FOLLOW ME on FACEBOOK, TWITTER, INSTAGRAM and PINTEREST to see more delicious, healthy, family friendly food!
Air Fried Sweet Potato Fries