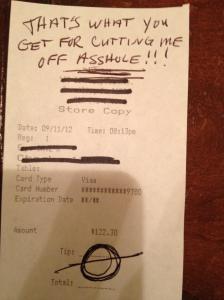 "YOU HAVE NO IDEA WHO YOU'RE FUCKING WITH, PRETTY BOY!"
-FAT DRUNK GUY
Last night an absolute PEACH of a gentleman patronized my establishment.  He was a fat red-headed specimen with sweaty armpits who apparently rejected the theory of alcohol poisoning and decided to challenge its existence. I, being of sound and sober mind, ended his little experiment promptly after he loudly informed a woman sipping wine at the bar that he was a motorboat specialist and that he would like to provide her with a proper demonstration.  Apparently he didn't agree my decision and responded with this message on his Visa receipt which expressed his great displeasure.
Calm yourselves, little birds. I can hear you squawking angrily and sympathetically for my plight, but this story isn't over yet. The fat, drunk, red-headed, crude, sweaty man staggered out the door, climbed into his Toyota Tacoma, and instantly crashed it into a telephone pole 200 feet away from the bar, injuring nobody except the pole and his Tacoma.  Police arrived quickly and handcuffed him while he shouted profanities at them and swore a painful vengeance on the entire town.
For those of you who ever doubted the validity Karma, there you go.  Justice is served!
Cheers, until the next time.
The RB