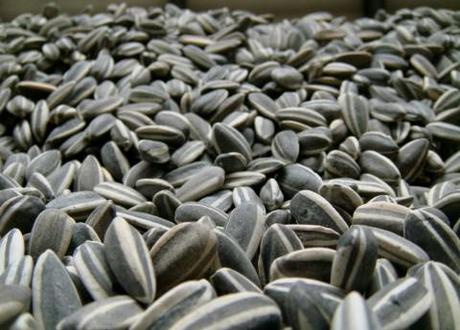 Ai Weiwei's Sunflower Seeds installation at the Tate, featuring 100 million porcelain seeds handcrafted by Chinese artists. Photo credit: Marie Aschehoug-Clauteaux
Ai Weiwei will collaborate with Swiss architects Herzog & de Meuron to create the Serpentine Gallery's summer Pavilion for Kensington Gardens, London. The project reunites the artist and architects who combined four years ago to create the spectacular Bird's Nest Stadium in Beijing. The Pavilion will go up in June as part of the London 2012 festival, a jamboree of events across the UK, which will mark the culmination of the Cultural Olympiad.
The Serpentine Gallery's announcement on Tuesday marked the Gallery's 12th commission in what has become a major annual event on the architecture calendar. Built each year as a temporary adjunct to the small Serpentine Gallery (a former tea house) the Pavilions are subsequently sold off to the highest bidder, largely funding their construction. Previous Pavilion designers have included architects Zaha Hadid and Oscar Niemeyer.
As is customary, only sparing design details are being revealed in advance of the opening. What is known from today's announcement is that it will be the lowest Pavilion ever, with the roof barely five foot off the ground. People will be able to go under it because they also plan to dig down a few feet, reported The Guardian, which said there will be 12 columns – 11 representing the past Pavilions and one for the present – supporting a floating platform roof five foot from the ground.
The Pavilion, promised the design trio in a joint statement, will become "the perfect place to sit, stand, lie down or just look and be amazed." The design team won the prestigious RIBA Lubetkin Prize for their Beijing project.
"The involvement of Ai will be cheering news for anyone familiar with the tumultuous year he has had," noted Mark Brown of The Guardian. Last April, Ai was arrested and held without charge for nearly three months by the Chinese authorities, a move widely interpreted as a punishment for his outspoken views and activism. In an interview with Guardian last November Ai admitted that the threat of being arrested once more was always there – "Every day I think: 'This will be the day I will be taken in again.'" It is not yet known whether Ai will be will be allowed to leave China by the time the Pavilion is up in June.
Will Ai make the launch? "Let's hope he (Ai) gets to see his ingenious pavilion," said Ben Luke at The London Evening Standard, who pointed out that the last time an Ai Weiwei installation opened in London, he was missing after his detention by the Chinese authorities. Luke suggested that the Pavilion will likely be less political that other Ai works such as his sea of porcelain sunflower seeds which occupied the Turbine Hall at Tate Modern in 2010 and evoked Chinese mass labor and historical famine.
Big ticket event. At The Financial Times, Edwin Heathcote said that the Serpentine Pavilion "has become one of the London art and architecture scene's big ticket events, attracting some of the world's most famous designers including Zaha Hadid, Frank Gehry, Rem Koolhaas, Daniel Libeskind and Oscar Niemeyer."  Heathcote said the description of the design "enigmatically describes an excavation of the site to reveal the foundations of former pavilions, the dense network of cabling and pipes which run beneath the city surface and a revealing of the depth of the water table. The designers appropriately liken their role to that of archaeologists … The investigation of the museology of the site is a particularly post-modern approach to what has become an engrained institution now obviously worthy of a study in its own right."